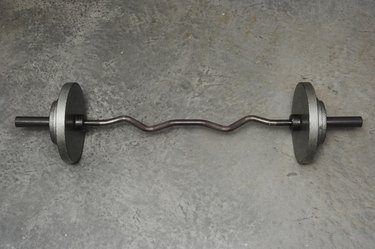 Biceps, triceps and forearms are the main muscles of your arms that need strength training and conditioning. A variety of bicep curl, forearm curl and bench press exercises can provide an optimum workout for these muscle groups and thereby improve your upper body strength. Dumbbells, barbells and curl bars are often used to achieve proper hand positions during upper body exercises.
Two-Arm Curl Bars
Curl bars are shorter and lighter versions of regular barbell with symmetrical angles that help you shift the positions of your forearms and wrists during elbow flexion and extension exercises. The slight inward angle of your grip on a two-arm curl bar may also help overcome elbow or wrist pain and discomfort associated with overuse injuries and anatomical abnormalities.
Weight
An Olympic curl bar is much lighter than a barbell, weighing only 15 to 20 pounds, and is about 47 to 48 inches long. It can, therefore, be used to lift weights less than 45 pounds as well. Maximum weight capacity for most standard curl bars is about 200 pounds. Standard two-arm curl bars have a 1-inch sleeve on each end, and accept any standard weight plates. These are commonly used in home gyms. Olympic curl bars have a 2-inch sleeve, and they're designed to accommodate slightly bigger weight plates that are commonly found in the gyms.
Selecting the Weight
While two-arm curl bars and barbells have a wide capacity, the type of weight that you choose depends on your individual ability and fitness level. If you're a beginner, you may start with 10-pound weight plates. Remember that the bar itself weighs about 15 to 20 pounds. If you have been doing upper arm exercises, you may begin your regimen by selecting a weight that you fail to lift at approximately 8 repetitions. You may reduce the weight for the successive sets, 5 pounds at a time. You may increase the weight once you're able to lift this weight comfortably.
Tips
Always start two-arm curl bar exercises under the supervision of a trainer. This will help you develop the movements correctly for optimum benefits. It's very difficult to unlearn bad exercise habits, so learn the right exercise technique from the very start. Avoid overtraining these small muscle groups to prevent injuries.