Having a muscle burn is a sign of fatigue, and the best way to see muscular results is by challenging and fatiguing your muscles. There are two main ways muscles respond to challenges: aerobically and anaerobically. Aerobic exercise works by using oxygen to convert carbohydrates into energy, while anaerobic exercise works by drawing the carbohydrates from the muscles -- as glycogen -- for energy without oxygen. This process creates an acidic byproduct buildup in the muscle that results in a burning sensation.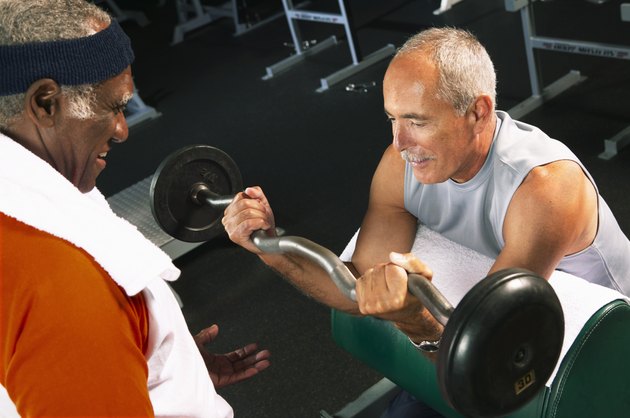 Aerobic and Anaerobic Exercise
Exercises that require long-term energy usage, such as jogging on the treadmill, use the aerobic system. Your lungs work overtime to process oxygen at an elevated rate in order to feed your working body, and the burning you may experience while running or jogging will mainly be in your lungs from the additional exertion. Lifting weights is often when you will feel a burn in the muscles you are working, and weightlifting mainly falls under the anaerobic category. The force needed to lift the weight demands energy faster than your body can fuel it with oxygen, so your body must convert energy without oxygen.
Lactic Acid
When lifting weights, the body has an immediate demand for energy for your muscles, but it does not have enough time to provide oxygen to the necessary tissue. Lacking the oxygen to transport the required fuel, the body tries breaking glucose down by creating lactate to provide energy. This process cannot be sustained for long, and the buildup of the lactate increases the acidity in the muscles. This acid buildup manifests as a burning sensation.
Work Out Effectively
To achieve muscular gains, you want your muscles to be fatigued while you work out. If the challenge is great enough, your body will struggle with the exercise, and feeling the lactic acid is one indication of fatigue. If fatigue does not occur within 90 seconds of your first rep, the challenge is not great enough and the gain will not be as beneficial as fatiguing the muscle sooner.
Tips and Safety
The burning sensation is a good thing and should be isolated to specific muscle groups. It is natural for the sensation to be uncomfortable, but stop exercising if you experience a stabbing, shooting or searing pain. Pain is the body's way of telling you something is wrong, and it is possible that you are injured. To prevent injury, warm up and stretch before you work out, and stay hydrated. If you feel dizzy or lightheaded, stop exercising.