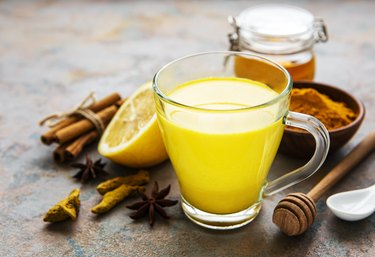 Cinnamon and turmeric have been used for thousands of years in cooking and traditional medicine — long before they lent their flavor to such popular coffee shop treats as golden milk. While evidence is limited on possible health benefits for these spices, they may have certain helpful properties.
The National Center for Complementary and Integrative Health (NCCIH) notes that many types of cinnamon, which comes from cinnamon tree bark, are available — with the China-native cassia variety being the most commonly sold in the United States. Most people's familiarity with cinnamon, though, is with the sticks or ground versions that find a home on kitchen spice racks and have a mild, aromatic taste that lends itself well to baked goods, curries and tea.
Cinnamon also has a long history of use as a natural treatment for a variety of health conditions as well, especially bronchitis, according to the NCCIH. Today, cinnamon is sometimes taken as a dietary supplement in capsules, teas and extracts for issues ranging from gastrointestinal conditions to appetite, diabetes and more.
And, though it might be nice know about a spice that could reduce your risk for chronic disease, the NCCIH reports that to date, despite a good number of studies conducted on cinnamon's benefits, those that involved humans do not support cinnamon as a remedy for any health condition.
"It's not clear if cinnamon can have a meaningful impact on health because the research that's been done so far has shown variable results, and an optimal dose and duration of treatment haven't been established," explains Ali Webster, PhD, RD, a dietitian and director of research and communications for the International Food Information Council Foundation, in Washington, D.C.
Cleveland Clinic acknowledges the varied reports on the spice's medicinal properties, noting, for example, 10-plus years of recent research on cinnamon versus diabetes, with some efforts concluding no benefit and other small studies showing cinnamon's ability to lower glucose levels, cholesterol and triglycerides.
A meta-analysis of 10 studies, published in September 2013 in ​Annals of Family Medicine​, for example, reports that the spice caused a significant decrease in glucose, triglycerides, LDL and total cholesterol and an increase in HDL. However, the Cleveland Clinic echoes Dr. Webster's point that the study results are complicated because of variations in amounts administered and for how long.
As Mayo Clinic also reports, while some studies have shown a benefit of cinnamon against diabetes, others have not, adding that, ultimately, it's important to keep in mind that no single nutrient is a cure-all.
However, if you still want to give a cinnamon supplement a try, the NCCIH says that it does appear to be safe in small amounts for short-term use by most people, unless you are allergic to the spice, but it shouldn't be used in place of standard medical care. Moreover, the center cautions that cassia cinnamon, specifically, contains coumarin, a chemical that could cause or compound liver disease.
As with all supplements, it's important to remember that they are not regulated by the Food and Drug Administration in the same way that medications are and that they may interact with medications. Before starting to take a cinnamon supplement, talk with your doctor about whether it would be safe for you to take, and if so, at what dosage, especially if you have underlying health conditions.
Like cinnamon, turmeric — which comes from the ​Curcuma longa​ plant belonging to the same family as ginger — is known for both its cooking and medicinal benefits. According to the NCCIH, turmeric has been a staple in both Indian cooking and Ayurvedic medicine for thousands of years.
The NCCIH says that turmeric has been widely studied for the anti-inflammatory effects of its main active ingredient: curcuminoids, from which it derives its famed yellow hue used to color both cosmetics and foods. However, the center cautions that the ability of curcuminoids to reduce inflammation has not been proven by strong studies.
"Randomized trials on turmeric or its curcuminoids have typically been short, used different doses and studied different types of people, so it's impossible to make a sweeping recommendation for its healthfulness," Webster says.
Though considered safe when taken orally or used topically, the NCCIH says that higher or longer-term doses could cause gastrointestinal distress. "There hasn't been enough research to determine exactly how much turmeric is safe to eat at one time," Webster says, "but we do know that consuming a lot of it can lead to nausea and an upset stomach in some people."
Because turmeric has promise for health benefits, you might wonder whether your kids can safely sip on golden milk, too. "For as little as we know about the health effects of cinnamon and turmeric in adults, we know even less about how they affect the health of children," Webster notes. "That said, these spices are safe to consume in amounts typically used in cooking or in beverages like golden milk."