Turmeric is a plant most commonly used as a flavorful spice in Indian cuisine. When used medicinally, the root and stem of the Curcuma longa plant may help reduce inflammation and improve digestion. The amount of turmeric you can take depends on a variety of factors, including your age and health status. Consult your medical provider if you have any questions about how much turmeric to take each day.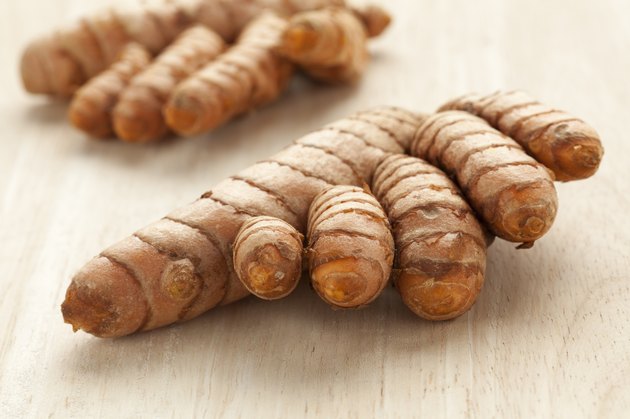 Cut or Dried, Powdered Root
If you grow your own turmeric or have access to raw turmeric, you may prepare your own cut root or dried, powdered root. Adults may consume 1.5 to 3 g of raw, cut turmeric root each day, the University of Maryland Medical Center reports. Alternatively, you may use a mortar and pestle to crush dried turmeric into a fine powder. Each day, adults may take 1 to 3 g of this dried, powdered turmeric root every day.
Standardized Powder
Standardized turmeric powder, also called curcumin, is a commercially produced form of this natural supplement. As an adult, you can take 400 to 600 mg of standardized curcumin powder up to three times each day.
Liquid Extract
Like standardized turmeric powder, liquid turmeric extract is available over the counter. A daily dose of 30 to 90 drops of liquid turmeric extract is recommended for adults who use this supplement.
Tincture
A turmeric tincture is an extract of turmeric root that contains anywhere from 25 to 90 percent ethanol, or alcohol. Adults who choose to use a turmeric tincture may take 15 to 30 drops of this supplement up to four times daily. However, if you are pregnant, breastfeeding or sensitive to alcohol, do not use any type of tincture.
Side Effects
In any form, turmeric may cause stomach irritation during treatment. You may feel nauseated or experience frequent, loose bowel movements. Diarrhea may also be accompanied by loss of appetite or abdominal pain, cramping or bloating. Chronic bouts of diarrhea may cause your body to lose electrolytes, which may elevate your risk of becoming dehydrated. Prolonged treatment with turmeric may damage the lining of your stomach and can cause ulcers. Seek care from your primary medical provider if you experience sudden or severe abdominal pain or if diarrhea persists for longer than two to three days.
Contraindications
If you have certain health conditions or concerns, treatment with turmeric supplements may not be appropriate. Though women may eat turmeric as a spice while pregnant or breast-feeding, treatment with turmeric supplements should be avoided. Anyone with a personal history of gallbladder problems or stomach ulcers should also avoid taking turmeric. If you are diabetic, consult your doctor before using turmeric supplements. This herbal treatment may lower your blood sugar to a dangerously low level if used in conjunction with diabetes medication.