Aging, pregnancy, puberty, and weight loss and gain all play a large role in breast size and perkiness. Taking good care of your breasts is just as important as eating right to keep yourself healthy. Perky and larger breasts have long been a symbol of the beauty of the female anatomy. Getting larger and perkier breasts for those who have smaller breasts with some sagging can be challenging, but a few lifestyle changes, supplements and procedures can make a difference.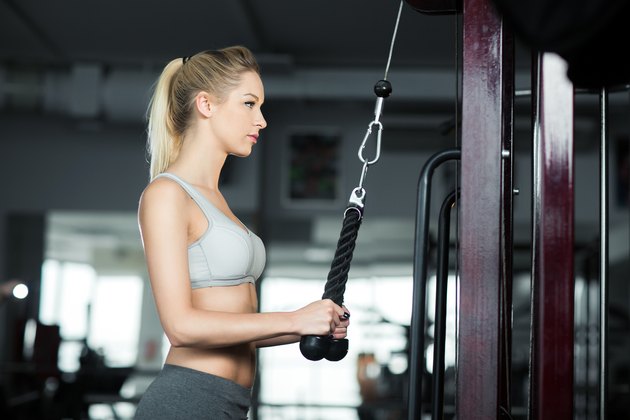 Step 1
Exercise daily. Exercise will tone your muscles, especially your chest muscles, or pectorals, and give a firmness to breasts, making them appear somewhat larger and definitely perkier.
Step 2
Take fenugreek supplements. Taking 610mg of fenugreek can help enlarge breasts by naturally increasing the production of hormones responsible for breast growth in men and women.
Step 3
Wear a good supportive bra. A well-fitted bra will not only keep breasts lifted, but the muscles and ligaments supporting the breasts will "memorize" this position and make breasts stay perkier and look larger.
Step 4
Apply a breast cream or herbal oil to your breasts daily to sustain moisture. Moisture is important in breast health since your skin acts as a natural support system for the breasts. Keeping it moisturized will improve skin's elasticity, and the massaging action will stimulate circulation for growth and better support.
Step 5
Maintain a normal weight and avoid rapid gain or loss. A normal steady weight will keep circulation strong and skin healthy, as fluctuations can cause muscle breakdown that decrease breast size, and fat deposits that make your breasts sag. Losing weight at a normal pace will make breasts perkier and slightly bigger, contrary to popular belief.
Step 6
Undergo breast augmentation surgery. If at-home methods do not work for you, consider consulting a plastic surgeon to discuss implants. The safest implants on the market contain soy instead of the dangerous silicone that has been known to rupture and cause poisoning.