Iron is a nutrient that's essential for several of your body's functions, from making red blood cells to helping fight off illness. Iron is naturally present in the food you eat -- it is found in some meats, plants and grains. It is also available in supplements. The recommended daily allowance is determined by gender and age. Women, especially those of childbearing age, require the most iron. However, the upper limit is 45 mg per day, according to "Visualizing Nutrition: Everyday Choices." Too much iron causes a variety of symptoms, which vary depending on whether toxicity is acute or chronic.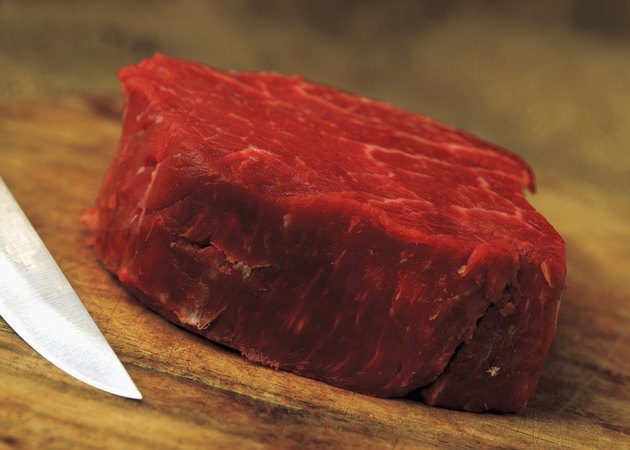 Acute Iron Toxicity -- Early Symptoms
There are 4 stages of acute iron toxicity, which is usually the result of an iron overdose. The first stage happens when iron is still present in the stomach and circulating in the blood. Symptoms include abdominal pain, nausea, vomiting and diarrhea. The lining of the intestine can become damaged, leading to blood in the vomit or stool. Irritability and lethargy may also occur. If the toxicity is severe, rapid heartbeat, low blood pressure and rapid breathing may develop. As the body loses fluid and blood, a person may go into shock, in which the heart is unable to pump a sufficient amount of blood throughout the body. According to the Merck Manual Professional Edition, if shock and coma develop within the first 6 hours after iron ingestion, there is a 10 percent chance of dying.
Acute Iron Toxicity -- Late Symptoms
People who survive the first stage of acute iron toxicity may appear to improve for a while. This latent period is the second stage and can happen within 6 to 48 hours of an iron overdose. However, if the iron overdose was moderate or severe, symptoms will reappear as iron causes direct damage to the body's cells. Symptoms of the third stage of iron toxicity include low blood pressure, fever and seizures. Liver failure may occur, causing low blood sugar, excessive or prolonged bleeding and jaundice -- yellowish eyes and skin. It is rare for people with such severe iron toxicity to survive, but those who do enter the fourth stage. During this stage, the intestines may become blocked due to scarring, which prevents fluids and food from moving through the digestive tract.
Chronic Iron Toxicity
Chronic iron toxicity, also known as iron overload, has a variety of causes. Hereditary hemochromatosis is an inherited condition that leads to abnormally increased absorption of iron from food. Iron overload may also be caused by repeated blood transfusions to treat anemia, excessive iron therapy or liver disease due to chronic hepatitis C or alcoholism. As excessive iron accumulates in the body, it may result in liver or heart failure, as well as severe diabetes. Heart failure can cause swelling of the legs, shortness of breath, trouble exercising, fatigue, fast or irregular heartbeat and nausea. Diabetes symptoms include frequent urination, increased thirst and hunger, fatigue, blurry vision, numbness or tingling in the arms or legs and slow wound healing.
When to Seek Medical Care
Iron toxicity is a medical emergency. If you are taking an iron supplement and have unexplained symptoms that are similar to those of acute or chronic iron toxicity, seek medical care immediately. Make sure your doctor knows about all other medications and supplements that you are taking, as some, such as vitamin C, can increase the body's absorption of iron.