The influenza virus primarily infects the respiratory tract, causing sore throat, coughing, fever and muscle aches. But influenza can also cause digestive symptoms. A December 2015 "Virology Journal" article examining pooled results from 10 research studies reported that as many as 31 percent of people infected with influenza experience symptoms such as nausea, vomiting and diarrhea, with vomiting being the most common complaint. Digestive symptoms due to influenza are more common in children than adults. Knowing how to manage nausea and vomiting that comes with the flu can ease these uncomfortable and potentially troublesome symptoms.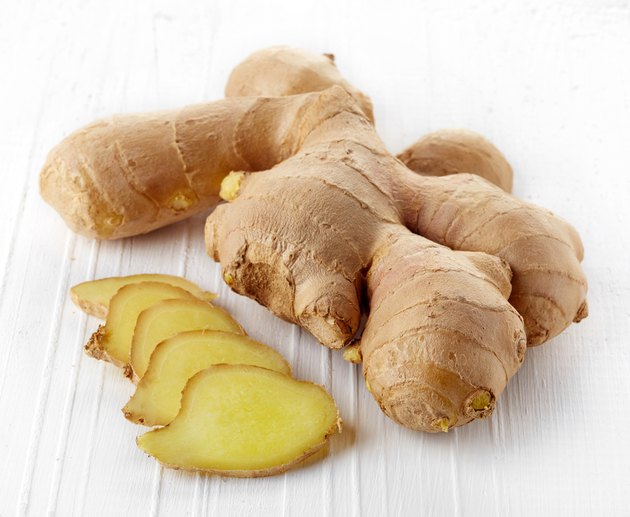 Rest Your Stomach
If severe nausea or vomiting makes it hard to keep down food or liquids, it's best to avoid eating or drinking for at least 30 minutes -- especially after a vomiting episode. But resuming fluid intake is important because dehydration can make nausea and vomiting worse. After resting the stomach, adults can try a few sips of clear liquids, such as water or clear broth, every 10 to 15 minutes. When you can hold down solid food again, soup, gelatin and bland food like crackers and noodles are usually best. The American Academy of Family Physicians recommends avoiding dairy, fatty foods, caffeine and carbonated drinks.
For children 1 year or older, start with 2 or 3 teaspoons of ice chips, water or another clear fluid roughly every 5 minutes for 4 hours. If the child vomits water or continues to vomit for more than 12 hours, then switch to an oral rehydration solution (Pedialyte) or half-strength sports drink (Gatorade), advises Seattle Children's Hospital. Fluid amounts can be increased after 4 hours with no vomiting. After 8 hours without vomiting, bland foods such as rice, mashed potatoes and crackers can be added. A liquid diet is typically only needed for 12 to 24 hours.
Vomiting, which is more forceful than spitting up, can quickly lead to dehydration in breastfed and formula-fed infants. Contact your doctor if you suspect your baby might have the flu and is vomiting.
Medications
Vomiting is a natural process for eliminating toxins from the body and usually clears up after it runs its course. But prolonged nausea and vomiting caused by the flu -- especially when coupled with a fever -- can lead to dehydration. If you can't keep down sufficient fluids, a prescription anti-nausea drug may be recommended to prevent dehydration and related complications. Common prescription anti-nausea drugs include ondansetron (Zofran), which can be taken orally, and promethazine (Phenergan) suppositories. Most over-the-counter anti-nausea medicines are antihistimines, such as dimenhydrinate (Dramamine) and meclizine (Bonine). These medicines are intended for motion sickness and are unlikely to relieve nausea associated with influenza. The American Academy of Pediatrics warns that over-the-counter anti-nausea drugs should not be given to children unless your doctor recommends it.
Ginger
For mild or moderate nausea and vomiting, ginger is a time-honored natural remedy with scientific validation. Ginger has been found to be effective for nausea and vomiting stemming from numerous causes, including morning sickness, motion sickness and chemotherapy. According a June 2015 "Current Opinion in Supportive and Palliative Care" analysis of research published from 2013 through 2014, there is significant evidence that ginger is beneficial for nausea due to these causes. While ginger was not specifically tested in people with influenza-related nausea, the herb is believed to work by inhibiting nerve signals between the digestive tract and the brain that trigger nausea and vomiting.
Warnings and Precautions
The biggest danger from severe nausea is dehydration, which can lead to electrolyte imbalances, low blood pressure, dizziness and other problems. If nausea and vomiting with the flu are accompanied by a fever, dehydration is more likely. General symptoms of dehydration include: -- Thirst and dry mouth. -- Decreased urination and dark urine. -- Dizziness on standing and headache.
The American Academy of Pediatricians notes additional signs of serious dehydration in infants and children, including: -- Lack of tears when crying. -- Depressed soft spot on the head of an infant or toddler. -- Decreased bowel movements. -- Irritability and sleepier than usual. -- Sunken eyes and wrinkly skin.
The flu often doesn't require medical attention, but it can lead to serious complications, including pneumonia, respiratory infections and worsening of chronic medical conditions. In addition to signs of dehydration, indications for medical attention for both children and adults include earache or fluid draining from the ear, fever higher than 102 F, difficulty breathing, hoarseness or sore throat that won't go away, wheezing, rash, neck stiffness, extreme drowsiness, and mental slowness or confusion.
Is This an Emergency?
If you are experiencing serious medical symptoms, seek emergency treatment immediately.