Thyroid stimulating hormone (TSH) is produced by the pituitary gland, explains EndocrineWeb.com. The thyroid gland is stimulated to produce thyroid hormones by the TSH from the pituitary gland. For whatever reason, if the body doesn't receive enough thyroid hormones, the signals go back and forth between the cells, thyroid gland and pituitary gland, and TSH is produced to help the thyroid release more. As the TSH level increases and the thyroid levels decrease, the ensuing condition is hypothyroidism.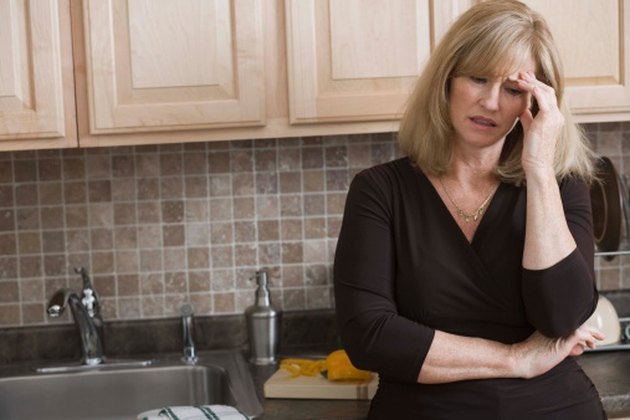 Blood Thyroid Levels
High TSH levels produce the first indication of side effects or symptoms of hypothyroidism through blood tests for thyroid disease. Not only will blood tests reveal high TSH levels but also low levels of the thyroid hormones, T3 and T4, the two primary hormones tested, according to the University of Maryland Medical Center. Furthermore, in some patients thyroid hormones may be just barely on the edge of low-normal but TSH will still be measuring on the high side. This may indicate sub-clinical hypothyroidism.
Hypothyroid Symptoms
High TSH and an underactive thyroid produce a myriad of symptoms. WomenToWomen.com explains hypothyroidism and TSH levels and describes the symptoms of this condition. You may experience chilliness or sluggishness or feel weak, depressed and tired, symptoms often labeled as chronic fatigue syndrome. You may have problems thinking and with cognitive functions, have difficulty breathing or experience muscle cramps with vague or specific joint pain. You may be plagued with uncontrollable weight gain, dry skin, constipation, menstrual problems, hot flashes, PMS, increased menstrual flow or have a miscarriage or be diagnosed with infertility.
Hashimoto's Disease
High TSH levels may also indicate the presence of an autoimmune disease known as Hashimoto's disease or autoimmune thyroiditis. This is a disease in which the body attacks the thyroid gland, eventually destroying it, and producing a state of permanent hypothyroidism, according to EndocrineWeb.com. Blood tests will not only indicate elevated TSH levels and low thyroid hormones but also the presence of antibodies produced by the body as a result of the disease, notes the Merck Manual. Once the thyroid gland has been destroyed any and all symptoms of severe hypothyroidism may appear, including enlargement of the thyroid gland on one or both lobes, which may be felt on palpation. This occurs when the thyroid gland is unable to utilize iodine and convert it to active thyroid hormone, explains EndocrineWeb.com.