Getting rid of the saggy skin around your arms can give your upper body a much more defined look. Toned arms allow you to wear summer clothing, including swimsuits, tanks and sundresses, with confidence. To tone your arms, you need to burn fat and build muscle. You need to train all the muscle groups, including the lower body, to encourage the body's growth of lean muscle mass. Speak to your doctor before you start a new diet and exercise routine.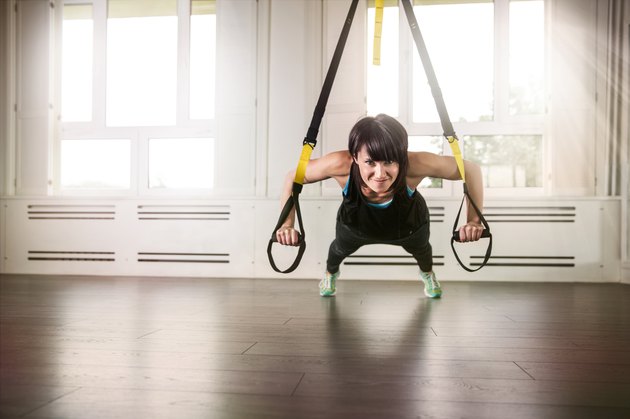 Step 1
Spend five days a week participating in cardio exercise. Each session should be a half an hour long and include moderate-level aerobic activities. Some exercise examples include cycling, jogging, tennis and swimming.
Step 2
Perform strength training exercises three to five days a week. You should work both the upper and lower body muscle groups. Between sessions, take one day to rest the muscle groups.
Step 3
Do a few sets of pushups. Place your arms flat on the floor and shoulder width apart. Raise up your body with your feet or keep your knees bent if that is more comfortable for you. Press your body to the floor and then use your arms to move your body back up into the starting position. Perform two sets of ten to 20 reps.
Step 4
Use dumbbells to create resistance. Bicep curls and triceps kickbacks can be done to get rid of the excess fat around the arms. For a bicep curl, stand up with your arms close to your sides and your palms facing outward while gripping the dumbbells. Bring the dumbbells to your chest and then release them to your starting position.
For a triceps kickback, start in a split stance and your back arched slightly forward. Bend your elbow while holding the dumbbell and align the elbow with the torso. Straighten your elbow while flexing your triceps. Return to the starting position and alternate arms.
Tip
Choose a weight that you are comfortable with. Beginners may want to choose three to five pound dumbbells. Start with one set of eight to 10 reps of an exercise; and then add more sets when you're ready. Increase the weight of the dumbbell when you can do all of the exercises easily.
Warning
Check with your health-care provider before beginning an exercise program for the first time or if you have been away from fitness programs for a while, or if you have any chronic health issues.