If you're seeking a quick burst of energy or to raise low blood sugar levels without the extra calories, high-carbohydrate, low-calorie foods are often good choices. Low-calorie, high-carb foods can help you lose weight when eaten as part of a reduced-calorie diet -- or they can provide quick energy, without the extra calories, for physically active adults seeking healthy weight management. In addition to low-calorie carbs, choose a variety of healthy proteins and fats to maximize satiety and to help meet your daily nutrient needs.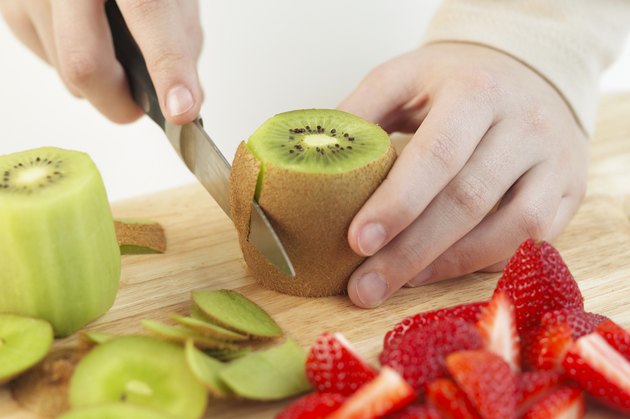 Fresh Fruits
While certain fresh fruits contain fewer calories than others, fresh fruits in general are high-carb, low-calorie foods. Examples of fruits that contain fewer than 70 calories but provide about 12 to 15 grams of carbs per cup include apples, strawberries, cantaloupe and honeydew melon. When seeking high-carb, low-calorie fruits, stay away from dried fruits and fruit juices -- unless diluted with water -- because they often contain significantly more calories than fresh fruits.
Fat-Free Milk
Fat-free, or skim, milk provides about 12 grams of carbohydrates but just 80 calories. Furthermore, skim milk is rich in dietary protein, which increases satiation and helps your body burn extra calories, according to a 2008 review published in "The American Journal of Clinical Nutrition." In comparison, whole milk contains about the same amount of protein and carbs but 150 calories per cup.
Great Grains
Whole-grain bread, plain air-popped popcorn and brown rice cakes are all low-calorie whole-grains that help boost your low blood sugar without the extra calories. The fiber found in these grains boosts satiety, but fiber calories aren't fully absorbed by your body -- which is beneficial for healthy weight management. A slice of whole-grain bread generally contains about 70 calories, 1 cup of plain air-popped popcorn provides about 30 calories per cup and one brown rice cake contains about 35 calories.
Daily Nutrient Needs
Many low-calorie, high-carb foods contain little protein and dietary fat. Getting the right balance of protein, carbs and fat maximizes satiation and helps meet your daily nutrient needs. The Institute of Medicine suggests that adults get at least 130 grams of carbs daily, women get at least 46 grams of protein, men get at least 56 grams of protein daily and all adults obtain 20 to 35 percent of their daily calories from dietary fat. Although low-calorie diets contribute to effective weight loss, Harvard Health Publications advise that women consume at least 1,200 calories daily and men get at least 1,500 calories a day unless medically supervised.