Hundreds of abs exercises exist, and everyone claims to know which one is best for a strong middle. But, no single one provides a comprehensive workout for all the muscles of the abdomen, including the flutter or scissor kick.
This move, done by lying on your back and scissoring your legs, uses your rectus abdominis, the main ab muscle, and your obliques, the side ab muscles, for stabilization. But, you'll also feel the very fronts of your hips burn during the exercise. This is because the hip flexors work hard along with your abs to hold your legs just off the floor and kick.
If your back is healthy, then the flutter kick might be one of many exercises you include in your ab-training regimen to foster a more stable core, even if it alone isn't the "best." No single exercise can be considered best when it comes to the abs, though, as you need multiple moves to train all the muscles through their range of motion.
What Is The Flutter Kick?
A proper flutter kick is easy to perform as you need no equipment, except for a gym mat.
Step 1
Lie on your back on a gym mat with your legs extended and your arms alongside your hips, palms down.
Step 2
Lift your legs 4 to 6 inches off the floor. Press your low back into the mat.
Step 3
Keep your legs straight as you rhythmically raise one leg higher, then switch. Move in a fluttering, up and down motion.
Step 4
Perform for 15 to 20 repetitions. Alternatively, flutter kick for a period of time, such as 20 to 30 seconds.
Tip
To vary the move, cross the legs over and under each other rather than flutter them up and down. This change doesn't markedly alter the muscles used during the exercise; it's just a fun variation.
Muscles Worked
Your rectus abdominis -- the front sheath of your abs -- works when you flex, or bend, the torso at the waist. During the flutter kick, no bending happens so these ab muscles work as stabilizers only.
The hip flexors, which attach the pelvis, back and legs together, are the primary movers. Secondary muscles worked are those in the thighs. The obliques, at the sides of your abdomen, and quadriceps stabilize the activity along with the rectus abdominis.
Because the abs aren't among the primary muscles used during the flutter kick, it can't be the best ab exercise.
Possible Contraindications
Hovering your legs off the floor to perform the flutter kick can cause stress to your back. If you feel pain, skip the kicks and choose more back-friendly core moves, such as front planks and crunches on a stability ball. You'll actually train the ab muscles more with these moves and reduce hip flexor activation.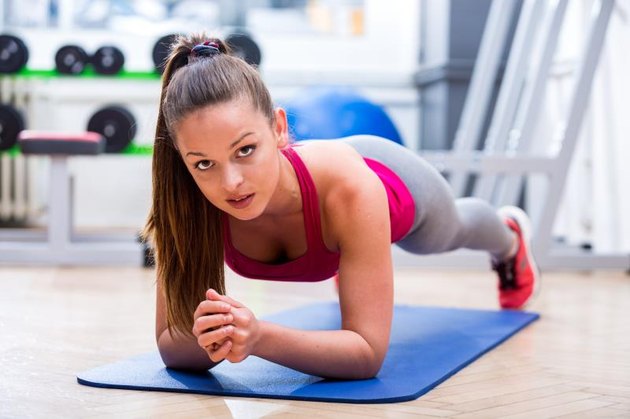 If you do flutter kicks consistently at every workout you could develop back pain due to overly tight hip flexors. When these muscles at the front side of your hip attachment become tight, they pull on the muscles of the lower spine. Over time, this leads to imbalances that can cause serious discomfort and even lumbar disc disorders.
Tip
Flutter kicks aren't the only ab exercise that contribute to tight hip flexors. The classic sit-up and straight-leg hanging leg raise are two other hip flexor-tightening moves. Sitting much of the day at a computer or driving a long commute are other reasons your hip flexors may be tight.
A Mix of Exercises is Best
Flutter kicks aren't the best abs exercise because they don't challenge all the muscles of your abdomen. No one exercise can, though, as you need to get a complete workout you must include in side-bending, rotation, stabilization and flexion movement. Flutter kicks and planks are stabilization moves. Bicycle crunches and cable woodchops train functional rotation and side bending. Crunches are an example of flexion.