Many diets appear simple on paper, but, in practice, they require hours in the kitchen and don't give you options for eating out. Some fad diets are so restrictive that they leave you starving, cause nutrient deficiencies and fail to teach you strategies to maintain any weight loss for the long term. The simplest 30-day meal plans don't call for lots of calorie counting or complex recipes with a precise ratio of macronutrients; instead, they focus on whole, unprocessed foods that you can get in just about any grocery store. Simple, sustainable 30-day weight-loss meal plans also provide guidance for how to eat when you eat out.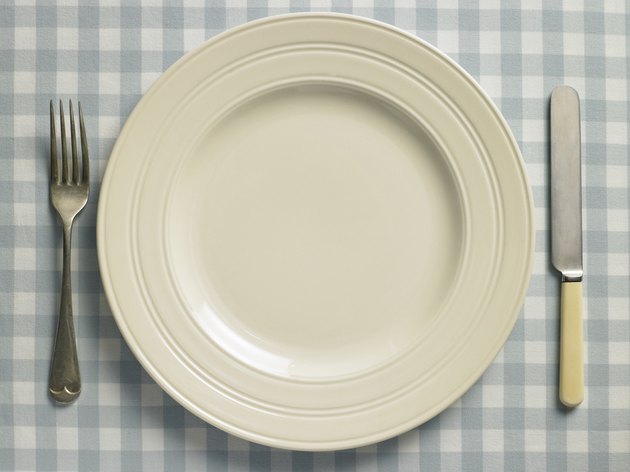 Calories Matter
Most diets focus on the equation of calories in versus calories out, whether they have you count them or not. Take fewer calories than you expend to lose weight. A study published in the New England Journal of Medicine in 2009 compared a variety of diets with different ratios of macronutrients. The researchers found that all of the diets resulted in weight loss as long as they prescribed a low calorie intake. It didn't matter if a diet was high-protein, high-fat or low-carb -- it was the number of calories that made a difference in weight loss.
Counting calories can be drudgery, however. You have to first figure out your daily calorie needs, then devise an appropriate deficit that's low enough to lose weight -- but not too low that it sets you up for muscle loss and a stalled metabolism. Then you have to calculate the portion size and calorie content of every morsel that enters your lips. A food journal helps you stay on track, but it's time-consuming to keep.
The best simple 30-day weight loss meal plans do the work for you.They provide guidelines as to the serving sizes and types of food you should eat at each meal, so you don't have to spend precious time counting calories and determining if you've hit a specific ratio of fats, proteins and carbohydrates.
Features of a Quality Weight-Loss Menu Plan
Look for a plan focused on whole foods, such as fruits, vegetables, whole grains, proteins and healthy fats. A quality 30-day weight-loss plan will minimize sugar, refined grains, saturated and trans fats -- too much of any of these ingredients contributes to heart disease, type 2 diabetes and other chronic conditions.
Fiber- and protein-rich fare is front and center on a quality weight-loss plan as these foods help slow digestion to keep you feeling full longer. Whole grains, rather than refined grains, are also featured because they contain more naturally occurring nutrients and are also fiber-rich, and thus filling. Healthy, unsaturated fats aid in satiation too, and they support brain health and nutrient absorption.
The foods on a high-quality, 30-day plan are readily available in any grocery store, so you aren't reliant on a "special" item. A diet that requires you to purchase processed meals, supplements or meal replacements doesn't teach you how to modify your eating and cooking habits. The provided food may contain too much sodium and too little fiber, too.
Opt for a plan that also allows you to chew whole foods so you feel more satisfied, like you've actually had a meal. Some meal plans seem simple because all you do is drink juice for 30 days or eliminate a whole food group. It's nearly impossible to stick to these types of plans, though, and any weight you do manage to lose is likely to return quickly once you return to old ways of eating.
A Simple Method for Controlling Portions
At each meal, including breakfast, divide a 9-inch plate into four quarters. Reserve one quarter for a lean protein, such as two eggs, water-packed tuna, a grilled chicken breast, tofu or lean ground beef. Make another quarter contain a 1/2- to 1-cup serving of whole grains, such as brown rice, quinoa, millet or whole-wheat pasta. Reserve the remaining half of your plate for vegetables. Watery, fibrous types, such as leafy greens, broccoli, eggplant, green beans, fennel, summer squash and asparagus are an everyday option. Starchy vegetables are slightly higher in calories but do contain valuable nutrients, so have butternut squash, a small sweet potato or peas fill part of your vegetable quota at five or six meals during the week.
At each meal, choose a piece of fresh fruit and a serving of dairy, such as a cup of low-fat milk, soy milk or low-fat yogurt. Alternatively, fruit and dairy may serve as snacks, such as an ounce of string cheese with a pear or a cup of raspberries with a glass of skim milk. At two or three meals every day, also include a serving of healthy fat, such as a teaspoon of olive oil, 1/8 of an avocado or 1/4 to 1/2 ounce of almonds.
If your meals leave you feeling hungry, have an extra serving of vegetables. Minimize the sauces and dressings used as these often contain lots of extra calories. Season foods with a homemade dressing that blends your allotted teaspoon of olive oil with lemon juice or balsamic vinegar, fresh herbs, spices and flavorful vegetables such as onions, garlic and scallions.
30-Day Weight-Loss Meal Ideas
Eggs make for an easy, filling protein source at breakfast. Have a whole egg and two egg whites -- scrambled or hard-boiled -- with a slice of whole-wheat toast, sauteed mushrooms, spinach and onions and a glass of low-fat milk. Scramble 1/2 cup of soft tofu with spinach, cumin and cilantro and serve in a corn tortilla with a little salsa 2 tablespoons of shredded, low-fat cheddar cheese. If you can't stomach vegetables at breakfast, have a fruit serving instead. Cook 1/3 cup dry oatmeal in water and serve with 1 cup fresh blueberries and skim milk with an egg on the side as your protein serving.
A lunch salad is an obvious way to fill up half your plate with non-starchy vegetables. Serve grilled chicken breast, seared steak or baked tofu and a 100-percent whole-wheat roll on the side with a container of low-fat yogurt for dessert. Alternatives to salad include broiled tilapia with broccoli and quinoa; stir-fried tempeh with snow peas and brown rice; or a six-inch whole-wheat tortilla filled with lean ground beef, chopped tomatoes, shredded lettuce, red onions and a slice of avocado.
Complicated dinner recipes aren't required to lose weight. Serve a roasted chicken breast with a quick-cooking whole-grain, such as quinoa or whole-wheat pasta, and steamed frozen broccoli. Broil a fillet of salmon to have alongside a sweet potato, wild rice and a small green salad. Or stir fry cubed tofu with carrots, bell peppers and celery to have over brown rice.
A little advanced prep makes home-prepared meals even easier than ordering fattening takeout or preparing convenience diet foods. Roast several chicken breasts on the weekend and make a large pot of brown rice; divvy these out for several lunches and dinners during the week.
As snacks, choose a piece of fresh fruit with a glass of low-fat milk, low-fat cottage cheese with blueberries or woven wheat crackers with low-fat cheese instead of packaged, convenience snacks.
Keeping to Your Meal Plan When Eating Out
You'll inevitably visit a restaurant during a 30-day period. Look for a meal that resembles what you'd create at home: broiled, baked, roasted or grilled meat with a side vegetable and a small portion of grains. Many restaurants serve salads with grilled chicken, for example. Just beware of any extras -- the calories from croutons, cheese, avocado, nuts and dried fruit add up. Ask for dressings and sauces to be served on the side and use them sparingly. Have a side salad or steamed vegetables instead of reaching into the bread basket or ordering a fried appetizer.
Also be aware of the size of your restaurant meal. Restaurant portion sizes are two to three times larger than they were 20 years ago, according to the National Heart, Lung and Blood Institute, and this contributes to overweight and obesity. Notice if the plate is considerably larger than 9 inches in diameter and if the servings seem more generous than what you usually consume. Before you begin eating, set some of your meal aside to take home for another day.