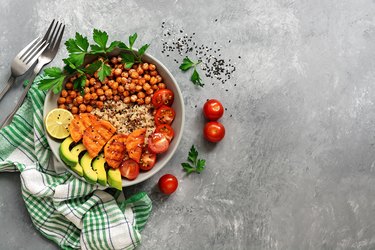 According to the National Institutes of Health, most men and active women can lose weight eating 1,500 to 1,800 calories a day. If you've determined that an 1,800-calorie diet is the right target for you, the next step is planning. Without a plan, it's difficult to stay within your calorie budget.
1,800-Calorie Diet Details
There are many ways to distribute your calories throughout the day. Three square meals is the good old standby, and many people choose to stick to this eating plan. This means a solid breakfast, lunch and dinner and no snacking in between.
Even within this meal plan, there are various ways to split your calories. If you like a big breakfast, you might eat a lot more calories for breakfast than lunch. If you share a meal with your family in the evenings, it may be harder to control your calories at that time of day, so saving a larger portion for that meal may be a good idea.
Most people tend to eat a smaller breakfast and a larger lunch and dinner. If that's you, your calorie split may include about 500 calories for breakfast and 650 calories for lunch and dinner.
Another thing to consider is your macros — protein, carbohydrate and fat. Increasing your intake of lean protein and fiber, an indigestible carbohydrate, may increase satiety, aid hunger control and encourage greater weight loss, according to a small study published in ​Nutrition​ in October 2018.
How many of each macro you need depends on many factors, including age, gender and activity level. In general, the National Academies of Medicine recommends getting 45 to 65 percent of total calories from carbohydrates, 10 to 35 percent from protein and 20 to 35 percent from fat.
There are countless options for meal ideas on a 1,800-calorie diet. It depends on your tastes and what you have available. Here is one example of an 1,800-calorie meal plan high in protein:
As you can see, it's a generous amount of food — probably more than you imagined. The good news is that you're not going to starve on an 1,800-calorie diet, especially if you include plenty of lean protein and fiber. If you find this calorie distribution doesn't work for you, just shift it.
Stick to chicken, fish, eggs, beans and low-fat dairy for your protein and pile your plate high with plenty of fresh veggies. Non-starchy vegetables, like greens, tomatoes, cucumbers, broccoli and cabbage are low in calories and high in fiber. Berries are great low-sugar, high-fiber choices when you need something sweet.
Low-calorie, high-fiber fruits and veggies also make for quick snacks if you feel like you can't make it to your next meal and need something to chomp on ASAP. A bowlful of fresh raspberries or ripe strawberries as finger food is fun to eat, sweet and lasts a long time. Carrot or celery sticks with low-fat hummus is another go-to, low-calorie snack option. If you go for higher calorie snacks, just make sure you deduct the calories from the rest of the day's meals.
Healthy fats from avocado and olive oil are good for you, but they are high in calories. Use fats sparingly, when you cook. Rather than pour from the bottle, measure — and use olive oil spray for cooking, which has just a few calories per spray.
Do as much of your 1,800-calorie meal prep ahead of time as possible; that way you won't ever find yourself hungry with nothing healthy to eat. Set aside part of a weekend day to plan your meals, do your shopping and get everything ready for the next week.