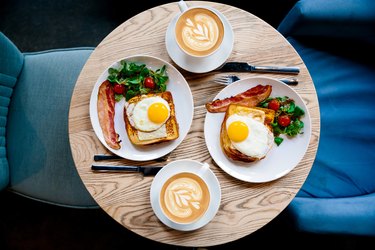 If you're following a 1,600-calorie diet, the goal is to make all of those calories count. To ensure that you meet all your vitamin and mineral needs, your meal plan needs to include a variety of foods that are rich in nutrients, but low to moderate in calories.
In addition to eating three meals of about the same size (or around 500 calories), you may want to incorporate one 100-calorie snack each day to help control hunger. To make sure you're sticking to your goal, it can be extremely helpful to meal prep so you don't fall off track.
Choose Nutrient-Rich Snacks
You can get to 1,600 calories a day by adding a nutrient-rich snack that you can eat when you feel hunger strike. If you're incorporating an exercise routine with your 1,600-calorie diet, you might want to plan it so that you eat your snack either right before or right after your workout.
A hard-boiled egg

Three thin slices of deli meat

1 tablespoon peanut butter

14 almonds

11 cashews
1 1/4 cup mixed berries

1 cup chopped celery with 1 tablespoon peanut butter

1 ounce (one package) string cheese

1/2 cup of yogurt
While you may be concerned with counting calories, keep in mind that the best thing to do on any diet plan is focus on nutrient maximization. In other words, try to incorporate a lot of foods that give you a lot of bang for your buck when it comes to vitamins, minerals and antioxidants. Harvard Health Publishing notes that this is especially important as you age, since your body doesn't absorb nutrients as well, yet you usually need fewer calories.
Load up on fresh fruits and veggies, lean meats and healthy fats and stay away from sugary foods or refined carbohydrates. While a cup of sugary cereal may fall into your 1,600-calorie meal plan, that doesn't make it a healthy choice. Of course, you're going to have days when you indulge, but make healthy, nutrient-dense foods the foundation of your diet.