Whether you're trying to lose weight or maintain a healthy weight, a 1,600-calorie diet is a fairly low-calorie plan, so every bite you eat must count. To ensure that you meet all your vitamin and mineral needs, your meal plan needs to include a variety of foods from all the food groups. It also helps if you eat three meals of about the same size, as well as one snack each day to control hunger.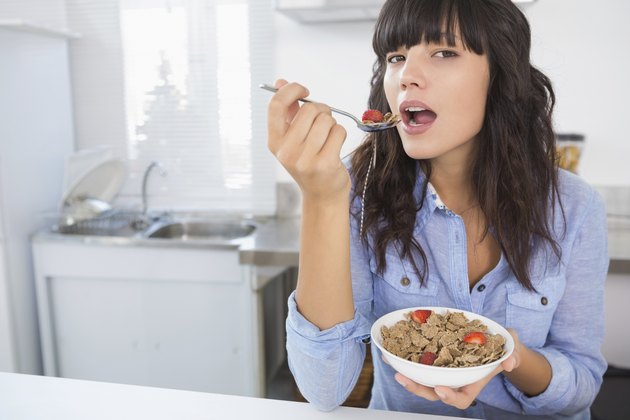 Jumpstart Your Day with a Healthy Breakfast
Start your day right and prevent overeating at your next meal with a healthy breakfast that contains about 500 calories. A good breakfast option on your 1600-calorie diet might include 1 cup of oatmeal topped with 2 tablespoons of raisins and 12 chopped almonds, served with 1 cup of skim milk and a small banana for 460 calories. Or, you can make a two-egg omelet stuffed with one-half cup of sliced mushrooms and 1 ounce of low-fat cheese, served with two slices of whole-wheat toast with 1 teaspoon of butter or margarine and one-half cup of orange juice for 495 calories.
Keep Energy Levels Up with a Filling Lunch
Like breakfast, your lunch should contain about 500 calories. A healthy and filling lunch on a 1,600-calorie meal plan might include 1 cup of broth-based soup, such as chicken noodle, 2 cups of mixed greens topped with 3 ounces of grilled salmon and 2 tablespoons of low-fat salad dressing, one-half of a whole-wheat pita and 1 cup of nonfat yogurt for 510 calories. Or, a cold pasta salad made with 1 cup of cooked whole wheat pasta mixed with 2 ounces of diced chicken breast, 1 ounce of low-fat mozzarella cheese, 1 1/2 cups of cooked mixed vegetables and 2 tablespoons of low-fat Italian dressing and a small orange for 465 calories.
Simple and Healthy Dinner Meals
Keep dinner at 500 calories on your 1,600-calorie meal plan. For dinner you might have 4 ounces of flank steak served with 1 cup of red potatoes roasted in the oven with 1 teaspoon of olive oil and 1 1/2 cups of steamed broccoli for 500 calories. For the days you go meatless, try 4 ounces of firm tofu stir fried with a 1 1/2 cup mixture of onions, peppers and Chinese cabbage, 2 teaspoons of vegetable oil and low-sodium soy sauce, and 1 cup of brown rice for 480 calories.
Nutrient-Rich Snacks
Make your snack count by filling it with nutrient-rich foods that help you meet your daily vitamin and mineral needs. Limit your daily snack to about 100 calories to stay within the 1,600-calorie diet plan. A healthy snack option might include 3 tablespoons of hummus with 1 cup of your favorite raw vegetables, such as sliced cucumber, carrots and celery, for 100 calories. One small apple with 2 teaspoons of peanut butter also makes a good choice for 105 calories.