The amount of muscle mass you can build in two months depends on numerous factors, such as how long you've been training, your age and genetics. Nutritionist Lyle McDonald suggests that those training under a year can gain 20 to 25 pounds of muscle in their first year, or up to two pounds per month, while after that your gains are halved in year two and halved again in year three. Nutritionist Alan Aragon has a slightly different formula and advises aiming for between 0.25 and 1.5 percent of your body weight in muscle gain per month. This gives you a good indication of how much you can build with two months of solid training.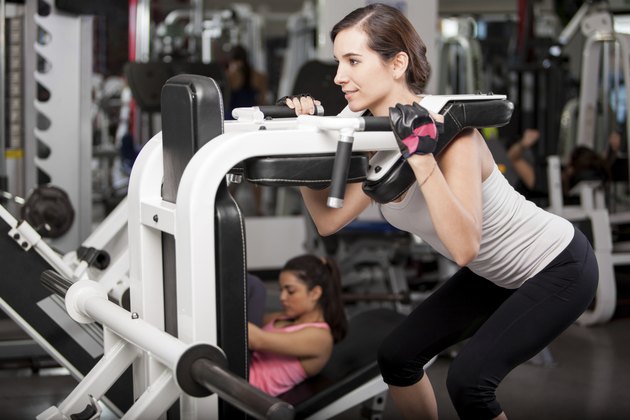 Split Decision
Set up your training split so you have sessions scheduled every week. If you're a beginner, Boston-based strength coach Eric Cressey recommends following a full-body routine, performed three times per week, in his book "Maximum Strength." For more advanced trainers, Cressey suggests an upper-lower routine, where you train your lower-body twice and upper-body twice each week. On the full-body schedule you need one to two days between each session and on the upper-lower routine you should avoid placing your upper-body or lower-body sessions on consecutive days.
Laying the Foundations
Make compound exercises the foundation of your routine. These are moves that hit multiple muscles and are best for building muscle mass, according to personal trainer Tony Schober. Lower-body compounds, as suggested by Schober, include squats, deadlifts, good mornings, front squats and stiff-legged deadlifts. For your upper-body, go with bench presses, pull-ups, military presses, incline presses and barbell rows. Pick two compound moves to start each session with, then move to isolation moves. Lower-body isolations are leg extensions, leg curls and calf raises, while upper-body isos include flyes, front, rear and side raises, biceps curls and triceps push-downs.
Crunching the Numbers
Periodize your workouts by adjusting your sets and reps each session, advises coach Matt Perryman. In week one, perform every exercise for four sets of 12 reps. Bump up your weights slightly in week two and perform five sets of eight. In week three, go heavier again for four sets of six and finish this four-week cycle with six sets of three. Begin week five back at four sets of 12, but with 5 to 15 lbs. more on every exercise.
Lift Big, Eat Big, Get Big
Not eating enough is muscle-building crime number one. You need a surplus of calories to grow, so make sure you put as much effort into eating as you do training. Bodybuilding website Muscle and Strength recommends eating at least 1 g of protein per pound of body weight daily, at least 2.5 g of carbs per pound and a minimum of 0.25 g of fat. Start with these figures, focusing on foods like chicken, lean steak, tuna, eggs, peanut butter, brown rice, oats, potatoes, milk, fruits and vegetables. Weigh yourself once a week. If you've gained less than 0.25 pound, add an extra 200 calories to your daily intake.