Magnetic resonance imaging, or MRI, brain scans can be a useful diagnostic tool for many different conditions. However, their ability to diagnose conditions such as mental illness is still limited. MRI can be used to diagnose disorders that cause changes in the brain such as bleeding, alterations in brain tissue or structure such as brain swelling and infiltrative disorders such as inflammation or brain tumors.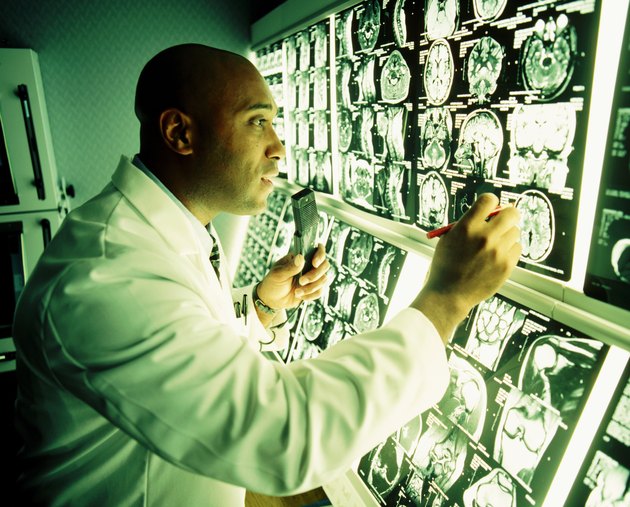 Stroke-Related Disorders
MRI can be used to diagnose stroke, which occurs when blood flow to the brain stops. Two major types of strokes are ischemic, caused by a lack of oxygen reaching brain tissue due to artery narrowing or blockage, and hemorrhagic, caused by a broken vein or artery. MRI is especially useful in diagnosing ischemic strokes, because they are more subtle and need the higher resolution to view them. Magnetic resonance imaging with angiography, or MRA, can be useful in diagnosing brain aneurysms, weak areas of arteries that bulge out like balloons and can cause strokes or other complications. MRI does not reveal fresh blood as well as computed tomography, or CT, scans do, and often both are used to diagnose hemorrhagic strokes.
Structural Brain Changes
MRI scans are often used to help diagnose abnormalities in the brain, such as birth defects, developmental deformities, damage caused by medical procedures, or cerebral palsy, and these scans can reveal either large or very minute brain changes. MRI scans can also be used to diagnose the effects of a traumatic brain injury, or TBI, on brain tissue. MRI can pick up subtle changes caused by the injury, such as very tiny areas of damage or bleeding. Because it is more sensitive than CT scans, MRI is often used to track the brain changes as the person with a TBI recovers.
Cysts and Tumors
MRI can be useful in diagnosing brain cysts and tumors, especially very small ones or those that are in areas that other imaging techniques like CT scan cannot visualize well. Sometimes a special dye may be injected into the brain before the MRI to help view differences in the adjacent areas of brain tissue. This allows physicians to locate hard-to-find brain tumors and cysts that cannot be located by other means.
Other Conditions
MRI is superior to other forms of imaging for diagnosing certain brain infections or conditions that result in inflammation of the blood vessels called vasculitis. MRI also can reveal brain abscesses, collections of pus in the brain due to infection or injury. MRI is very important in the diagnosis of multiple sclerosis and can detect the condition in up to 95 percent of the people who have it because of its ability to detect subtle changes in brain tissue. MRI can be quite useful in helping diagnosing hormonal disorders that affect the brain, such as pituitary problems or Cushing syndrome. While MRI scans alone cannot be used to diagnose conditions such as Alzheimer disease or Parkinson disease, they are useful in visualizing the brain changes in these disorders and assisting in their diagnosis.