Isn't it great when you can do something great for yourself while doing something good for others? Running charity races is the perfect way to merge those passions. From races that raise funds for breast cancer to ones that help honor wounded military veterans and more, there's a race that lets you support any cause close to your heart.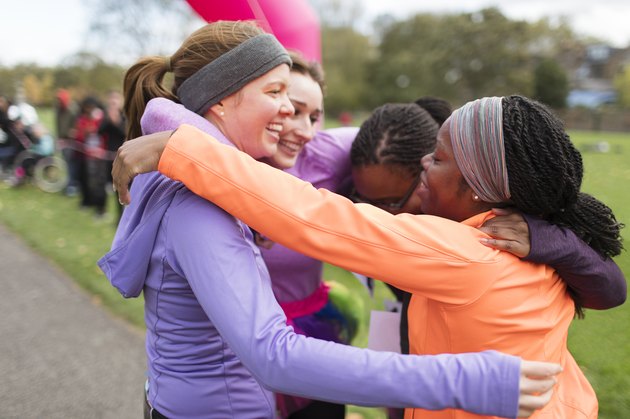 For runners looking for a way to give back, here are 10 charity races throughout the country — from series with multiple nationwide events to individual races — that give runners the chance to make a difference in their communities and for people all over the world.
1. Susan G. Komen Race for the Cure
The world's largest fundraising event for breast cancer, the Susan G. Komen Race for the Cure started in 1983 with only 800 runners. With nearly one million participants on four continents, a total of nine countries now host run/walk events in hopes to rid the world of breast cancer. This race series prides itself on being an event for people of all fitness levels: from walkers to elite runners.
The Susan G. Komen Foundation is known for its education, research, grants and support of those affected by breast cancer. Not only do the Race for the Cure events help make a global impact, raising more than $2 billion for research and treatment and support programs, they also give participants a way to celebrate survivors and honor those who have lost their battle with the disease.
2. Girls on the Run 5K
Girls on the Run started in 1996 in Charlotte, North Carolina, but now has programs all across the U.S., helping instill a love of running in girls and showing them their true strength. In each city where there's a chapter, small teams of girls meet twice a week with their coaches to train for a 5K and learn more about themselves and their teammates.
"Completing a Girls on the Run 5K gives the girls in our program a tangible sense of achievement as well as a framework for setting and achieving life goals," their website says. "Community support ensures that whether the 5K is a large event or an inspiring gathering of friends and family, the results are the same — making the seemingly impossible possible."
3. St. Jude Memphis Marathon Weekend
Fundraisers are known as heroes, and the money they raise helps families focus on only one thing when at St. Jude: their children. Bills for treatment, travel, housing and food are paid through fundraising efforts, and once race organization funds are paid, all remaining money goes directly back to St. Jude Children's Hospital. To participate, make sure you're in Memphis in December and ready to run!
4. Run for the Water
Austin's Run for the Water is the second largest fully charity-produced road race in the city. "Run for the Water is fully produced by and benefits the Gazelle Foundation — an Austin-based nonprofit building gravity-flow water systems in Burundi, Africa," says Michael Madison, race director. "To date, participants have helped fund projects supporting over 92,000 citizens of the world's poorest country."
The Gazelle Foundation was founded in 2006 and is lead by founder Gilbert Tuhabonye, who was born in Burundi and is now a long-distance runner, author, speaker and coach. A survivor of the Burundian civil war, he uses the Gazelle Foundation and Run for the Water to give back to those still living in Burundi without access to clean water. Offering a 10-mile and 5K option, the race has even served as a Road Runners Club of America championship event for eight years.
5. Chosen Half Marathon
"The Prettiest Race in Texas" can be found in New Braunfels — located in-between Austin and San Antonio — and raises funds for orphans and adoptive families. The Chosen Half Marathon and 5K exists to help children as they are adopted into families and provide care to orphans not yet adopted.
"Race fees go directly to help care for children who need safe, loving, permanent families," says race founder Jenni Lord. "There are more than 165 million children worldwide who are orphaned and more than 10,000 children in our area in the foster care system. We raise money and awareness for these vulnerable children." There have been zero failed adoptions with members served by Chosen, thanks to the mentoring, education, therapy and outreach provided to its families.
6. Parkinson's Half Marathon and 5K
Physical activity is critical for those with Parkinson's because the symptoms — slowness, stiffness and poor balance — can be slowed or reversed by exercising regularly. The Parkinson's Half Marathon and 5K is the perfect event to not only bring awareness to the disease, but to help draw attention to the importance of physical activity and the positive impact that exercise can have in everyone's life.
7. Wounded Warrior Carry Forward 5K
8. JDRF One Walk
The One Walk is the Junior Diabetes Research Foundation's flagship fundraising event, with more than 200 walks taking place in cities all across the country. The largest type 1 diabetes event in the world, it has helped raise millions of dollars for research that has resulted in life-changing innovations in diabetes treatment.
The JDRF says of the event: "People from all walks of life come together to form one united community — a community committed to the JDRF mission and determined to remove the burden of this disease from the lives of those they care about most."
9. LIVESTRONG Challenge Fun Run
10. Wings for Life World Run
If you're looking for a unique race experience, the Wings For Life World Run is for you. Runners from all over the world come together for one race — either by physically being in one of the 12 race day locations or virtually via app — all to fund spinal cord research.
In fact, your entire entry fee goes directly to the cause. Whether you find a race location or run virtually, all participants run on the same day at the exact same time giving you a new way to connect with runners from all over the world while racing to find a cure for spinal cord injuries.