1 of 13
You no longer have to worry about skipping workouts while you're on the road. That's because numerous hotels and resorts have gone beyond the decked-out 24-hour gyms. Many properties are now offering special fitness packages that include everything from spin classes to yoga mat-outfitted rooms to make sure you get some reps in between all that R&R. Here are 10 of our favorite options for staying fit while you travel (regardless of whether it's for business or pleasure).
Image Credit:

andresr/E+/GettyImages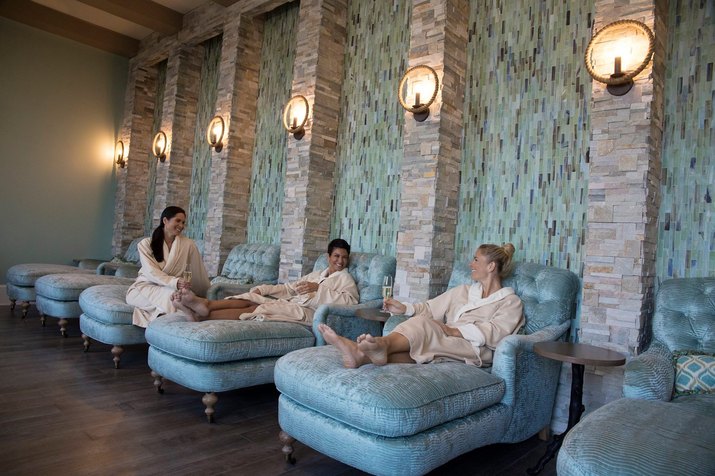 2 of 13
1. The Henderson, Destin, Florida
If you ever find yourself in the northwest corner of Florida (or ever wanted to be surrounded by crystal clear blue waters), book a stay at The Henderson in Destin, Florida. While there, you'll have access to their fitness center as well as a host of workout classes including yoga (some classes are right on the beach!) HIIT, paddleboarding, indoor cycling, circuit training and more. Or get fit while you'll cool off in one of their pools. And after a long, hard day of sun, fun and sweat, book a massage at their Salamander spa to help your muscles recover.
Find out more about The Henderson in Destin, Florida
Image Credit:

Facebook: Henderson Beach
3 of 13
If you're worried that your hotel gym won't be on par with your home gym, then book a stay at the Westin St. Francis. Not only do they have a newly renovated 6,000-square-foot fitness facility but they just partnered with Peloton Bikes, so you can still go to your weekly cycling workout. They've also partnered with New Balance to provide guests with a gear rental program. And their SuperFoods menu (including fresh-squeezed juices) will keep you happily full without packing on the pounds.
Find Out More About Westin St. Francis
4 of 13
3. Shangri-La Hotel, Toronto
When you're staying at a five-star hotel, you may not want to leave the room to get your sweat on. But book a room at the Shangri-La in Toronto and you won't have to. That's because each comes with a 25-minute yoga sequence with lululemon ambassador Amber Joliat that can be viewed on an in-room TV or streamed on an iPad. If you do want to venture out of your room, you can also enjoy their 9,000-square-foot fitness facility where you can take a variety of group fitness classes like yoga, barre, bootcamp and boxing.
Find Out More About Shangri-La Hotel in Toronto
Image Credit:

Shangri-La Hotels
5 of 13
4. 1 Hotel South Beach, Miami
You've heard of the Spartan Race, now train like a Spartan at 1 Hotel South Beach in Miami, FL. With an impressive 14,00-square-foot facility, there are individual areas dedicated to "athleticism, endurance and strength." Or if SoulCyle is more your cup of tea, take a 45-minute class on one of the 54 bikes in this studio 2,600-square-foot indoor cycling space connected to the hotel. After you give your muscles a good work out, hit up the Bamford Haybarn Spa for a deep-tissue massage to help speed up muscle recovery and reduce muscle soreness.
Find Out More About 1 Hotel South Beach, Miami
6 of 13
Launched in June of 2014, Even Hotels stands out for its holistic approach to wellness. That includes a front-and-center gym just off the lobby and a "flex room" for spinning and yoga. For those who like to exercise in private, there are in-room "fitness zones" with cork flooring and equipment like stability balls, yoga mats and video routines. Staff is on hand to recommend local running and hiking routes.
Find Out More About Even Hotels
Image Credit:

InterContinental Hotels Group
7 of 13
Each of the W Hotels brings you a different version of their FIT program. Some include a yoga series with Tara Stiles (she's an instructor at and the owner of Strala Yoga), which features an in-room workout video and accompanying tip cards. At select locations, guests can buy a package of classes with Stiles herself. Other locations include a Baywatch Summer Fit series or individualized HIIT sessions with a personal trainer.
Find Out More About W Hotels
Image Credit:

Starwood Hotels & Resorts
8 of 13
7. Fairmont Hotels and Resorts
The "Fairmont Fit" program is available to all members of Fairmont President's Club and is complimentary for Premier and Platinum members. It gives members Reebok tennis shoes and workout clothing — including a track jacket, performance T-shirts and microfiber socks — delivering them to each room upon request. Women can request capris and sports bras, and men can request pants or shorts. And if you're looking to work out in your room, you can request and yoga mat and stretch band, too.
Find Out More About Fairmont Hotels and Resorts
Image Credit:

Fairmont Hotels
9 of 13
These wellness-focused hotels take exercise seriously. Fitness programming includes Bikes to Borrow, which offers guests complimentary bikes along with a local trail map — even in urban locations. The hotels also feature natural saline swimming pools and spacious fitness centers with signature stationary-bike charging stations that let guests power-up their personal electronic devices as they pedal. And because you need to fuel all that activity properly, they offer plenty of healthy food items that you can either take with you or enjoy in their breakfast area.
Find Out More About Element Hotels
Image Credit:

Westin Hotels
10 of 13
No need to pack multiple workout outfits into your carry-on if you're staying at a Westin. It's running program, runWestin, loans guests New Balance gear for just $5. And should you want to explore your new city by foot, you'll find a running concierge at select properties to lead scenic jogs for all fitness levels. If you're lucky, you'll find their running concierge, marathoner Chris Heuisler, at any Westin Hotel that's hosting Rock 'n Roll Marathon runners, from Chicago to Denver. Feeling a bit hungry after your run? Fuel up on their specially designed and nutritious SuperFoods Rx menu.
Find Out More About Westin Hotels
11 of 13
10. Hyatt Hotels and Resorts
Traveling is stressful. Thankfully, Hyatt Hotels and Resorts offer YogaAway, which features nine 45-minute yoga sessions you can do from the comfort of your room as well as an 11-minute "yoga turn-down service" of breathing exercises (a healthier alternative to a chocolate on your pillow). Or take your fit and zen vacation to the next level with YogaAway GetAways. You'll have access to experts in medicine, yoga, lifestyle and nutrition as well as yoga classes and spa services. But if you need a more intense workout, hit one of the newly renovate fitness centers with high-quality cardio and strength-training equipment, as well as a fitness concierge on duty.
Find Out More About Hyatt Hotels and Resorts
12 of 13
11. Equinox Hotel, New York City
With the first location not set to open until 2019, this newcomer to the travel scene has plenty of time to prep for its wow factor. Equinox is like the Four Seasons of the gym world, so we're assuming their first location in New York City's Hudson Yards will make quite a splash — in an Olympic-size lap pool, perhaps?
Find Out More About Equinox Hotel in New York City
Image Credit:

Facebook.com/Equino
13 of 13
What are your favorite hotels for staying fit while you travel? Besides staying in the right hotel, how else do you ensure that you stay fit while traveling? Share your healthy travel tips with us in the comments below!