Decadently creamy and mildly sweet, avocado toast is incredibly easy to make: Slice or mash some avocado and spread it on a piece of toast — voila! But don't let the simplicity of this dish fool you. Topping your toast with avocado adds a good source of antioxidants, fiber, vitamin K, folate, pantothenic acid, copper and good fats — turning plain ol' toast into a nutritious breakfast, lunch, snack or dinner.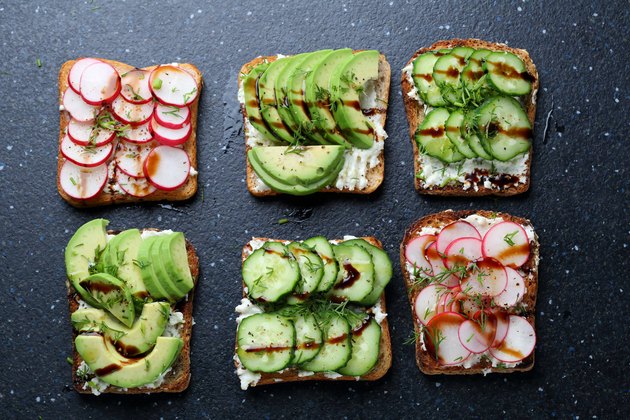 And while basic avocado toast is tasty all on its own, topping with fruits, veggies or nuts adds texture and even more nutrients to your meal. Try one of these sweet, savory or spicy avocado toasts for a dish that's equal parts pretty, healthy and tasty.
1. Tex-Mex Avocado Toast
Turn up the heat with a veggie-packed avocado toast that's both satisfying and spicy. Beans and corn add protein and fiber that'll keep you feeling full for hours. Plus, tomato slices provide a generous amount of vitamin C for smooth, glowing skin.
HOW TO MAKE IT: Load a thick slice of multigrain toast with mashed avocado. Then add a layer of thinly sliced tomatoes, a tablespoon of drained and rinsed black beans, a tablespoon of toasted corn kernels and a tablespoon of salsa or pico de gallo. Garnish with a sprinkle of chopped cilantro.
2. Crunchy Spiced Chickpea Avocado Toast
This avocado toast features whole grains, legumes and leafy greens. Roasted spiced chickpeas provide vegan protein to help fuel your muscles. They also supply tons of dietary fiber to promote digestion and heart health. Warming spices like cayenne, cinnamon and ginger add antioxidants, which help protect against free-radical damage.
HOW TO MAKE IT: Spread mashed avocado over a slice of sourdough. Add a quarter-cup of roasted chickpeas, seasoned with a dash of cayenne, ginger and cinnamon. Finally, top with a sprinkle of feta cheese, a tablespoon of chopped mint leaves and the zest of one lemon.
3. Tropical Avocado Toast
Take your taste buds on a trip to the tropics with this refreshing avocado toast. Homemade pineapple-and-pepper salsa supplies tons of vitamin C. Pineapple also supplies bromelain, an enzyme that supports joint health. A cilantro garnish adds fresh flavor and vitamin A, an essential nutrient that nourishes your skin, eyes and immune system.
HOW TO MAKE IT: Make the pineapple salsa by mixing two tablespoons of chopped fresh pineapple with a tablespoon of chopped red bell peppers and a generous handful of chopped cilantro. Then, top a slice of whole-wheat toast with thinly sliced avocado. Add the salsa and garnish with another sprig of cilantro.
4. Poached Egg Avocado Toast
If you're looking for a meal that's easy to make but still looks fancy, this poached egg avocado toast is the option for you. Mixing the mashed avocado with cayenne, an antioxidant powerhouse that may also help with weight loss while adding a hint of spice to your toast. The poached egg provides enough protein to make this toast a satisfying meal.
HOW TO MAKE IT: Start by poaching your egg. While it's cooking, mash a quarter-teaspoon of cayenne with half of an avocado. Spread the avocado mixture over a slice of sprouted grain bread, add a handful of your favorite microgreens. Top with the egg and another sprinkle of cayenne if you'd like a bit more heat.
5. Beet and Crispy Shallot Avocado Toast
For a gorgeous kick-off to your morning, make this vibrantly hued avocado toast. Beets come packed with heart-healthy fiber, and they also supply betaine, a phytonutrient that helps boost your athletic performance. Crispy shallots add crunch along with anti-inflammatory and antioxidant benefits.
HOW TO MAKE IT: Cut roasted beets into half-inch slices. Skin and thinly slice the shallots. Dip the shallots in a mixture of milk and cornstarch, and then coat with breadcrumbs and pan-fry in coconut oil until crispy. Top a piece of multigrain bread with avocado slices, sliced beets and the shallots. Finally, garnish with some orange zest for a pop of color and citrus flavor.
6. Mediterranean Avocado Toast
This avocado toast bursts with Mediterranean-inspired flavors. Sun-dried tomatoes provide vitamin C, which helps boost your immune system. They're also a great source of lycopene, a phytonutrient with powerful antioxidant benefits. Black olives impart savory flavor and healthy fats, while garlic can help reduce high blood pressure.
HOW TO MAKE IT: Mash half of an avocado and mix in a dash of garlic powder. Spread the mixture over a thick slice of whole-grain bread. Add a few tablespoons of thinly sliced sun-dried tomatoes and a tablespoon of pitted and sliced Kalamata olives. Garnish with a handful of chopped basil, a sprinkle of feta and the zest of one lemon.
7. Sweet and Savory Burrata Avocado Toast
Craving comfort food that's still healthy? Try a decadent avocado toast featuring burrata, an ultra-creamy Italian cheese. Red grapes and cherry tomatoes supply a powerful dose of antioxidants and naturally sweet flavor. And a balsamic vinegar garnish adds savory flavor and heart-healthy phytonutrients.
HOW TO MAKE IT: Top a slice of multigrain baguette with a layer of mashed avocado, and then smear on a generous helping of the burrata. Add a few halved grapes and chopped cherry tomatoes, season with a generous sprinkle of freshly ground black pepper and garnish with thinly sliced basil ribbons and a drizzle of balsamic vinegar.
8. Arugula and Fig Avocado Toast
Double down on green by pairing creamy avocado with crisp, peppery arugula. Like most leafy greens, arugula is an excellent source of vitamin K, a nutrient that's essential for blood clotting. Sliced figs provide a hefty dose of fiber, so you'll feel satisfied for hours after eating.
HOW TO MAKE IT: Top a slice of whole-wheat flaxseed bread with half of a thinly sliced avocado. Add a small handful of arugula leaves, arrange a few fig slices on top and sprinkle with the leaves from a sprig of fresh thyme. Garnish with chopped toasted hazelnuts and a drizzle of antioxidant-rich manuka honey.
9. Persimmon and Pomegranate Avocado Toast
This richly colored avocado toast is topped with sweet persimmons and tart pomegranate arils. Persimmons provide vitamin A and potassium, a mineral important for nerve, muscle and heart health, while pomegranate arils burst with fiber and vitamins C and K.
HOW TO MAKE IT: Top a thick slice of multigrain bread with a generous layer of mashed avocado. Add two or three wedges of fresh persimmon. Garnish with a few sprigs of fresh dill and a handful of pomegranate arils, and then drizzle with honey. For the best flavor, make this toast using persimmons that are fully ripe.
10. Strawberry and Mint Avocado Toast
In the mood for something refreshing? Try this strawberry and mint avocado toast. Strawberries are one of the richest sources of vitamin C, and they're naturally low in sugar (so they're lower in calories than many fruits). Mint leaves add bright herbal flavor, and they also contain phytonutrients that help promote digestion.
HOW TO MAKE IT: Spread a thick layer of mashed avocado on a slice of multigrain bread. Top with two to three tablespoons of sliced strawberries, a handful of freshly chopped mint leaves and a tablespoon of toasted chopped hazelnuts. Season with freshly ground salt and black pepper, and then garnish with a drizzle of honey.