Allegra (fexofenadine) is an antihistamine medication used in the treatment of seasonal allergies, skin itching and hives. Symptoms of seasonal allergies include sneezing, itching, red watery eyes and runny nose. Allegra works by decreasing the amount of histamine in your body. Fruit juices and certain antacids can make it harder for your body to absorb Allegra, states Drugs.com. Allegra should be taken 1 hour prior or 2 hours following a meal. There are some side effects of Allegra that you should be aware of.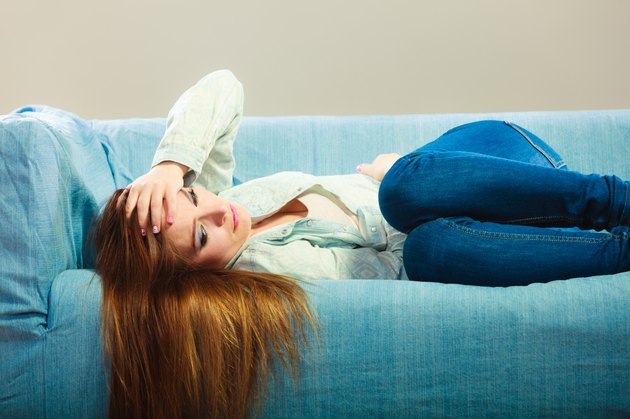 Stomach Pain, Nausea and Diarrhea
You can experience stomach pain, nausea and diarrhea while taking Allegra. These side effects may diminish over time as your body adjusts to Allegra. Eating a bland diet with smaller meals more frequently can help combat gastrointestinal effects. If diarrhea becomes severe you may become dehydrated. Contact your health care provider if you experience severe stomach pain, nausea, and vomiting.
Headache and Drowsiness
Headache and drowsiness are common side effects of Allegra. You may also experience fatigue. You may feel more tired and sleepier than usual. You should use caution while driving or operating hazardous machinery until you know how this medication may effect you. You can treat your headache with acetaminophen or ibuprofen as per your doctor's consent. If drowsiness and fatigue become intolerable, contact your physician.
Muscle or Back Pain
You may experience muscle or back pain while taking Allegra. If pain is intolerable you can take acetaminophen or ibuprofen as per your doctor's consent. Massage may help alleviate muscle and back pain. These side effects may diminish as your body gets used to Allegra.
Menstrual Irregularity
Menstrual irregularity is a possible side effect of Allegra. You may experience missed periods while taking this medication. A missed period can also be a symptom of a gynecological issue or pregnancy. If you miss your period while taking Allegra you may want to take a home pregnancy test.
Allergic Reaction
In rare cases, an allergic reaction can occur while taking Allegra. Get emergency medical help if you have any of these signs of an allergic reaction: hives, difficulty breathing, or swelling of your face, lips, tongue or throat.
Is This an Emergency?
If you are experiencing serious medical symptoms, seek emergency treatment immediately.