Adderall is a prescription medication used to treat attention deficit hyperactivity disorder (ADHD) in adults and children 3 years and older. It is also used to treat narcolepsy in children 6 years and older, and in adults. Narcolepsy is a condition also known as daytime sleepiness; an individual with this condition has episodes of sleeping during the daytime. Since Adderall is highly addictive, extended chronic use must be avoided. Adderall has serious side effects, including heart complications and death.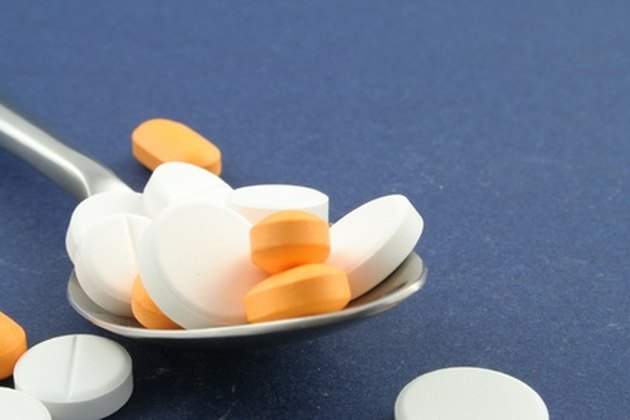 Adverse Effects on Heart
Excessive doses of Adderall result in a dangerous increase in blood pressure (hypertension). Patient can also experience palpitations and irregularities in heartbeat and heart rhythm. Overdose can also cause tachycardia, a condition where the heart beats faster than normal, or bradycardia, a condition where the heart beats too slow. Adderall in excess can result in a life-threatening heart attack. Symptoms of heart attack include chest pain, chest pressure, nausea, sweating, vomiting, difficulty breathing and pain in the upper parts of the body. A heart attack is serious and can be fatal if immediate help is not received. A tear sometimes develops on the heart's main valve, making blood flow into the space between the linings of the valve, resulting in a separation of the layers. When the layers separate, internal bleeding occurs, leading to organ damage, stroke and death.
Negative Behavioral Changes
Several behavioral changes occur when Adderall is taken as prescribed and in excessive doses. Patient might become agitated with no provocation. They can also also experience euphoria and paranoia. Long-term use of Adderall, both in prescribed doses and overdoses, can lead to irreversible psychiatric illness. The National Institutes of Health warns that an overdose of Adderall can also result in hallucinations, aggression, depression and restlessness.
Adverse Effects on Brain
Excessive Adderall can affect the brain and lead to seizures. Seizures are abnormal activities in the body that can manifest with or without muscle involvement. When the muscles are involved, the patient exhibits involuntary contractions and relaxations of the muscles. Overdose can also cause the temperature regulation system of the body to malfunction and lead to the body overheating, a serious condition known as hyperthermia. Hyperthermia manifests as weakness, fatigue, thirst, nausea, sweating, coma and permanent brain damage. In overdose, Adderall can also stimulate internal bleeding in the skull, predisposing the patient to one-sided paralysis, confusion and loss of consciousness.
Kidney and Liver Damage
When Adderall is taken in excess, the kidney and liver are unable to handle the high concentration of drug, and ultimately, the drug causes toxicity to both organs, subsequently leading to kidney and liver damage. Kidney failure is characterized by swelling of the feet, legs and ankles, abdominal pain, abnormal taste in the mouth, odor in breath, easy bruising and extended bleeding. Kidney failure can also facilitate fatigue, changes in urination pattern and volume, seizures and coma. Liver failure can cause loss of appetite, nausea, drowsiness, weakness, yellowing of eyes, fluid retention in the abdomen, excessive sleepiness, confusion and coma. Kidney and liver function should be addressed immediately if an overdose of Adderall is suspected to avoid a fatality.
Other Dangers
According to MedLine Plus, other dangers of an overdose of Adderall include inability of the body to clot properly when bruised, and breakdown of muscles in the body, resulting in fatigue, joint pain, muscle stiffness and seizures. An overdose of Adderall requires immediate medical attention to prevent permanent damage and death.