Athletes and others getting into shape commonly incorporate running bleachers into their exercise routines. The intense activity has a variety of health and physical fitness benefits, some of which develop the body more efficiently than running on a flat surface. Although running bleachers shouldn't be done every day, by sprinkling it in once or twice a week, you will receive numerous benefits.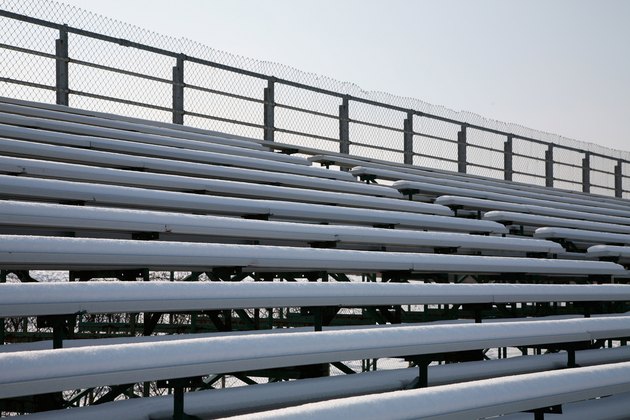 Improves Cardiovascular Development
Running bleachers will quickly increase your heart rate up into the training zone. The activity is much more intense than regular running, so you will find that your heart beats much faster than when you are simply jogging. The activity requires that you exercise at high intensity for short bouts as you run up the bleachers, then rest a bit as you walk back down. This type of workout is similar to interval training and is effective in teaching your cardiovascular system how to recovery quickly, as it needs to get your body ready to be able to work hard again once it is time to run back up.
Burns Body Fat
Because running bleachers raises your heart rate up into its training zone, it is considered a cardiovascular exercise. Cardiovascular exercises are effective in burning calories, which in turn facilitate creating a caloric deficit and increases body fat loss. Participating in cardiovascular activities, such as bleacher running, where your heart rate is elevated for at least 30 minutes, is an effective activity to participate in when trying to burn calories.
Increases Leg Power
A big reason that athletes incorporate running bleachers into their routine is because of its effective ability to increase leg power. In certain sports, such as basketball, soccer, football and track, leg power is beneficial to enhancing performance. Climbing up the bleacher stairs quickly requires the quadriceps and glute muscles in the legs to push off each step with large amounts of explosive force. Even long distance runners have seen improvements in their running speed when they fit running bleachers into their workout.
Provides Workout Variety
Adding variety to your workout program can help ensure you do not become bored and unmotivated. Especially for runners, finding a local stadium with bleachers can be a much needed break from their same daily route, which will keep them from becoming mentally tired. For those who are not runners, bleachers will work the leg muscles in a way unlike any other activity. Constant variety in workouts prevents muscles from adapting and hitting a plateau. Instead, it allows them to continue development.