A confusing selection of products allude to promises of a full head of thick, healthy hair. Rogaine is the only nonprescription treatment approved by the U.S. Food and Drug Administration to prevent hair loss and encourage hair regrowth for those suffering from typical, hereditary baldness. This medicine, which also goes by the generic name topical minoxidil, was in fact the first drug the FDA approved for hair loss in men and women. While it's a logical choice for many seeking nonprescription treatment, Rogaine has some cons that may ultimately outweigh its benefits.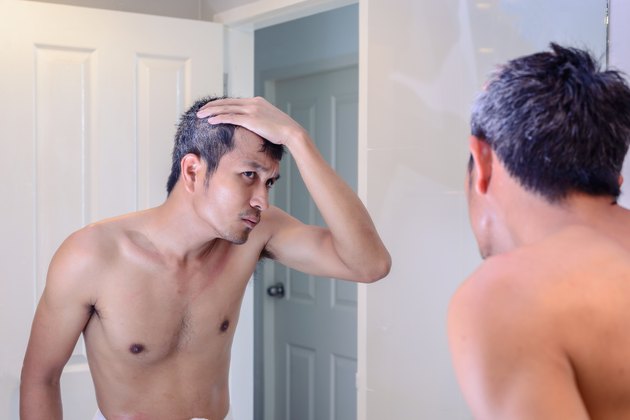 Routine Use Is Needed
Rogaine works only as long as it's used diligently and routinely. So if you choose this method to tackle hair loss, there's no falling down on the job. Rogaine solution requires twice per day application, although Rogaine foam is used only once per day. It can be difficult to keep this up every day, as you probably will not notice any results for at least 3 months. Furthermore, hair loss sometimes initially gets worse before beneficial effects occur. And if you stop using Rogaine, the effects dissipate relatively quickly. Hair growth in the area ceases and any newly formed hair may rapidly fall out.
Use Can Be Complicated
The proper use of Rogaine foam or solution entails applying it to a clean, dry scalp in the exact dosage the manufacturer specifies. It's important to remember all the "don'ts" when applying Rogaine to make sure it works for you. For example, you should not wash your hair for 4 hours after applying Rogaine. When using Rogaine, you must also keep in mind that it should not be used 24 hours before or after chemical hair processing, such as dying, perming or relaxing the hair. Finally, it takes awhile for Rogaine to dry -- as long as 2 to 4 hours. Before this time, Rogaine can stain caps, hats, scarves and even bedding. Using a hairdryer to speed up the drying process is not recommended, as this can make the Rogaine less effective.
Not Effective for Everyone
Rogaine works best on certain individuals and that might not be you. In men, the best results are obtained when the male-pattern hair loss has been present for less than 5 years and the bald spot is less than 4 inches in size. Additionally, Rogaine works most effectively for hair loss at the vertex of the head, which is the circular area between the top and back of the head. Rogaine produces minimal or no results when used in other areas. In women, Rogaine works best if there is generalized thinning of hair on the top of the head. The manufacturer has added pictures to the Rogaine boxes showing the types and degrees of hair loss that will be most helped.
Side Effects Can Occur
The side effects you are most likely to develop are local symptoms at the site of Rogaine application. Burning and stinging may occur. Inflammation with redness or a rash may develop, which could be a type of mild allergic reaction called contact dermatitis. Dandruff may also be noted. Excessive hair growth in other areas -- called hypertrichosis -- is another possibility. This may be localized to the face or extend to more distant parts of the body. In a study published in the December 2011 issue of the "Journal of the American Academy of Dermatology," hair growth in the sideburn area was reported in 11% of women using Rogaine foam and 26% of those using Rogaine solution. Other possible side effects are headaches, weight gain, decreased blood pressure and an increased heart rate or palpitations. Although rare, severe allergic reactions can occur, as with any medication.
Reviewed and revised by: Mary D. Daley, M.D.