Despite common safety concerns, it's perfectly safe for teenagers to participate in strength training. Focus should be on mastering exercise technique, form and building strength, rather than trying to put on muscle. Whether a 15-year-old will see increases in muscle depends on their body type and if they've gone through puberty. Perform one set of eight to 12 reps of each exercise.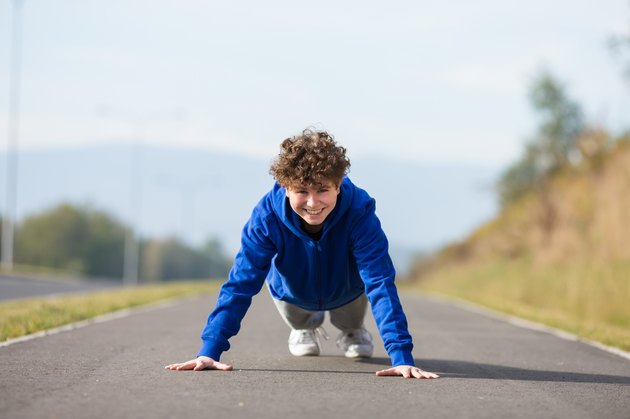 Beginning with Bodyweight
Teens should start out with strength training basics before moving onto more complex exercises. Begin with workouts that consist of bodyweight exercises, including squats, lunges, pushups, pullups, sit-ups and bench dips.
Moving Onto Machines
Derek Charlebois of TeenBodybuilding.com recommends that teens begin by working out on weight training machines. He adds that a full-body weight machine workout for teens includes leg extensions, leg curls, machine bench press, machine row, machine biceps curl, triceps press down, crunches and standing calf raises. Teens shouldn't follow a high-intensity or bulking program until they've gone through puberty, as they fail to possess the hormones needed for muscle mass and the training can cause damage to the joints or separate growth plates. Instead, a weight-training program for teens should focus on using lighter weights with exercises being performed at a higher number of reps.
Using Free Weights
The team at University of Rochester Medical Center adds that teens may have issue fitting into weight machines properly and, in such circumstances, should use free weights. With free weights, a 15-year-old can perform squats, lunges, chest press, rows, shoulder press and overhead triceps extension. To avoid placing too much stress on joints and ligaments while a teen is still developing, teens should use light free weights so that they're able to perform 12 reps with relative ease. Teens should be supervised at all times when lifting free weights to prevent them from attempting to lift unsafe loads. A friend should act as spotter when using dumbbells.