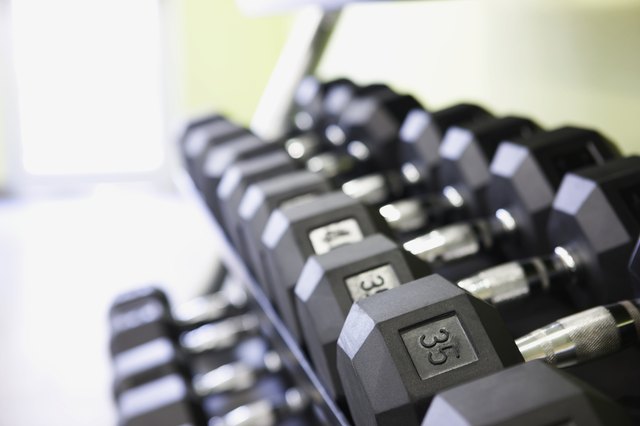 Whether they use barbells, dumbbells, weight machines or resistance bands, strength training is a beneficial body builder for teenagers. Weightlifting can help increase the amount of muscle mass in the body, making it an ideal exercise for nearly every teen athlete. Although it's certainly not bad for a 15 year old to lift weights, certain safety precautions will help prevent injury during the physical changes of puberty.
Physical Changes
Generally. beginning between the ages of 8 to 13 in girls and 10 to 15 in boys, puberty triggers a variety of physical and emotional changes. Girls often experience increased height, weight and body fat, enlarged breasts and the start of menstruation. On the other hand, boys might notice increased height and weight, enhanced muscle development, testicle growth and a deepened voice. During puberty, the body constantly produces new bone and muscle to keep up with the height and weight increases.
Weightlifting Benefits
Along with increasing muscle mass, regular strength training can also help reduce body fat and prevent the accumulation of excess weight. As with any type of exercise, regular weightlifting sessions can improve your physical endurance and prevent future medical problems. Some teens also notice improved concentration and focus, which can be a huge benefit during school hours.
Don't Overdo a Good Thing
Although weightlifting can be a safe exercise for a 15 year old, certain dangers do exist. During the early teen years, the bones, tendons and joints are still developing quite rapidly. As such, they can be overworked quite easily. If you feel pain or unusual discomfort while weightlifting, stop immediately. Exercising through an injury could result in permanent damage to your body.
Safety Considerations
Before initiating a weightlifting routine, visit your physician for a physical checkup. Your doctor can advise whether your body is physically able to handle the muscular demands of weightlifting. Additionally, consult a certified fitness trainer for a bit of guidance. Work with your trainer to develop a safe weightlifting routine and determine which exercises and stretches you should use. Your trainer should also guide you through each exercise to ensure you are using proper form and technique. As you begin your routine, start slowly to avoid injury. The TeensHealth website recommends just three 20- to 60-minute weightlifting sessions per week with at least one day of relaxation between workouts. If you are using free weights or an exercise machine, have a spotter nearby in case you need help completing a rep or holding the weight.