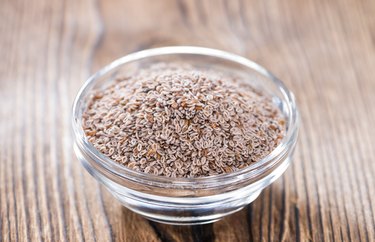 In any detox program, it's important to make sure that the wastes being drawn from the body are able to leave the body as well. Psyllium husk acts as a natural laxative, and is an ingredient in Metamucil. Psyllium husk comes from the seed of the plant Plantago ovata. It's important to use psyllium husk with the proper amount of water during a detox; otherwise, the psyllium husk can actually obstruct the gastrointestinal tract.
Step 1
Take any vitamins and supplements you need first thing in the morning when you wake. Wait two hours to begin detoxing with psyllium husk.
Step 2
Grind 1 tsp. of your psyllium husk in the blender to turn it into a powder. Add a little bit of water to assist with blending the psyllium husk.
Step 3
Mix your psyllium into an 8-oz. glass of water until it is well-mixed. Drink the glass of psyllium water and then drink another ½ to full cup of water to help wash the psyllium through your digestive system. Take 2 tbsp. of bentonite clay prior to taking the psyllium if you want to increase the detoxification process. The clay helps to draw out chemicals and metals in the body.
Step 4
Drink an 8-oz. glass of water every few hours so that you are getting at least 8 glasses of water while taking the psyllium husk.
Step 5
Eat light meals of steamed vegetables with brown rice at lunch, and add fish or beans at dinner. Take another teaspoon of ground psyllium husk mixed in an 8-oz. glass of water before you go to bed. Repeat the process for a period of up to seven days.
Things You'll Need
Blender

Bentonite clay (optional)

Steamed vegetables

Brown rice

Beans or fish
Warning
Psyllium can decrease the absorption of medication and vitamins. Wait a few hours to take psyllium to prevent their absorption from being blocked.
Don't take psyllium with other laxatives.