Children might be the next bright spot for protein supplements. More and more companies, such as Kind Healthy Snacks, RXBAR and ThinkThin, are launching protein bars for kids. Some are gluten-free and have little to no sugar, making them ideal for a balanced diet. Unlike granola bars, they're lower in carbs and higher in protein.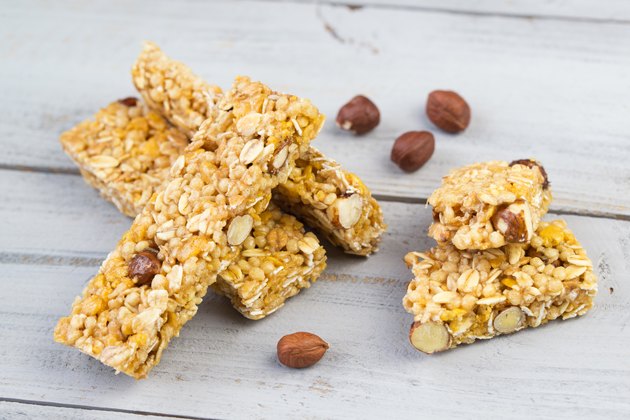 Can Kids Have Protein Bars?
Along with fats and carbs, protein is one of the three macronutrients your body needs to function optimally. After ingestion, it's broken down into amino acids and used for growth and development, immune support, tissue repair, blood clotting, digestion, energy production and more. Maintaining an adequate protein intake may also improve exercise performance, accelerate muscle repair and promote lean muscle growth.
According to a 2017 article published in the European Review for Medical and Pharmacological Sciences, this nutrient is particularly important for active children because it helps them meet the demands for the normal processes of growth and exercise. How much protein your child needs depends on his age, weight and activity level.
As the Food and Agriculture Organization (FAO) notes, kids ages 3 to 4 need approximately 1.09 grams of protein per kilogram of body weight. If your child is 6 to 9 years old, make sure he gets at least 1.01 grams of protein per kilogram of body weight. The recommended daily intake of protein for children ages 9 to 10 is 0.99 grams per kilogram of body weight.
If your child is a picky eater or doesn't get enough protein from foods, kids snack bars might do the trick. The best energy bars for kids are high in protein, complex carbs, fiber and other nutrients that promote health and well-being. These treats can be consumed for breakfast, between meals or anytime throughout the day. For example, if your kids refuse to eat in the morning, consider giving a protein bar. Just make sure they don't go overboard.
Also, beware that many protein bars for kids are loaded with sugar, artificial flavors, high-fructose corn syrup, additives and preservatives. According to a 2018 report published by the American Academy of Pediatrics, food additives are particularly harmful to children since their metabolic systems are still developing. These chemicals may disrupt endocrine function, delay puberty, cause weight gain and trigger insulin resistance. Considering these risks, it's important that you choose kids snack bars with organic or natural ingredients.
Best Protein Bars for Kids
The Institute of Agriculture and Natural Resources states that protein bars cannot replace a balanced meal. However, they're a lot healthier than junk food, potato chips, chocolate bars and other popular snacks. Plus, it's better to have a protein bar than to skip a meal altogether.
The key is to get familiar with which are the quality brands with minimally processed ingredients.
Clif Kid Z Bar
Parents.com recommends Clif Kid Z Protein Bars. These gluten-free treats are made with organic brown rice, organic rolled oats, whey protein and natural flavors. However, they do contain organic dried cane syrup and tapioca syrup, which are high in simple sugars.
One serving provides 130 calories, 20 grams of carbs, 5 grams of protein, 3 grams of fiber and 2.5 grams of fat. Kids can choose from three different flavors, including chocolate mint, chocolate chips and peanut butter chocolate. These are some of the best breakfast bars for toddlers because they provide optimum doses of protein and carbs and have mostly organic ingredients.
Larabar Cherry Pie Bar
The bloggers at Momtastic love the Larabar Cherry Pie Bar for its convenience, low sugar content and quality ingredients. They rated it as one of the top kids snack bars. This snack is gluten-, dairy- and soy-free and has just three ingredients: dates, almonds and cherries.
Each bar supplies 200 calories, 4 grams of protein, 24 grams of carbs, 4 grams of fiber and 8 grams of fat. It also provides 4 percent of the RDA of calcium, 6 percent of the RDA of potassium and 4 percent of the RDA of iron. Other popular flavors include apple pie, banana bread, blueberry muffin and cashew cookie.
RXBAR Protein Bars
According to Very Well Fit, RX Bars are a healthy choice for kids and toddlers. These snacks come in a wide array of flavors and contain no added sugar, soy, dairy, gluten or chemicals. Their main ingredients are fruits, nuts and egg whites.
The RXBAR Kids Berry Blast, for instance, contains strawberries, raspberries, cashews, almonds, dates, egg whites and natural flavors. One serving provides 130 calories, 7 grams of protein, 12 grams of carbs, 3 grams of fiber and 4.5 grams of fat.
Other popular choices include the Zing Bar, Julian Bakery Paleo Thin Protein Bars, Pegan Protein Bars and Power Crunch Protein Energy Bars. These snacks are nutritionally balanced and contain mostly organic or natural ingredients. Another option is to make your own energy bars at home. There are thousands of recipes available online and can be tailored to your child's needs.