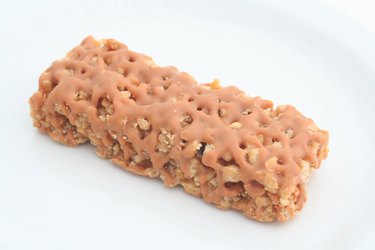 Protein bars are a type of meal replacement product. Unlike regular energy bars, they are higher in protein and lower in carbohydrates and added sugars. Typically marketed toward body builders and athletes, protein bars do offer a few advantages. They provide a quick source of nutrition (typically fortified with vitamins and minerals) in an individually wrapped, convenient package. They are a better option than skipping meals, but should be eaten in moderation, as they do not provide the quality nutrition you derive from consuming whole foods.
Balance Bars
According to "Consumer Reports," a protein bar should derive its protein from high-quality sources such as milk (whey or casein), egg or soy in place of low-quality sources of protein, such as collagen or gelatin. It should also be fat-controlled -- not derive more than 35 percent of total calories from fat and 10 percent of total calories from saturated fat, in accordance with the Dietary Guidelines for Americans. Both "Consumer Reports" and the BodyBuildingforYou website recommend Balance bars as the best high-protein, moderate-carbohydrate choice. Balance bars offer a high-quality protein blend made up of soy protein isolate, calcium caseinate, toasted soy beans and whey protein concentrate. One bar provides 190 calories, 6 g fat (1.5 g saturated), 14 g protein, 22 g carbohydrates, 17 g sugar and 2 g dietary fiber. Though they are slightly higher in sugars than some other brands, they taste better than many other bars (somewhat like a Snickers bar) and offer some dietary fiber.
Pure Protein Bars
Pure Protein bars by Worldwide Sport are recommended as one of the five best-tasting protein bars by the Supplements, Explained website, and are a top 10 pick by the AskMen.com site. They are high in protein, low to moderate in carbohydrate content and low in sugars, making them ideal for pre- or post-workout snacks for moderate to serious weightlifters. Pure Protein bars offer high-quality whey protein and an appealing taste -- in part because, unlike many other energy and protein bars on the market, the chocolate coating is real chocolate, not a fake waxy blend. The average Pure Protein bar offers about 200 calories, 30 g protein, 10 g carbohydrates and 5 g fat, and is sweetened with sugar alcohols. Unlike artificial sweeteners, sugar alcohols do provide some calories, but less than sugar, and have a modest effect on blood sugar. In addition, sugar alcohols do not contribute to dental caries (cavities).
Detour Bars
Detour Protein Bars by Next Nutrition also contain a high-quality whey-based protein blend. This protein bar is rich in calories (enough to truly replace a meal), carbohydrates and protein, but lower in sugar. This bar is best for those participating in serious, longer-duration calorie-burning and muscle-building workouts. The additional carbohydrates provide quick-release energy. The website BodyBuildingforYou.com awarded these protein bars 9.8 out of 10 overall. They scored particularly well for taste, texture, moisture and chewiness. On average, one bar provides roughly 330 calories, 30 g protein, 32 g carbohydrates, 10 g fat (6 g saturated, no trans fats) and 11 g sugar. They are a good food source of dietary fiber, providing about 4 g per bar, as well as calcium, meeting about 15 percent of the Recommended Daily Value (DV) for this bone-building mineral.