Strength training builds strong muscles and bones while improving seniors' ability to carry out activities of daily living. According to MedlinePlus, regular weight training fights age-related muscle loss. The Centers for Disease Control and Prevention report that resistance training improves balance and reduces symptoms of chronic disease, including arthritis. Resistance bands are inexpensive, safe, transportable and provide seniors with external resistance during weight training.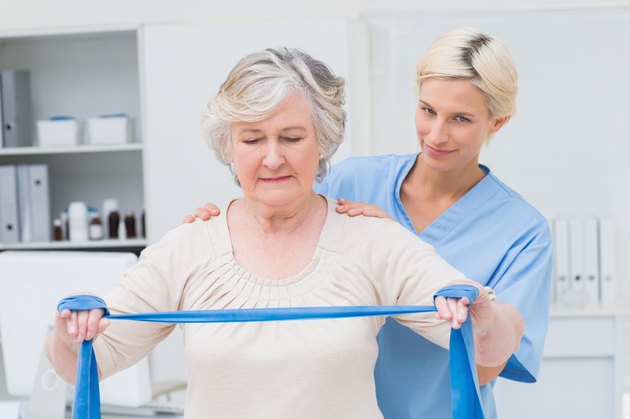 Bicep Curls
Maintaining or boosting upper-body strength helps seniors perform everyday tasks, including carrying and lifting. CDC recommends bicep curls as an effective way to increase arm strength. To do a bicep curl, hold a handle of a resistance band in each hand and stand on the middle of the band. Bending your knees slightly, relax your arms by your sides, palms facing forward. Next, straighten your back and tighten your abdominal muscles. Slowly lift the handles toward your shoulders, stopping right before you make contact with them. Slowly lower your hands, maintaining total control of the band. Repeat for the desired number of repetitions.
Upright Row
According to the American Academy of Orthopaedic Surgeons, osteoarthritis of the shoulder usually affects people over the age of 50. Strengthening the muscles, tendons and ligaments that surround the shoulder joints improves shoulder range of motion and reduces pain associated with osteoarthritis. The CDC recommends that seniors do the upright row to increase shoulder strength. To do this exercise, hold a handle in each hand and rest your hands on the tops of your legs. Next, stand on the middle of the resistance band and straighten your back. Slowly lift the handles toward your chest. As you pull upward on the handles, bend your elbows and let them flare out to your sides. Stop when the handles are next to your chest, lower your hands to the starting position and repeat until you complete the desired number of repetitions.
Seated Row
Spine-Health, an online source of information about back health, reports that aging is a risk factor for back pain. Strengthening the back muscles can help lower that risk and treat actual back pain. To beef up your back muscles, sit on the floor for a seated row. Extending your legs in front of you, dig your heels into the ground. Holding a one handle of your resistance band in each hand, loop the middle of the band around the soles of your feet. Next, sit up straight and pull your shoulder blades down and together. Straighten your arms in front of you and raise them several inches above your legs. Finally, pull the handles toward your chest, stopping before they make contact with your body. Slowly extend your elbows, maintaining control of the band. Repeat the seated row for the desired number of repetitions.