Your lats are the biggest, broadest muscles of your back. These wings that span the backside of your ribs help you lift your arms up overhead and are essential in torso rotation and core stability.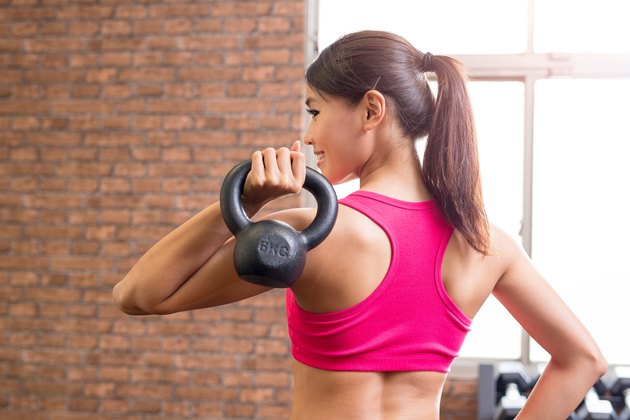 Strong lats support your shoulders and create a healthy back overall. While everyone benefits from including lat exercises in a comprehensive training plan, particular attention should be paid if you have poor posture, fail to lift your arms overhead often or suffer from back pain or a shoulder injury that limits your range of motion.
The lat pulldown machine is a go-to exercise, but really only available at gyms. You're not out of luck if you perform home workouts, though. Try these lat exercises in the comfort of your own space.
1. Pull-up
Pull-ups do require access to a pull-up bar, but you can easily fix one in your basement or in a door jam. Alternatively, head outside and find a high tree branch or high bar at a local playground. Once you've mastered the basic wide-grip pull-up, vary the exercise by using an underhand grip (chin-ups), holding a dumbbell between your feet or using just one arm at a time.
HOW TO DO IT: Face the elevated bar and hold onto it with an overhand grip that's wider than shoulder distance. Bend your elbows to pull your chin over the bar. Extend your elbows and shoulders until the arms are straight.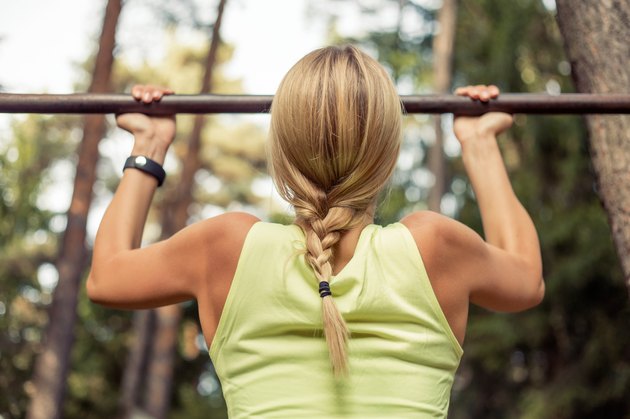 2. Bent-Over Row
You usually perform a bent-over row using dumbbells, so invest in a set for your home gym or improvise with heavy household objects. A box of kitty litter or a jug of laundry detergent.
HOW TO DO IT: Stand next to a bench, armless chair or ottoman. Bend forward so your back is parallel to the floor and place your right hand and right knee on the bench for support. Hold the weight in your left hand, arm extended toward the ground. Bend your elbow to pull the weight up by your ribs. Pause momentarily and lower back down with control. Repeat the desired reps on the left, then switch to the left.
3. Pull-over
The pull-over works your chest, but your lats play a significant role in assisting your arms reaching overhead. Use a dumbbell, a water bottle filled with sand or another heavy item.
HOW TO DO IT: Lie on the bench or ottoman with your chest facing the ceiling. Hold the weight over your chest, arms extended. Keep your arms straight and extend the weight over and beyond your head — your arms should be parallel with the floor, weight overhead. Return the weight to the starting position using control to complete one repetition.
4. Reverse Snow Angels
Pretend you're lying face down in a cloud of snow to do this effective lat and shoulder exercise. You need no extra equipment.
HOW TO DO IT: Lie on your abdomen with your legs extended behind you and arms alongside your hips. Face your palms down. Gently raise your face, fronts of shoulders and arms off the ground. Squeeze your shoulder blades together slightly and keep the tops of your feet in the floor. Slowly raise your arms out to the sides and up by your ears in a wide arc. Reverse the action to complete one repetition. Do your best to keep the arms extended, with no bend in the elbows, throughout the desired number of reps.