Adderall is the brand name for a prescription drug consisting of amphetamine and dextroamphetamine. The medication stimulates the central nervous system to change the way the chemicals and nerves in the brain function with regard to hyperactivity and impulse control, as indicated by Drugs.com. The effect the drug has on the brain is effective for treating attention deficit hyperactivity disorder, also called ADHD, and narcolepsy.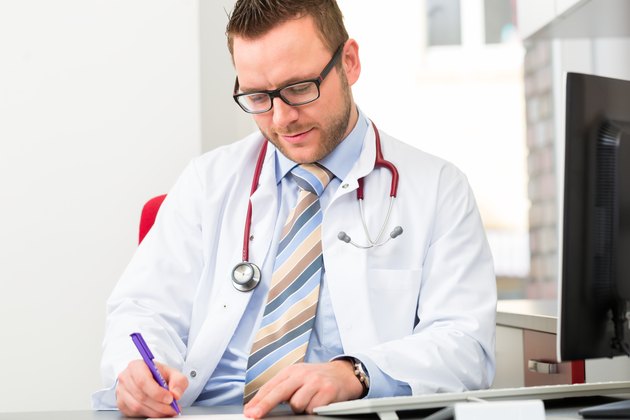 ADHD
ADHD is often categorized as a child and teenager problem, but it can affect adults as well. An individual with ADHD has trouble paying attention, sitting still and controlling behavior. eMedTV.com points out that a child must exhibit these symptoms before the age of seven, and the symptoms in any individual must interfere negatively with school, work or social life in order to receive a diagnosis of ADHD. Adderall is just one of the potential drugs used to manage this disorder in individuals over the age of three. It has been recognized as having a calming effect when prescribed at the correct dosage for the individual
Narcolepsy
Adderall has been approved for the treatment of narcolepsy, a condition whereby the individual falls asleep at unusual times and without notice. A patient with narcolepsy is likely to fall asleep several times throughout the day. eMedTV.com explains that individuals with narcolepsy appear paralyzed, and experience hallucinations while falling asleep. Adderall is prescribed at higher doses for narcolepsy than for ADHD. This is to take advantage of the stimulating effect of the drug. When the brain is stimulated by Adderall, the individual has fewer episodes of narcolepsy.
Off-Label Use
Adderall can be prescribed for off-label use when a health care provider deems it necessary. Off-label means using the drug for something other than what it has been licensed to treat. Two off-label uses for Adderall are depression and weight loss. Weight loss is a common, unintended side effect of Adderall when prescribed to treat ADHD and narcolepsy, as indicated by Drugs.com. Under the supervision of a medical professional, Adderall may be effective in helping some individuals lose weight. Depression is also a side effect of Adderall, but it can sometimes be prescribed to treat depression according to eMedTV.com.