Capsicum annuum, more commonly known as cayenne pepper, is a food used to spice up many styles of cooking. People also have been consuming cayenne pepper as an herbal remedy for thousands of years, according to the University of Maryland Medical Center (UMMC). The substance capsaicin gives cayenne its bite, and capsaicin also has pain-relieving qualities. Cayenne has traditional uses for treating digestive and circulatory problems and as a topical remedy for arthritis and muscle pain. An easy way to supplement with this substance is to take cayenne pepper capsules. Some side effects are possible.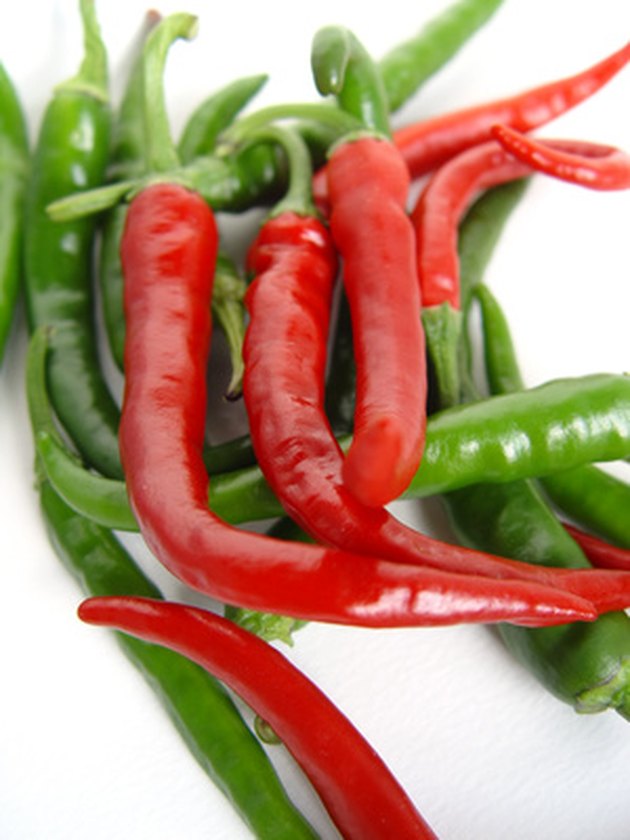 Gastrointestinal Side Effects
Although people use cayenne pepper to treat gastrointestinal problems, the substance can cause stomach irritation in some individuals, according to PDRhealth.com. Anyone prone to heartburn should talk to a health care provider before taking cayenne pepper capsules. Individuals with irritable bowel syndrome or stomach or intestinal ulcers may not be able to safely consume cayenne pepper supplements.
Moisture Effects
The body may react to effects of capsaicin stimulation by producing extra moisture, as noted by the Memorial Sloan-Kettering Cancer Center (MSKCC). A person taking cayenne pepper capsules may experience sweating, flushing, watery eyes and a runny nose.
Allergic Reaction
Some individuals may experience an allergic reaction to cayenne pepper. This is more likely in people allergic to avocados, bananas, chestnuts, kiwi or latex, according to PDRhealth.com. Signs include difficulty breathing, chest pain, tightness in the throat or chest, a skin rash, hives, and itchy or swollen skin. An allergic reaction to cayenne pepper capsules should be considered a medical emergency.
Kidney and Liver Issues
Consuming too much capsaicin can cause kidney and liver damage, according to the UMMC. People should not exceed recommended doses, and anyone with kidney or liver problems should not take cayenne pepper capsules.
Breast-Feeding Considerations
Breast-feeding women should not eat cayenne pepper or use cayenne supplements. The MSKCC notes that some babies have developed a skin condition called erythematous dermatitis after their breast-feeding mothers ate food flavored with cayenne. Erythematous dermatitis causes skin scaling and peeling.