As a common neurotransmitter used by the brain to relay signals from one area to another, serotonin influences many psychological functions. From mood and temperature regulation to sexual desire and appetite, serotonin is integral to daily life. While the average adult harbors only 5 to 10mg of serotonin in the body, that small amount affects almost all of the approximately 40 million cells contained in the brain.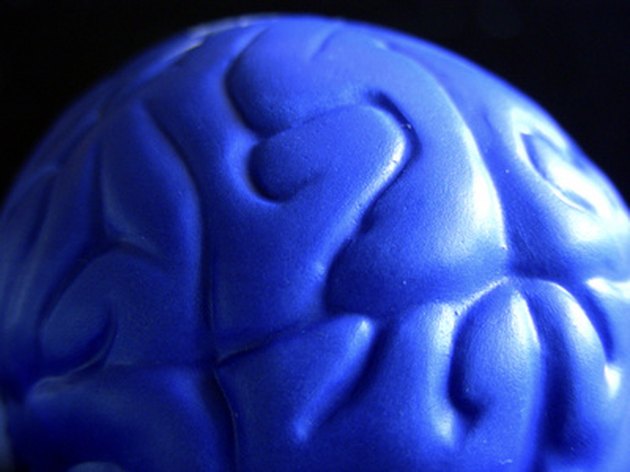 Types
While serotonin is an important neurotransmitter in the brain, around 98 percent of the serotonin found in the body is located in blood platelets, mast cells and the digestive tract. While both forms of serotonin are produced from the amino acid tryptophan, only those neurotransmitters synthesized in the brain can affect the brain: serotonin formed in the body cannot cross the blood-brain barrier.
Production
While serotonin cannot cross the blood-brain barrier, tryptophan can, and almost all of it is converted to serotonin. The synthesis of serotonin is a two-step process. First, tryptophan hydroxylase enzymes convert tryptophan to 5-hydroxytryptophan with the help of oxygen, iron and THB as co-factors. Second, AAAD and PLP enzymes combine to convert 5-hydroxytryptophan to serotonin.
Considerations
Serotonin is more sensitive to diet than any other neurotransmitter in the brain. The effects are not direct, however. As stated on Psych Central, carbohydrates especially can increase the levels of tryptophan in the body. These foods trigger the release of insulin which causes the body to absorb all amino acids in the blood except tryptophan. Consequently, tryptophan remains in the bloodstream until it crosses the blood-brain barrier and can be converted to serotonin. Vitamin B-6 can also influence the rate at which serotonin is produced.
Benefits
While serotonin is utilized in many psychological processes, one of its primary uses is in the production of melatonin. In fact, the highest concentration of serotonin is located in the pineal body: the source of melatonin. Melatonin is particularly sensitive to light; consequently, the pineal body is at the core of the body's circadian rhythm. Melatonin also plays a role in inhibiting sexual activity and increasing body heat.
Warning
Many researchers believe that depression and other mood disorders are rooted in a serotonin imbalance. Whether the brain produces too little of the neurotransmitter or nerve cells are unable to receive the serotonin after it is synthesized, the result is severe psychiatric distress. According to the Mayo Clinic, selective serotonin reuptake inhibitors, or SSRIs, are popular antidepressants that attempt to alleviate this imbalance. SSRIs prevent the reuptake of serotonin by nerve cells and consequently increase the availability of the neurotransmitter in the brain.
Is This an Emergency?
If you are experiencing serious medical symptoms, seek emergency treatment immediately.