Decadron or dexamethasone is a medication in a classification of drugs known as corticosteriods. According to Drugs.com, Decadron treats severe inflammation due to certain conditions, including severe asthma, severe allergies, rheumatoid arthritis, ulcerative colitis, certain blood disorders, lupus, multiple sclerosis and certain eye and skin conditions. Decadron is available in both pill and injectable form. There are some side effects of injectable Decadron that users should become aware of.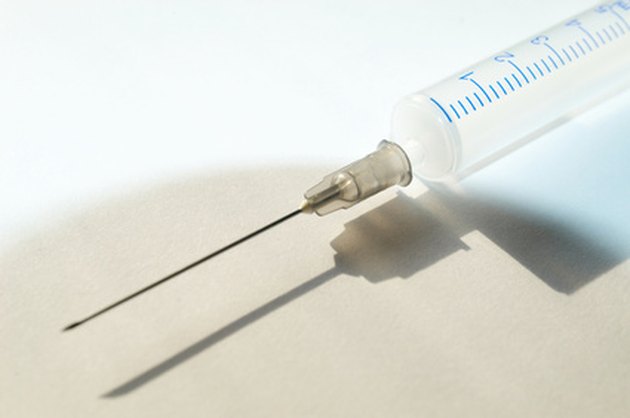 Injection Site Reaction
Patients may experience a reaction at the site of injection following administration of Decadron. Redness, soreness and swelling at the site of injection may occur. Some patients may feel soreness in the limb in which the injection was given. A cold compress may help relieve swelling and discomfort. Patients should ask their healthcare provider if the use of an over the counter non-steroidal anti-inflammatory or NSAID medication such as ibuprofen would be safe for the relief of pain, discomfort and swelling.
Vertigo and Headache
Vertigo or dizziness and headache can occur after injection with Decadron. These side effects should subside within several hours of administration. Patients should use caution while driving or completing tasks, which may be dangerous if they experience vertigo following injection. Users may consult their physician regarding the use of acetaminophen for the relief of headache pain and discomfort. Severe vertigo and headache may signal something more serious and patients should report this to a physician for further instruction, says Drugs.com.
Increased Appetite and Nausea
Increased appetite and nausea may occur while taking Decadron. Taking this injection following a full meal may help reduce the incidence of nausea. Patients experiencing an increased appetite should eat healthy, low-calorie foods and exercise regularly to prevent additional weight gain while being treated with Decadron.
Insomnia
Decadron may cause difficulty sleeping or insomnia says Drugs.com. Patients may have trouble falling or staying asleep at night. Some natural methods to induce sleep include a warm bath, herbal decaffeinated tea or warm milk. Those who experience difficulty sleeping should consult their healthcare provider. They may prescribe a medication to help them fall and remain asleep throughout the night.