The Mayo Clinic recognizes cholesterol as important for building healthy cells in the body. However, high cholesterol stops this process by producing fatty deposits in the blood vessels, ultimately blocking blood flow through the arteries. The risk of this blockage may lead to heart attack or stroke. Simple lifestyle changes and including prescribed medications into daily life may prevent high cholesterol. Many medications exist that offer results for lowering cholesterol but also have questionable side effects. Optimal medication treatment includes those with the least amount of negative side effects and the most benefit to treating high cholesterol.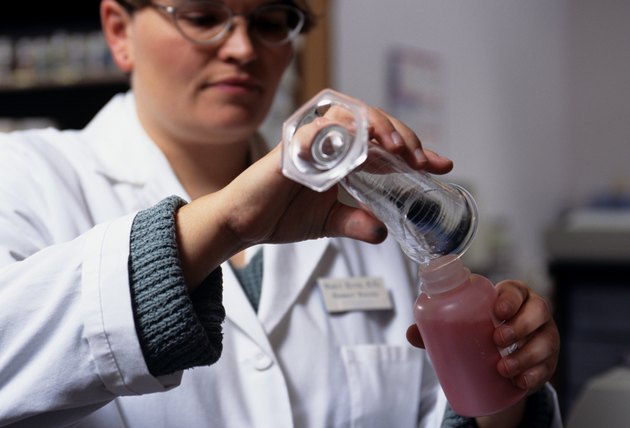 Statins
Statin medications block a key enzyme in the production of cholesterol and lower the bad cholesterol called LDL--low-density lipoprotein. The intended outcome of using statins results in the bad cholesterol being removed from the bloodstream, thus reducing risk for high-cholesterol related diseases. The American Heart Association reports that statins have few immediate side effects and effectively reduce LDL. Generic statins include atorvastatin, lovastatin and simvastatin. Side effects, such as nausea, cramps and weakness, may occur during initial use of statins but subside with continuation.
Bile Acid Binding Resins
The medications classified as bile acid binding resins, BAR, tend to have minimal side effects, according to the American Heart Association. BARs bind to and prevent cholesterol from accumulating in the small intestine. Excretion of cholesterol occurs through the feces with use of this class of drugs and results in lowered LDL. An additional benefit of this class of medication includes reduction in the risk of coronary heart disease. Generic BARs include colesevelam, cholestyramine and colestipol. Side effects include constipation. bloating and gas.
Fibrates
Fibrate acid derivatives lower high triglyceride levels and increase the good cholesterol called HDL--high-density lipoprotein. The Mayo Clinic indicates that fibrates do not decrease LDL when taken alone and may require combination use with a statin to achieve desired cholesterol lowering results. The fibrates have few side effects, such as nausea and stomach pain. In rare cases fibrates may increase the likelihood of gallstone formation and cause temporary dizziness. Generic fibrates include fenofibrate and gemfibrozil.