Airborne is said to contain "a combination of key immune supporting vitamins and minerals plus a proprietary blend of natural herbs." Formulations of this supplement include effervescent tablets, chewables, gummies and lozenges. The vitamins and minerals common to these Airborne products include vitamins A, C and E, riboflavin, zinc, selenium, manganese, magnesium, sodium and potassium. Airborne also contains a proprietary blend of amino acids and herbs. Directions suggest taking a dose every 3 to 4 hours as necessary, with up to 3 doses per day. No side effects are listed in product labeling, but side effects are a possibility when upper tolerable limits for several vitamins are exceeded.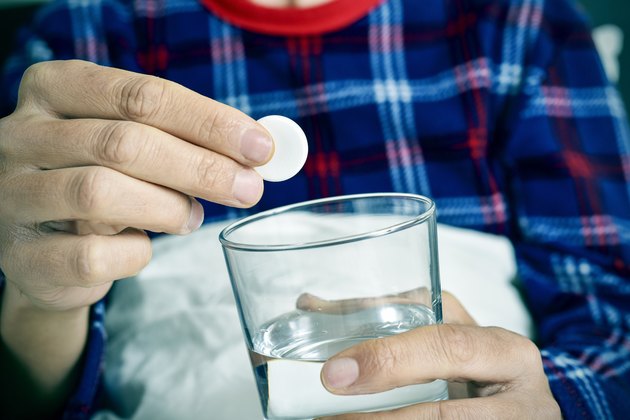 Vitamin A Toxicity
For healthy adults, the upper limit for vitamin A is 10,000 international units per day, and the maximum recommended total dosage of Airborne contains 6,000 IU. Too much vitamin A can cause dizziness, nausea, headache, coma and even death. According to research published in the January 2002 issue of the "Journal of the American Medical Association," even 6,600 IU per day doubled the risk of hip fracture in postmenopausal women. And, if you are pregnant, too much vitamin A can cause birth defects in your baby. Also, keep in mind that vitamin A is an ingredient in some prescription medications, so taking those medications in combination with Airborne can cause dangerously high levels of vitamin A in your blood. Examples include acitretin, which is used to treat psoriasis, and bexarotene, which is used to treat a type of skin cancer.
Vitamin C Toxicity
In adults, the recommended upper limit for vitamin C is 2,000 mg per day, and the maximum recommended daily dosage of Airborne contains 3,000 mg. Too much vitamin C can cause diarrhea, nausea and stomach cramps. High doses of vitamin C can also worsen hereditary hemochromatosis, a condition that causes some people to store too much iron.
Vitamin E Toxicity
Because the upper limit in adults for synthetic vitamin E is 1,100 IU per day, and the maximum recommended daily dosage of Airborne contains 90 IU, there is low risk of vitamin E toxicity when taking Airborne. However, if you are also taking medication to thin your blood, like anticoagulants or antiplatelets, you may have an increased risk of bleeding.
Herbal Ingredients
Airborne contains 350 mg of a "proprietary blend" of herbs that includes echinacea, lonicera, forsythia, schizonepeta, ginger, Chinese vitex, and isatis. But it's impossible to know exactly how much you're ingesting because the packaging provides no details about the amount of each herb per dose. And although Food and Drug Administration regulations are designed to provide assurance that herbal supplements meet certain quality standards, a study published in the October 2013 issue of "BMC Medicine" tested 44 herbal products and found that most were of poor quality and included product substitution, contamination and fillers. Finally, while there is little scientific information available about most of Airborne's herbal ingredients, echinacea is reported to have side effects including nausea, dizziness, stomach ache and rash. Persistent use may result in or add to liver toxicity of other medications like statins or niacins. Ginger can increase bleeding risk when taken with the blood-thinning medication warfarin.
Other Considerations
Although most of the vitamins and minerals in Airborne do not exceed the maximum daily dosage recommended by the National Institutes of Health's Office of Dietary Supplements, taking Airborne with other supplements, such as a multivitamin, may cause you to exceed safe dosages. Also keep in mind that some herbs can increase or decrease the effect of another medication. Be sure to talk to your doctor before taking Airborne or any other dietary supplement.