Theraflu, manufactured by Novartis pharmaceutical company, is an over-the-counter medicine used to alleviate symptoms of the common cold and flu. It comes in hot liquid, warming syrup or caplet form. Several formulas are available to treat different symptoms, such as coughing, chest congestion or a sore throat. Theraflu is available in daytime or nighttime varieties. Inactive ingredients include dyes, natural and artificial flavoring and sugar. Active ingredients differ depending on the formula.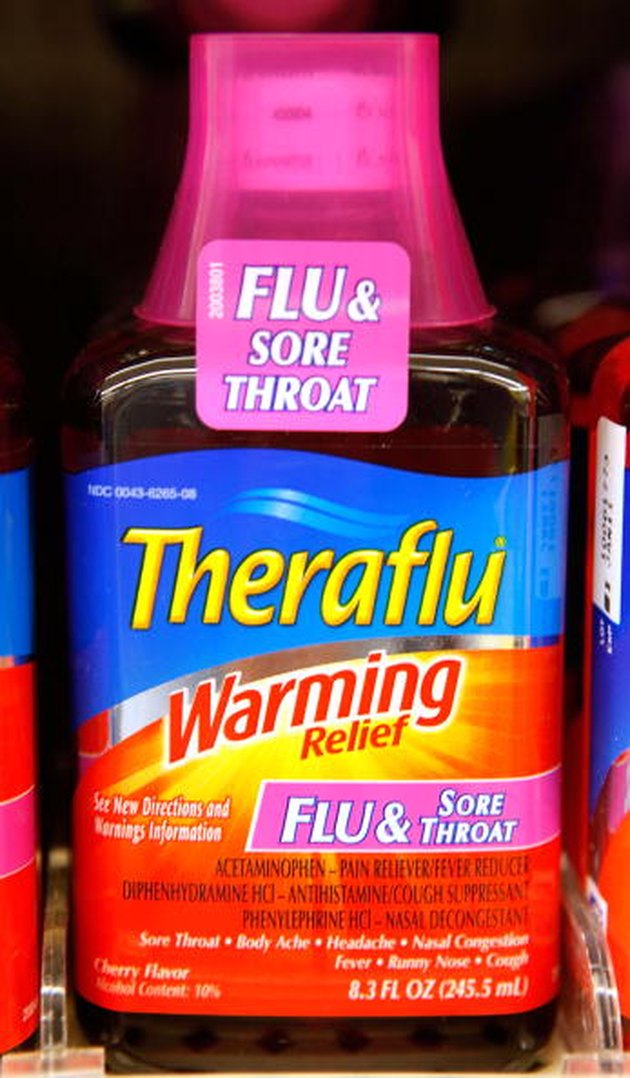 Acetaminophen
Acetaminophen, found in all varieties of Theraflu, relieves mild to moderate pain, including that associated with colds. In normal doses, side effects are rare. The U.S. Food and Drug Administration cautions that large doses of acetaminophen can cause liver damage that can potentially lead to coma or death. Read labels carefully and avoid taking more than one medication containing acetaminophen. Alcohol can increase the risk of liver damage.
Dextromethorphan
Dextromethorphan is a cough suppressant that works by acting on the part of the brain that controls coughing, according to Medline Plus. It temporarily relieves coughs, but does not treat the cause. Side effects include drowsiness, vertigo, nausea, vomiting and stomach pain. Dextromethorphan is found in the following types of Theraflu: Daytime Severe Cold & Cough, Cold & Cough, Warming Relief Daytime formula and both Daytime and Nighttime Severe Cold & Cough caplets.
Chlorpheniramine
Chlorpheniramine is an antihistamine ingredient that treats runny nose and sneezing. Drugs.com cautions that chlorpheniramine may decrease perspiration and increase the likelihood of heat stroke. It may also cause drowsiness, dry mouth, difficulty concentrating and blurred vision. Those with glaucoma, kidney disease, stomach ulcer, difficulty urinating or thyroid disorder should consult a physician before taking medication containing chlorpheniramine. Theraflu Severe Nighttime Cold & Cough caplets is the only Theraflu that contains chlorpheniramine.
Diphenhydramine
Diphenhydramine is used to treat sneezing, runny nose and cough. This medication can cause drowsiness and is found only in hot liquid and Warming Relief Nighttime Theraflu formulas. Side effects include nausea, vomiting, muscle weakness, dizziness, constipation and loss of appetite. Consult your physician before taking a medication with diphenhydramine if you have a history of chronic bronchitis, asthma or other respiratory disease.
Pheniramine
Pheniramine is a type of antihistamine used to treat cough and cold symptoms. A study performed by the Department of Clinical Pharmacology and Toxicology at Newcastle Mater Misericordiae Hospital in Waratah, Australia, found that pheniramine is more likely to be taken in overdose than other antihistamines. Symptoms of overdose include seizures, psychosis and changes in blood pressure. Pheniramine is found in Theraflu Cold & Cough and Cold & Sore Throat hot liquids.
Guaifenesin
Guaifenesin is an expectorant that loosens chest congestion and produces a wet cough. In normal doses, guaifenesin rarely causes serious side effects. Medline Plus recommends consulting your physician if you experience severe headaches or prolonged nausea and vomiting. Talk your doctor before taking guaifenesin if you have a history of a cough that produces a large amount of phlegm. Theraflu Flu & Chest Congestion and Theraflu Warming Relief Cough & Chest Congestion contain guaifenesin.
Phenylephrine
Phenylephrine is a decongestant that relieves sinus pressure by shrinking the blood vessels in the nose. Common side effects include headache, upset stomach, restlessness and mild insomnia. Avoid stimulants such as caffeine or certain diet pills while taking phenylephrine, as the combination can increase the risk of serious side effects. Phenylephrine is found in all varieties of Theraflu except Flu & Chest Congestion hot liquid formula.
Is This an Emergency?
If you are experiencing serious medical symptoms, seek emergency treatment immediately.