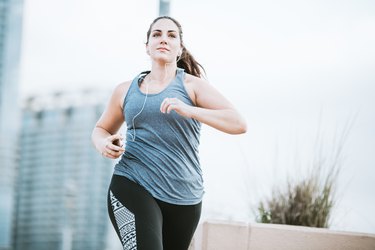 Much like the green tea, Ho's vibrancy is — as evidenced by a YouTube subscriber list of more than 4.2 million — a crowd pleaser. She recently led a signature POP Pilates (a total-body Pilates workout set to pop tunes) class at LIVESTRONG.COM's Stronger Weekend event, and we caught up with her to chat about body positivity and life online.
Body Positivity: Trend or Movement?
In April 2015, Ho posted a video and accompanying Instagram image around the idea of the "perfect body," which shows the popular fitness instructor staring at her reflection in the mirror and reading comments from her online community. At first positive, these comments quickly evolve into fat-shaming attacks, which leave Ho visibly distraught and push her to enhance her body on camera.
"That video was originally for me, and I'm still glad that it resonated with so many other women," Ho said. Since she published the video, calling out society's injustices toward bodies has become a heavy topic of conversation under the body-positivity umbrella. But, as Ho points out, the concept has gone mainstream. "When it becomes trendy, it can also become problematic," Ho said. "When things get mainstream and they have started with great intention, sometimes people get the word and they really twist it."
In her own life and business, Ho has been critiqued for promoting fitness-centric messaging, something that some people find as going against body positivity. Particularly, the "Bridal Bootcamp" series she created in preparation for her upcoming wedding has sparked some backlash for 'telling brides they have to work out.' "No, I'm saying that I'm going to work out, and that makes me feel good," Ho said. "I'm not telling you to lose weight. I'm just telling you I'm here as an option."
Overall, Ho's philosophy on body positivity is refreshing and realistic. "People think body positive means you love your body — which is true — but for some reason they think you can't change your body," she said. Her belief? You should be able to love your body every step of the way, no matter whether you want to lose weight or gain it down the line.
Trolling vs. Constructive Criticism
While averse to online trolls (the people who hide behind their computers throwing around inflammatory comments on the internet), Ho does not turn a blind eye to criticism — particularly when there's an opportunity to learn and grow. "I think the ones that are most difficult are the ones you find some truths in, and I don't know that I would call that 'troll,'" she said, speaking on constructive criticism. "Those you really think about and be like, 'Ok, what do I need to change in myself and how I'm posting that will benefit my audience?'"
That's the world of a social media personality — always evolving and taking note of what her community needs. She speaks on some of her first Cassey Ho workout videos, named things like "Muffin Top Melter." While, at the time, the choices were strategic because she was competing to get her videos in front of people, Ho took the criticism to heart.
"It sort of changed the way that we named certain videos. But at the same time, you're playing a game against other videos that are called [ridiculous] things," she said. Today, a scroll through the Blogilates channel still showcases some of the popular old "Muffin Top Melter" content, with new adjectives such as "lean" and "sculpted" peppered into the mix. The videos' messaging? Consistent throughout: Focus on what's the inside, and if the physical changes come as well, then amazing.
No Time for Instagram Fitness
In addition to her YouTube family, Ho has 1.5 million Instagram followers — a community to which she tries to project as much realness and responsibility as possible. When it comes to the fitness community, Ho believes that there's a workout for everyone, but one thing she won't get behind are the weird gadgets and potions that are being heavily promoted within the social media world.
"These days on Instagram I see so many flat-tummy teas — flat-tummy lollipops now — and waist trainers," she observes. "And, unfortunately, a lot of young women will fall prey to that because influencers are selling hope. And hope and beauty and fitness come together and get really icky and sticky." Not to worry, though. Ho always finds the time to debunk things like flat-tummy lollipops and waist trainers.
And when she's not doing that, she's working on exciting projects like her upcoming PIIT Pocket app, an at-home cardio workout program that includes a meal-planning function. "It's like a year overdue," the fitness guru says. But in a few weeks, it's coming to an app store near you.