There's a lot to love about fall's favorite fruit, the pumpkin. And yes, it technically is a fruit according to the Farmer's Almanac. And while this gourd makes appearances in desserts or as a decorative accent on the porch, this superfood is an excellent addition to your morning breakfast routine thanks to a host of health benefits.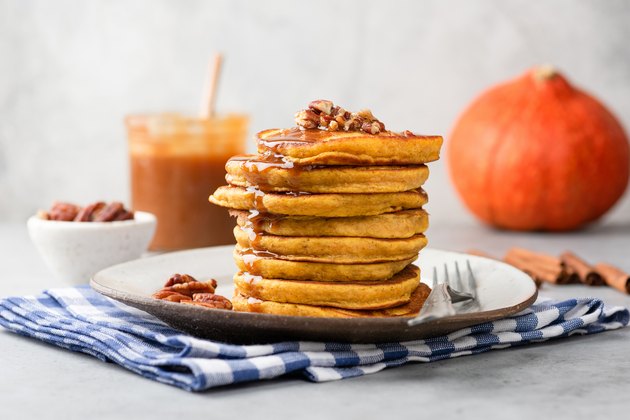 To get more pumpkin in your life, why not jumpstart your day with one these must-make pumpkin recipes? Kim Denkhaus, MS RD says, "Starting your day off with a healthy balanced breakfast will help rev up your metabolism and stabilize blood sugar, helping you feel energized all day long. It's a great way to improve cognitive function, enhance memory, and improve alertness for the day."
Scroll down for eight good-for-you pumpkin recipes you can add to your morning routine, even when the fall season is long over.
1. Fall Pumpkin Smoothie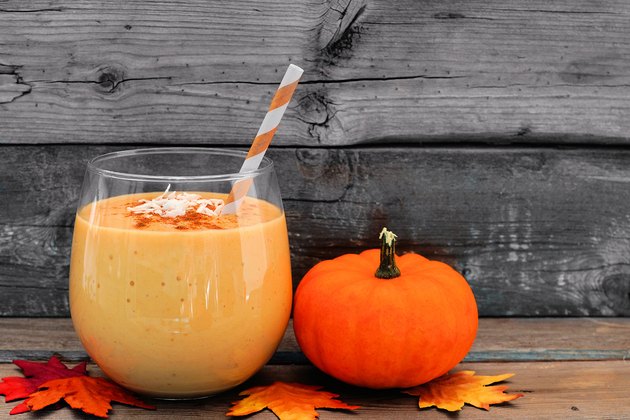 While it's quite labor-intensive to puree your own pumpkin, there are a lot of choices when it comes to choosing canned pumpkin. So which one should you choose? Bon Appetit rated Libby's Organic 100% Pure Pumpkin as the best in terms of flavor and lowest water content.
Avoid canned pumpkin pie mix with added sugars and syrups — which are confusingly located on the same shelf as the real thing. The canned pumpkin you want to buy will include only one ingredient, and that's pumpkin.
2. Pumpkin Spice Smoothie
3. Pumpkin Morning Muffins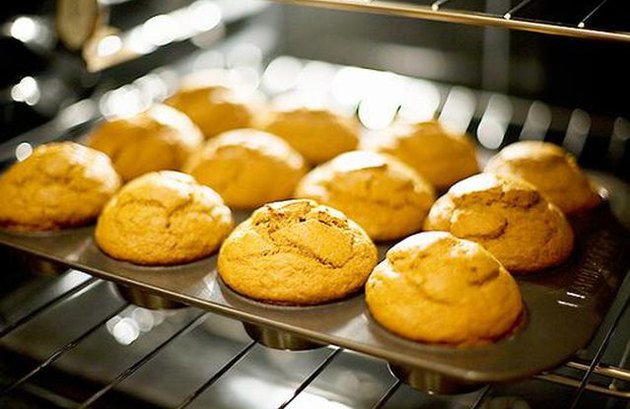 These sweet muffins are the kind of on-the-go treat you need in the morning when life is too busy to sit down and eat a proper breakfast. Make an extra batch and freeze them so you'll always have a fiber-fueled meal handy.
Cranberries not only provide a snappy, tart flavor that will wake up your taste buds, they are loaded with antioxidants. In addition, the berries provide a significant amount of fiber (one serving provide three grams of dietary fiber) despite their small size. So consider these muffins a double whammy of goodness.
4. Pumpkin Spice Pancakes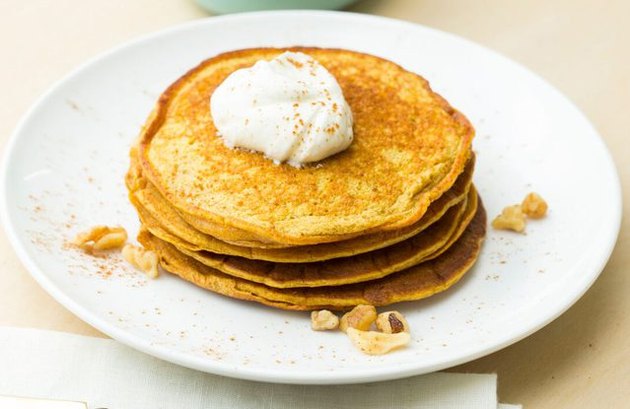 Craving a sweet treat but don't want to sabotage your healthy eating habits? These pancakes are not only tasty, but they incorporate choice ingredients that are good for you.
This pumpkin pancake recipe calls for chickpea flour, which means they are gluten-free and have more fiber and protein than pancakes made with the usual all-purpose flour. And by adding pecans (another superfood) you'll get more plant-based protein, vitamin E, healthy monounsaturated fats, thiamin and more antioxidants. Some research suggests that antioxidants play a role in reducing a variety of chronic diseases from cancer and heart disease to Alzheimer's disease.
And last but not least, this pumpkin pancake recipe features Greek yogurt — a natural source of probiotics that promotes a healthy gut and has twice as much protein as regular yogurt. Talk about a power pancake!
5. Pumpkin Protein Smoothie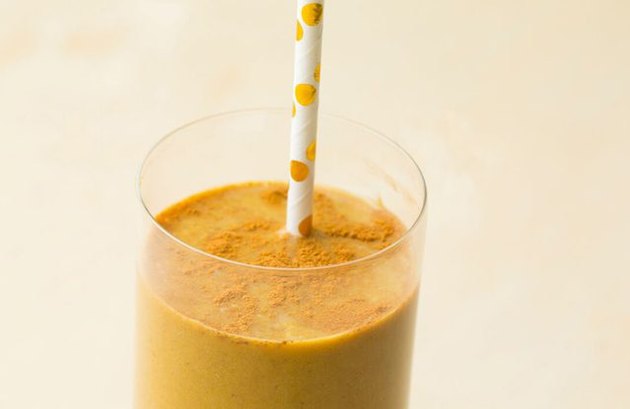 Denkhaus recommends paying close attention to your smoothie-making since smoothies are typically high in calories, low in fiber and high in fruit, which can cause blood sugar spikes and leave you feeling unsatisfied. "For smoothies, I recommend adding in greens, protein, fiber and sticking with just one serving of fruit."
6. Pumpkin Pie Oatmeal Parfait
7. Pumpkin Pie Smoothie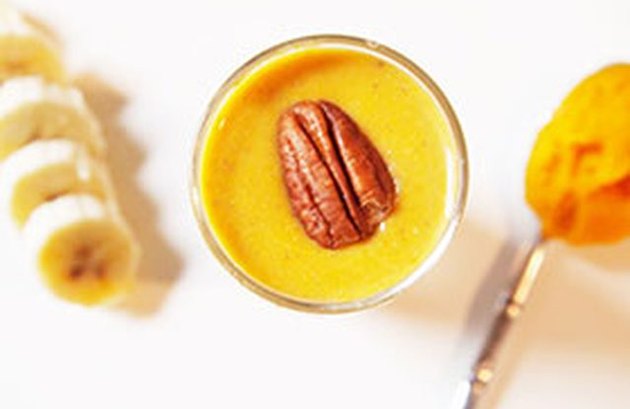 The best part of using pumpkin in smoothies is the versatility you have when it comes to mixing up the ingredients. Here, coconut milk is used which adds a rich and creamy base for the layers of flavors that get added to this morning meal (but feel free to try almond, cashew or oat milk if you prefer).
To make this smoothie sweeter, choose a ripe banana. Not a fan of pecans? Swap in walnuts or almonds. Either way, you can customize it to how you like and still reap the benefits of all these ingredients.
8. Pumpkin Spice Muffins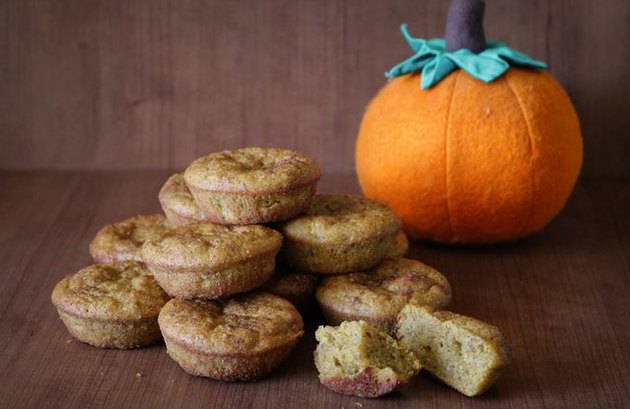 Got two minutes? These spiced microwaveable muffins are under 300 calories and a busy person's best friend. Just mix everything in a mug and you've got yourself a nutrient-dense snack or low-sugar dessert in a pinch. Denkhaus adds, "Spices are a great way to give your food more flavor without adding sugar or sweetener, and the sweet spice taste can help boost satiety."
Make sure to add ground flaxseed to the mix rather than whole flaxseed. Your body can't digest whole flaxseed intact and therefore you won't get the benefits from the Omega-3 fatty acids that promote heart health and brain development or the fiber that can help digestion, protect colon health and reduce cholesterol levels.