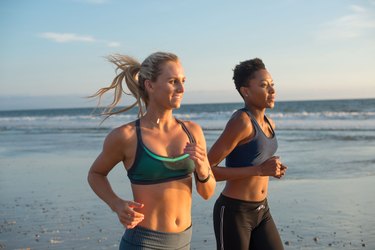 It can be a struggle to keep up with your fitness routine when you're galavanting around the globe. While traveling and exploring new places, you never know what a new city has to offer in terms of fitness or gyms — plus, you're busy having fun! — so it's often hard to stick to your usual workouts.
To help you stay on track while on the road this summer, we asked some of the top trainers, who frequently find themselves traveling both for work and fun, how best to keep up with a fitness routine on a trip. Here's what they said.
1. Run to Sightsee
If you're planning to check out all the sites in a new city, why not run from one to the next? "One of my favorite ways to explore a new place is to run it," says Matthew Meyer, American Council on Exercise-certified trainer and coach at Mile High Run Club in New York City. "All you need to pack is your running gear." Bring a credit card and stop for gelato (or another local snack) along the way; you're on vacation, after all.
2. Keep It Simple
Overcomplicating a fitness routine is the fastest way to bail on it when you're traveling. "Choose a few, no-equipment workouts that you can do anytime, and keep them as your go-tos," says Adam Rosante, a certified trainer based in New York City. Think: push-ups, pull-ups and air squats — on repeat. Do it all on a beach towel if your travels take you seaside this summer.
3. Pack Resistance Bands
If you're looking to fit in a strength routine while on vacation, consider bringing along a resistance band or two. "Resistance bands are super easy to pack, don't take up much room and even if your hotel doesn't have a gym, you can still get some resistance training in your room," says Meyer. Try this full-body resistance band workout for a head-to-toe burn.
4. Wake Up and Work Out
When you're on vacation, especially with a large group of friends, you never know what each day will bring or what everyone will want to do during the day. "Your best bet is to wake up every morning and work out," says Kenny Santucci, National Academy of Sports Medicine-certified trainer and coach at Solace in New York City. "Jump rope for five minutes if it's all you have, or run for 55 minutes if time allows for it," he says. "Something is better than nothing."
5. Rent a Bike
It's hard to bring your own bike with you on vacation, but renting one is generally pretty easy. Many hotels even offer up free bike rentals to guests, so be sure to ask. "There's usually a fun community ride you can hop into, especially when you don't know the area well," says Meyer. Or just explore on your own. "Cycling is a great way to discover a new city."
6. Design for Time
"I like to design my travel workouts as time-based circuits," says Rosante. "That way, I can expand or contract as my time allows." He suggests a five-move circuit, performing each move for 50 seconds with a 10-second transitional rest between moves. "All in, that's five minutes — repeat four times and that's a 20-minute workout," he says. "Got less time? Do fewer rounds. Got more? Do more rounds. Or add a new circuit."
7. Do Your Research
Santucci says traveling is a good opportunity to mix up your routine and step out of your comfort zone. "Look into finding something new and unique to try in a place you're exploring as opposed to going and doing the same thing," he says. Boutique fitness classes are a great option since you don't need to sign up for a membership, or take advantage of nearby outdoor activities like hiking, rock climbing and paddleboarding.
8. Be Flexible
Unless you're training for a specific race or competition, don't worry about following your usual training plan perfectly. "You need a certain level of consistency in your training to see measurable results, but don't let it derail your life," says Rosante. "For example, if you're lifting but find yourself traveling with no gym nearby, pack a resistance band and plan for bodyweight workouts. Up your reps and really slow down the eccentric portions of each movement and you'll be surprised at how challenging a bodyweight session can be."