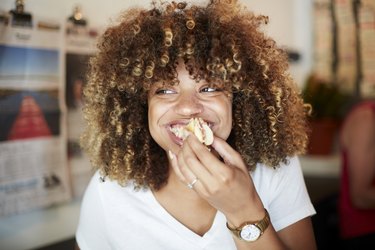 Together with Athleta, we're compiling actionable wellness advice you need from the experts—and Well+Good is bringing it to life all year long at events in NYC. Here, Daily Harvest founder Rachel Drori divulges her four-step plan to eating food that acts as self care.
Before an arduous workout class (or big meeting, for that matter), what's the most important factor other than a constant stream of H2O? Nutrition, of course.
That doesn't mean just making sure you ate enough so you don't become hangry halfway through—but actually being intentional with what you eat so that you're prepared to take on whatever HIIT class or work challenge you have that day.
"Eating whole, real ingredients makes me sharper and more creative," says Rachel Drori, founder and CEO of Daily Harvest, a meal delivery service that provides chef-crafted, heat-and-eat (or blend!) foods made with only organic fruits and veggies. "When I'm not fighting through a sugar coma, or putting things into my body that shouldn't be there, I'm present and can focus on the meeting, challenge, or task in front of me."
If you're not sure what to look for on your weekly grocery runs, it can be even tougher to put together dishes that will level up to your workout (or work) demands. To help you determine the good-for-you ingredients from the rest, Drori shares key things to look for in your food, so you no longer have to guess.
1. Real, Organic Ingredients
The first thing to focus on to ensure a full-but-never-bleh feeling after eating is real-deal ingredients. "Read ingredient labels to ensure what you're eating is made from good, whole food, and try to avoid additives, preservatives, and fillers," Drori says.
Get in the habit of scanning nutrition info on products when you're at the grocery store. If you're unsure of an ingredient (or if you can't even pronounce it due to the amount of letters in the name) then it's safe to move on.
2. More Organic Fruits and Veggies
"Regardless of the latest fads, modalities, and of-the-moment diets, we all know that eating fruits and vegetables is good for you," Drori says. After all, that is what her entire company is all about—serving thoughtfully sourced frozen meals loaded with veggies and fruits to help you thrive.
A way to make this easier? Try adding in one additional serving of fruits or veggies to each meal. That way, you know you're getting a dose of nutrients without totally overhauling your routine.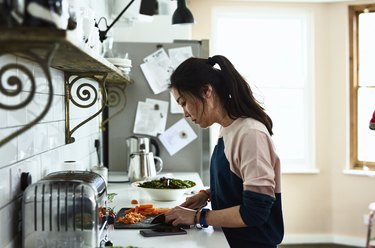 3. Functional Superfoods
Drori suggests punching up your meal prep by throwing in some functional superfoods. "These 'superfoods' have benefits that support your overall health and well-being, and bring an extra level of holistic nourishment," she adds.
At Daily Harvest, Drori enhances the recipes with ingredients like antioxidant-rich cacao, detoxifying chlorella, and lion's mane mushrooms, known for their potential brain-boosting properties. Plus, by tossing in these different superfoods, you're expanding your palette and knowledge to amp up your take-to-work lunch game.
4. A Balanced Diet
When you're busy trying to balance work, workouts, and your social life, ensuring that you're hitting every food group is probably not at the top of your priority list.
"Eat a balance of healthy fats, fiber, whole grains, protein, and of course a rainbow of fruits and vegetables to give your body the energy and nutrients it needs to work effectively," Drori says. Your energy levels (and newly improved focus) will thank you later.