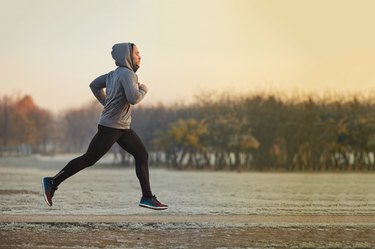 A stellar run can be a total game-changer. A slight breeze kissing your neck. Endorphins flowing. A satisfying sweat. But if you've fallen off the running wagon, it can be hard to get back into the swing of things — even if you know about its feel-good potential.
Everyone goes through different phases of feelings toward exercise. Just like anything else, starting something new (or restarting something) can be intimidating. While it's not always easy to get back into making running a habit, it's totally worth it, says Rebeka Stowe, a Nike run coach based in New York City.
"It's more than just going out for a run," she says. "It's about optimal wellness and prioritizing your mental, emotional and physical health." In fact, a 2014 study published by the American Academy of Neurology tied higher cardiovascular fitness to better cognitive function. And just five to 10 minutes a day of running can lower your risk of death from heart disease, according to a 2014 study published in the Journal of the American College of Cardiology.
Ready to run again? Here, the experts weigh in on simple strategies you can use to get back at it.