They're crispy, greasy, salty and oh-so-good when you want something comforting to snack on. But, between the fat, calories and excess sodium, it's no surprise that french fries aren't that good for you.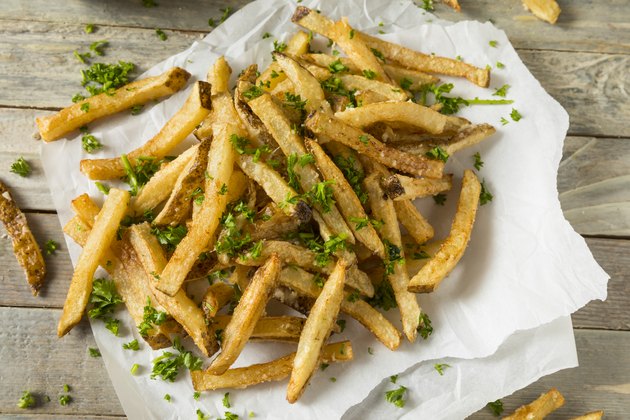 In fact, a small pack of McDonald's fries has 230 calories, 11 grams of fat (1.5 grams of saturated fat), 29 grams of carbs, 160 milligrams of sodium, and 3 grams of protein. That is a lot of fat, and the fries are deep-fried in hydrogenated soybean oil, a source of unhealthy saturated fat, per the USDA.
The solution: DIY fries at home! Making your own fries at home allows you to control the amount of sodium, the types of cooking oils, the preparation and the seasonings according to your taste preferences and health goals.
Plus, you can get creative by using different vegetables besides potatoes. "Veggie fries and sweet potato fries are a healthier alternative to standard fries because at home they are typically baked and use healthier oils and less salt than your typical restaurant fries," says Maggie Michalczyk, RD.
Curious what to whip up tonight to go with your turkey burger? Here are a few tasty ideas, all packed with nutrients and flavor.
1. Garlic Parmesan Fries
Garlic and Parmesan are great additions for savory fries. Plus, this recipe uses sweet potatoes for added antioxidants and fiber. "This is fun and healthy take on fries because it's super simple and sweet potatoes are a good source of vitamin A, fiber and B6," say Michalczyk. You won't feel like you're missing out on "regular" fries with this version.
2. Sweet Apple Fries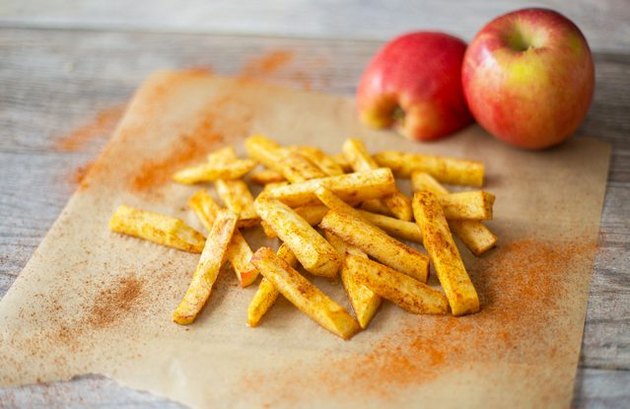 "Apple fries are such a fun way to use apples, especially when they're in season. Apples contain fiber and vitamin C, and cutting them into bite-sized sticks allows for dipping in dessert hummus or Greek yogurt for a snack that packs protein and fiber," says Michalczyk. Sprinkle with cinnamon, vanilla and any other spices you like for a flavor boost.
3. Sesame Garlic Green Bean Fries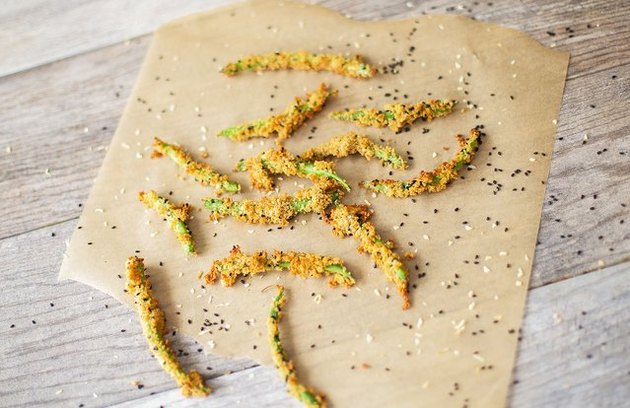 If you're not a fan of plain ol' green beans, give them another shot with this creative twist. Sesame and garlic add a great savory flavor and crunch to make these green bean fries extra crispy but still packed with benefits. "I love these green bean fries because they've got some added crunch from the breadcrumbs, which makes them easy for kids and adults alike to enjoy," says Michalczyk.
4. Spicy Gingered Carrots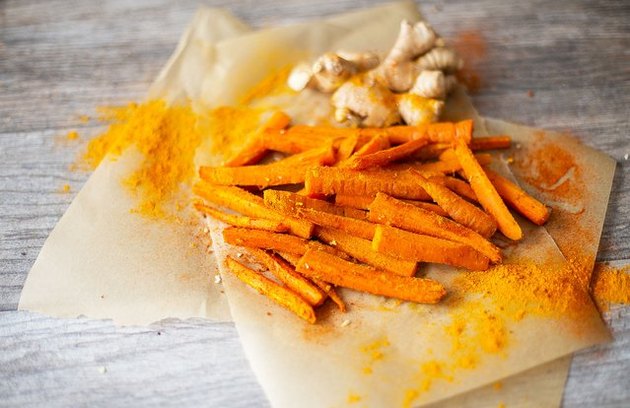 Cayenne and turmeric lend these gingered carrot fries a warming kick. "Carrots are packed with vitamin A, K, B6 and fiber and the added ginger in this recipe helps ease digestion and these makes a fun side dish alongside any main meal," Michalczyk adds. Plus, they're baked in sesame oil, which makes them a lot healthier than your average fast-food fries!
5. Carrot Parmesan Fries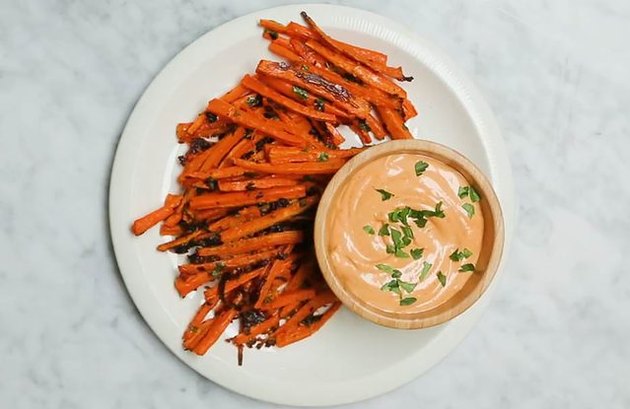 If you're not a fan of gingery's tang, this flavorful recipe swaps it for Parmesan. "Carrot fries are a really fun change if you enjoy sweet potato fries," and they are a bit sweeter, too, says Kelly Jones, RD, CSSD. "This baked version comes out crispy and has a delicious tahini-based dipping sauce for healthy fats," she says. Plus, each serving has about 100 calories!
6. Roasted Rutabaga Fries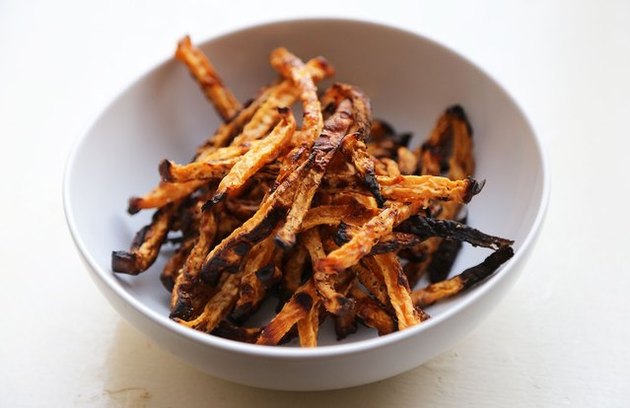 "Rutabaga is an underutilized root vegetable with a touch of sweetness," says Jones. This earthy veggie is a bit lighter than potatoes, making it a go-to dinner staple. "These fries are baked and keep it simple with the seasonings," she adds, but you could play around with more and spice things up, such as with garlic, herbs or hot sauce.
7. Turnip Rosemary Fries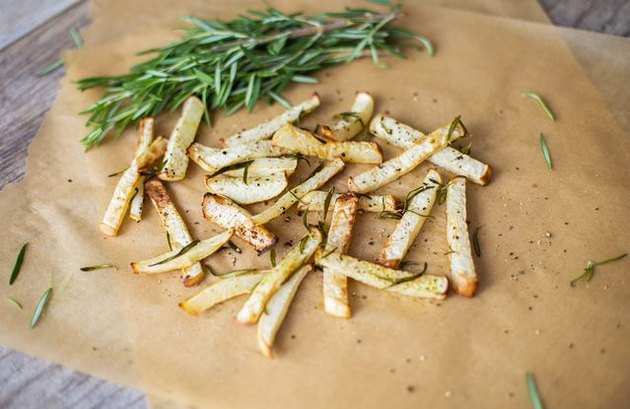 At under 100 calories a serving, these turnip fries make for a smart supper side dish. "Turnips provide a bit more fiber than potatoes and are widely available in the spring and fall," says Jones. "This recipe calls for rosemary, a wonderful seasoning for fry lovers, which is linked to immune system benefits," she says.
8. Garlicky Zucchini Fries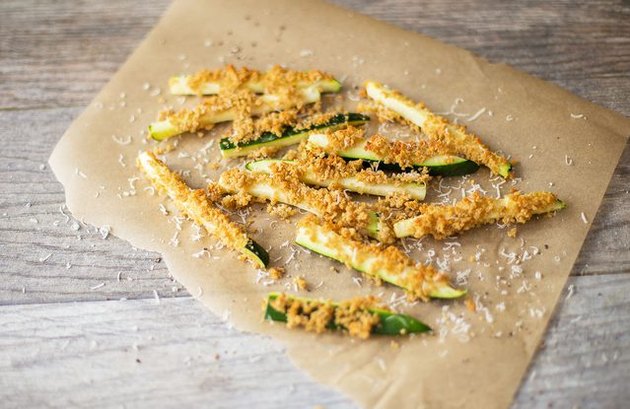 These fries are made with breadcrumbs for that crumbly, extra crispy texture, but all on a super low-calorie vegetable. "Zucchini is so light and versatile. Breading and baking sliced zucchini is a great option to get a serving of veggies in fry form," says Jones. They taste really indulgent but are still good for you, offering 3 grams of fiber and 4 grams of protein.