Don't let the seasonal temperature drop keep you from logging your outdoor miles. Instead, add an extra layer of clothing — one that won't restrict your movement but adds warmth in the place you need it most: your core. We're taking about a running vest!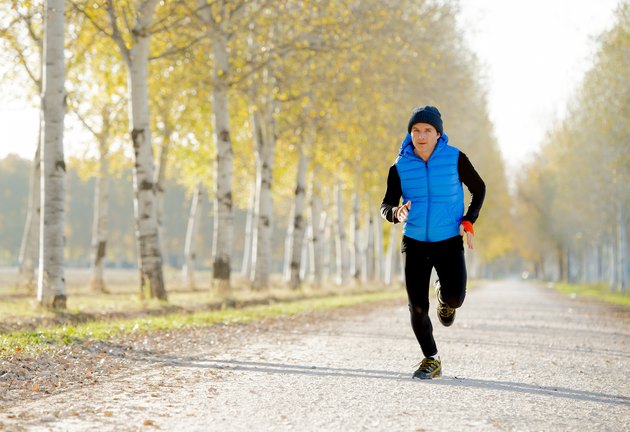 What to Look for in Running Vests
Why do you need a running vest? For starters, it helps insulate your core without adding too much heat. When you're shopping for one, look for a vest with technical fabrics, breathable insulation, four-way stretch and ample airflow in order to help you run and perform at your best.
"You need to find a warm vest, that isn't too bulky, so it will keep you feeling comfortable on a cooler day, but won't restrict your movement," says Luke Lombardo, Road Runners Club of America-certified run coach. "Things like reflective details and zippered pockets are great features, too, in terms of safety, and being able to take along some personals for the run."
Danielle Barry, ACE-certified personal trainer and strength and performance coach at Solace in New York City agrees. "The fabric is for sure number one most important thing — if it's stiff, it won't be comfortable, and it needs to be breathable, too," she says. "The worst thing is to go running outside in the cold with fabric that holds onto sweat, so you're weighed down and cold."
The 10 Best Running Vests for Cold-Weather Workouts
Need a bit more guidance? Here are 10 of our favorite running vests for cold-weather workouts that will help you warm without weighing you down.
1. Under Armour ColdGear Reactor Women's Performance Vest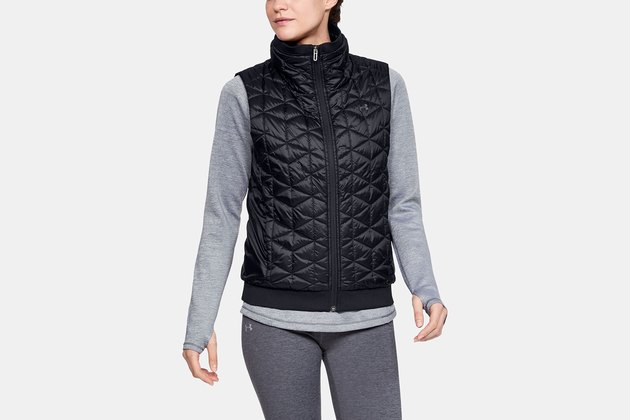 Rated 4.5 stars on Amazon, this vest is praised for its comfort. "It's perfect because I can keep my arms out, see my Garmin more easily, etc., it stays dry and keeps my core warm without making me feel claustrophobic in a heavy coat," one reviewer writes.
The quilting pattern and insulation in this vest are designed to keep the heat in but still allow for airflow. Plus, the water-replant finish is great for cold, rainy runs.
2. The North Face Men's Apex Bionic 2 Vest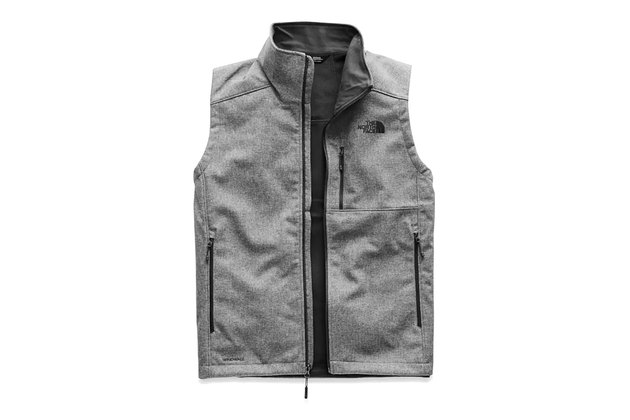 Super cold day? The chill ain't got nothing on this windproof soft shell. There's a chest pocket for small personal items and two zippered hand pockets. Cinch the chord around your waist for a more tailored fit.
However, since it does tend to run on the larger side, you may want to size up when purchase. But countless five-star reviewers on Amazon love this vest's durability, saying it's "built to last."
3. lululemon Women's Down For It All Vest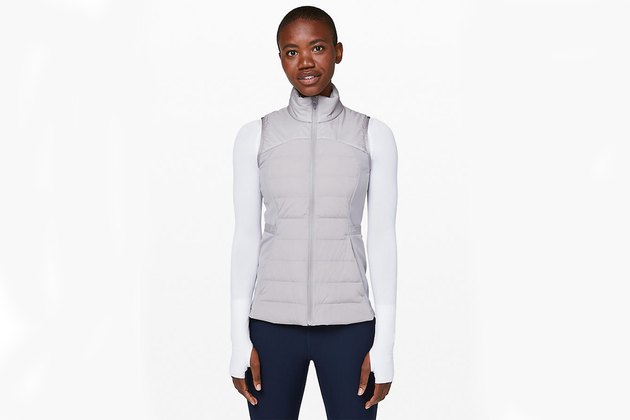 This vest is perfect for running during dimly lit mornings or evenings thanks to the reflective details, which make you easily visible to cars and traffic. Plus, you can stash your phone in the hidden sleeve inside the zippered pocket.
Bonus: The Primaloft insulation stays warm, even when wet! "The material keeps me warm in all weather, including rain and snow," says Emily Fayette, ACE-certified personal trainer, run coach and group fitness instructor in New York City. "It's easy to wash, too — especially after a nice, sweaty run!"
4. Nike AeroLoft Men's Running Vest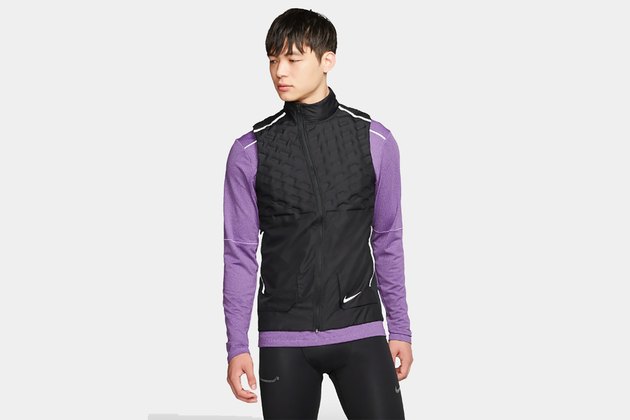 The insulated chest and upper back of this vest provide warmth where it's needed most. The lower half is water-resistant and the finish helps block out the wind, too. "It's amazingly light and durable," says Patrick Frost, personal trainer and founder of Frost Fit Training. "It's ideal while runny at night as well, because it has reflective details. It's the all-around perfect vest for longer running sessions, fighting the elements."
5. Patagonia Women's Nano-Air Vest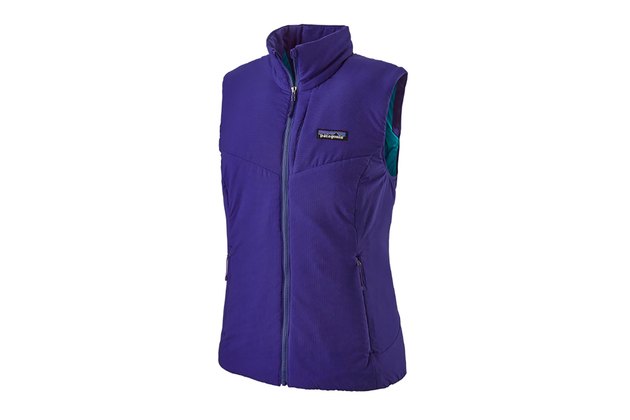 Do something good for yourself and the planet with this layer, made from 87-percent recycled polyester and 40-percent recycled insulation. It's four way stretch — which you won't get with some other options — won't constrict any of your movements and quite breathable, so forget about overheating. Users who rated it five-stars on Amazon (of whom there are many) love the non-bulky insulation.
6. Arc'teryx Atom SL Men's Vest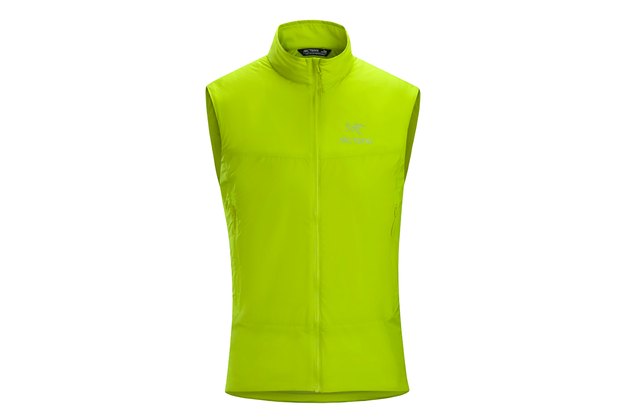 Could this vest be any lighter? Lightweight materials and weather-resistant properties make this perfect for running while traveling, where the weather can be unpredictable. The quick-drying insulation will keep you toasty from your first mile to your last. "I love the design to be honest," says Lombardo. "The pockets are convenient as well and can fit quite a bit of stuff."
7. Smartwool Women's Smartloft 60 Hoodie Vest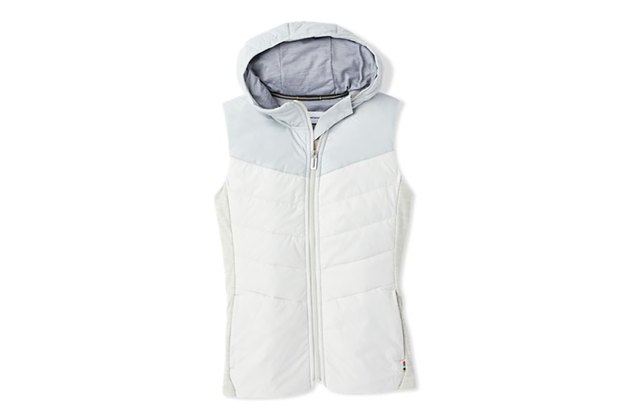 A merino wool lining on this vest keeps your temperature regulated, keeping the heat in and the cold out. Merino also helps to control sweat and odor, which you'll appreciate after long runs. It's insulated with 50-percent recycled wool and a Durable Water Repellant (DWR) finish.
"I love this vest!" says one Amazon reviewer, who gave it five stars. "I bought it for running in colder weather, and it is perfect. Keeps me dry and warm without me getting over-heated. The hood protects against the wind. It's also great to wear on a chilly day with a pair of jeans!"
8. Eddie Bauer Men's IgniteLite Hybrid Vest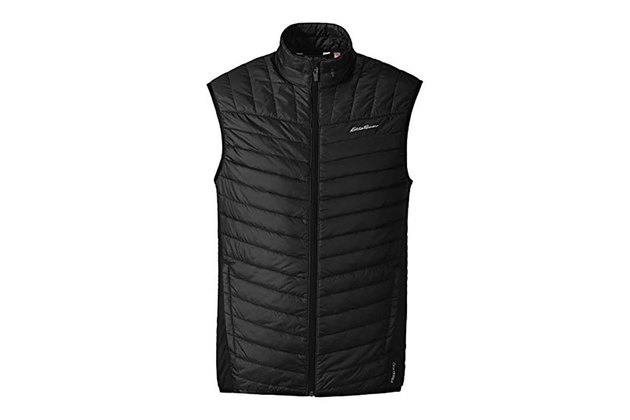 This option features Primaloft Silver insulation in the water-repellant front and back panels and four-way stretch on the sides and back. The fabric also has Polygiene odor control built-in, so you can wear it a lot, wash it less and not worry about it being stinky. "The vest is lightweight but still quite warm," says Lombardo. "It's an effective layering piece for resist the elements."
9. Athleta Inlet Vest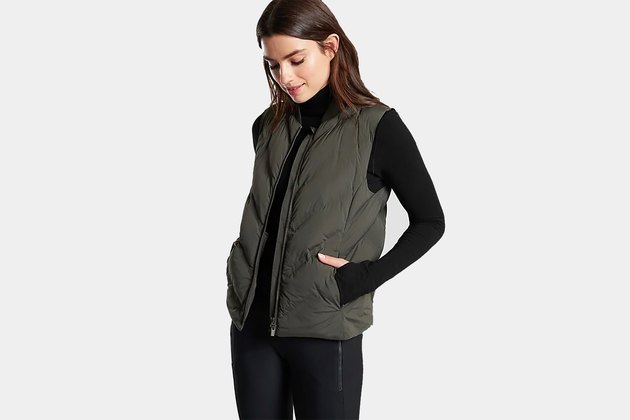 Throw on this cozy vest before an outdoor run. It's made out of recycled nylon and it's water-repellant, so you can confidently brave the elements. It's lightweight, so while it provides warmth, it also allows airflow to help evaporate sweat, so you won't feel weighed down. And simply throw it in the laundry when you think it needs it.
"I look for clothes that will stretch and move with me and my clients," says Barry. "The stretchy, down fabric is breathable enough to let sweat move to the surface so it doesn't pile up and weight you down, especially on longer runs. And the anti-abrasion outer has come in handy in New York City, as it has withstood cuts and turns into unforeseen objects and things on the city streets."
10. Brooks Running Men's Cascadia Thermal Vest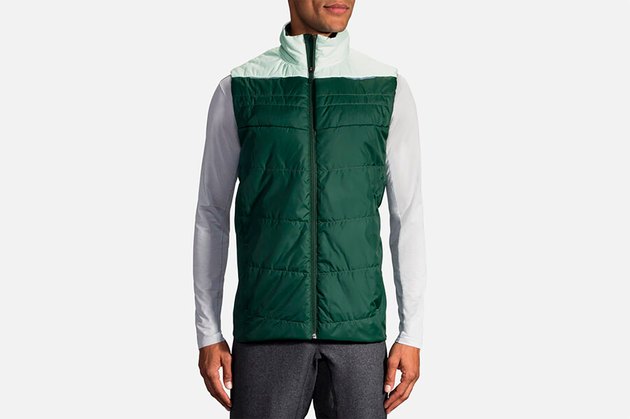 Throw on this number, and you'll be cocooned by 80 grams of synthetic down that'll keep you warm on some of the chilliest of runs. The outer layer has a rain- and wind-resistant coating, too. Plus, the front and back have reflective details, and there are two zippered pockets.
With an average of 4.8 out of five stars from Amazon reviewers, this vest is loved for its warmth. "I could not believe how warm this vest was," wrote one reviewer. "Perfect for near freezing temperatures."