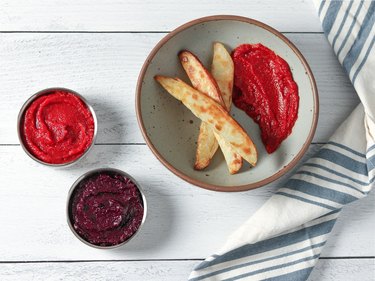 It's time to reclaim ketchup in the home kitchen. Just like salad dressing, we somehow lost our way and forgot how easy it is to make ketchup at home. Made with a few simple pantry staples, you'll be wondering why you ever paid for the store-bought stuff.
Consider Heinz: Two tablespoons pack in 320 milligrams sodium and 8 grams of sugar in their standard ketchup. Sure, there are lower-sugar options on the shelves, but then you're in for extra fillers and artificial sweeteners. You can do better.
Our expert tips from dietitian-chefs — who are as adept at dishing on health as they are at plating for pleasure — will help you create your own ketchup that's brimming with health benefits and flavor to boot.
The best part of going homemade when it comes to ketchup is that you can make something unique while also avoiding unnecessary ingredients.
"Apart from being fun to make, DIY ketchup allows you to control the ingredients, so you can opt for better-for-you options and avoid the unwanted additives in conventional ketchup, like high-fructose corn syrup," Cynthia Sass, RD, LA-based performance nutritionist and plant-based diet expert, tells LIVESTRONG.com.
"I've made homemade ketchup with honey and molasses, which bring additional flavor and some nutritional benefits beyond the high-fructose corn syrup often used in bottled varieties," Michelle Dudash, RDN and Cordon Bleu-certified chef, says. That means you'll get a fresher taste compared to a store-bought bottle.
If you're new to homemade ketchup, you'd be surprised to find out that whipping it up is less intimidating than you think. "It's OK to keep your recipe simple," Dudash notes. "Start with a can of tomato paste and take it from there. You'll need to add a sweetener, something salty and something acidic."
Sara Haas, RDN, suggests first-timers look at the ingredient list on their favorite ketchup brand and use that as a guide. And the longer you cook it, the thicker it gets. "This gives you control over the final consistency and how you like it," says Abbie Gellman, RD at Culinary Nutrition Cuisine.
Gellman suggests adding red chili flakes or chopped jalapeño if you like things spicy, and to try out different kinds of vinegar. Dudash has subbed in pickle juice for vinegar. Sass suggests herbs and spices, like ginger, cinnamon, smoked paprika, coriander, cumin and chili powder.
Ready to say hello to amazing flavor and goodbye to high-fructose corn syrup? Try these two recipes for classic ketchup and sophisticated wild blueberry ketchup. Both are simple and easy to throw together and will keep in the refrigerator for up to two weeks.
How to Make Classic Tomato Ketchup
‌Makes 10 one-ounce servings‌
6-oz. can tomato paste
½ cup white vinegar
¼ cup canned diced tomatoes with some of its liquid
1 tablespoon maple syrup
1 teaspoon onion powder
½ teaspoon garlic powder
½ teaspoon smoked paprika
¼ teaspoon of salt
Whisk tomato paste, vinegar and diced tomatoes over medium heat for 4 minutes.
Stir in onion powder, garlic powder and paprika, and cook for another minute.
Remove from heat. Salt to taste, aiming to add no more than a quarter teaspoon of salt.
Chill in the refrigerator, at least 1 hour. Keep refrigerated in a covered air-tight container for up to two weeks.
‌Nutrition per 1 ounce:‌ 25 calories, 0 grams of fat, 0 milligrams of cholesterol, 80 milligrams of sodium, 5 grams of carbs (0.5 grams of fiber, 1 gram of sugar), 1 gram of protein
How to Make Blueberry Ketchup
‌Makes 6 one-ounce servings‌
2 cups frozen wild blueberries
1 teaspoon olive oil
1 tablespoon minced onion
1 tablespoon minced fresh ginger
1 large garlic clove minced (about 1 teaspoon)
1 cup roughly chopped cremini mushrooms (about 4)
½ teaspoon crushed coriander seeds
½ teaspoon freshly cracked black pepper
⅛ teaspoon of salt
1 teaspoon maple syrup
Heat olive oil in a non-stick pan over medium heat.
Add onion, ginger and garlic and saute until slightly softened and fragrant, about 30 to 60 seconds.
Add mushrooms and a small pinch of salt, stirring occasionally to reduce, 5 to 7 minutes.
Stir in wild blueberries, coriander and pepper. Stir occasionally until thickened, 10 minutes.
Transfer to a food processor and purée until smooth.
Season to taste with up to an eighth of a teaspoon of salt. Stir in maple syrup if desired.
Chill in the refrigerator until cool, at least 1 hour. Keep refrigerated in a covered air-tight container for up to two weeks.
‌Nutrition per 1 ounce:‌ 55 calories, 1 gram of fat (0 grams of saturated fat), 0 milligrams of cholesterol, 55 milligrams of sodium, 10 grams of carbs (1.5 grams of fiber, 2 grams of sugar), 2 grams of protein