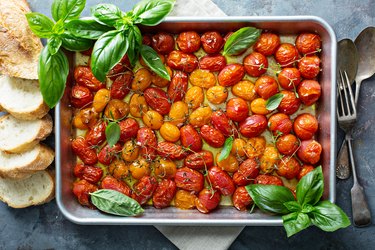 If you've ever bought a bunch of tomatoes and found that they ripened way too fast for you to use them all or they just don't taste that great, don't toss them! Just because they won't work well in a fresh salad, that doesn't mean they're unsalvagable.
Instead of limiting yourself to eating the fruit fresh in a Caprese or side salad, have you ever considered roasting them?
"Slow-roasting tomatoes concentrates the natural sugars in the fruit, creating a more intense and sweeter tomato flavor," Justine Kelly, Sun Basket's founder and executive chef, tells LIVESTRONG.com. And, it's a nice trick to use if you have a garden and understand that summer's end is synonymous with furiously picking the sweet fruits.
The Quickest Way to Make Roasted Tomatoes
As delectably juicy as they are, you can only toss so many fresh tomatoes in a salad. Here's Kelly's go-to roasted tomato recipe for you to try:
Preheat your oven to 350°F.
Wash the cherry tomatoes and let them dry (you can pat them gently with a paper towel to speed up the process).
Toss with just enough olive oil to coat.
Season lightly with sea salt or kosher salt.
Spread the tomatoes evenly on a sheet pan.
Roast for 30 to 40 minutes. You know they're done when they blister slightly, start to blacken and release some juice.
Tip
If you want your the flavors to concentrate even more, slice the tomatoes in half before roasting.
After you roast your cherry tomatoes, you can add them to a multitude of dishes. "I like to use roasted cherry tomatoes in pasta, on the beloved avocado toast for breakfast and as a sweet snack in my daughter's school lunch," says Kelly.
Another idea for your dinner party guests to swoon over (or, you know, to make an average Tuesday night extra special), is roasting cherry tomatoes on the vine. "Roasting them this way makes for a beautiful edible garnish for a cheese and charcuterie board," says Kelly.
You can even try your hand at making tomato jam (a gift Kelly makes and gives out for the holidays) or whip up a tomato tart with the roasted fruit.
Why Tomatoes Are So Good for You
Should I add tomatoes to that? That's a good question you ask yourself on the regular. Because with health benefits like these, why wouldn't you?
Tomatoes are packed with compounds like lycopene, lutein and beta-carotene — all of which have been shown to offer a slew of perks. The nutrients in tomatoes have been linked to reducing inflammation (which contributes to chronic diseases), inhibiting the development of certain cancers, protecting the heart and improving eye health, according to a 2014 review in Mediators of Inflammation.
The humble tomato is also rife with vitamins E and C, other nutrients that are associated with improved cholesterol, and may, therefore, safeguard your ticker.
And, don't forget about the juice. In a Japanese study on people at risk for heart disease, drinking about a bottle of unsalted tomato juice per day for a year reduced their blood pressure and "bad" LDL cholesterol, per research in the May 2019 issue of Food Science & Nutrition.