Canned foods often get a bad rap. That's a shame, because the truth is, they're usually more convenient and less expensive than fresh foods, and you can enjoy them year round.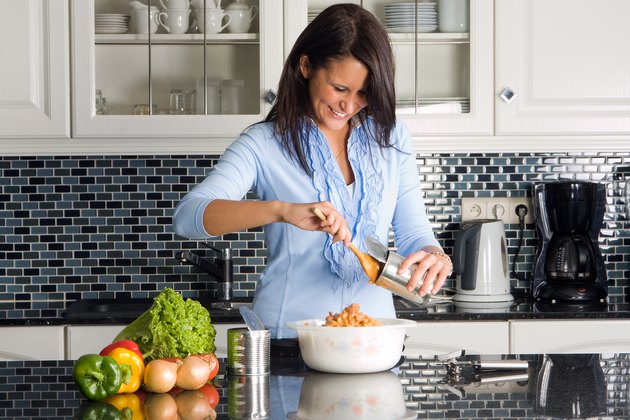 Another important and largely unknown fact? The heat from the commercial canning process actually boosts some foods' antioxidants — specifically lutein, beta-carotene and lycopene — beyond what we see in their fresh or frozen counterparts.
Antioxidants can help fight systemic inflammation and oxidative stress in our bodies, which have been linked to heart disease, cancer, diabetes and other serious health concerns, according to research published June 2015 in European Journal of Medicinal Chemistry.
Here, we've pulled together five foods that will not only save you time and money, but will deliver some added nutrition, too.
1. Pumpkin
Carving a pumpkin is one thing, but actually cutting, gutting and peeling a pumpkin to eat it is another. Canned pumpkin is by far a much more convenient (and less messy) route, but it may also be more nutritious when it comes to specific nutrients.
Pumpkin in the can is rich in beta-carotene, which is an antioxidant that our bodies convert into vitamin A. Vitamin A supports our vision and immune system, according to the National Institutes of Health.
A half-cup of canned pumpkin has more than three times the amount of beta-carotene compared to regular cooked pumpkin. But make sure you read the labels when shopping for the canned version and don't accidentally grab pumpkin pie mix, which can have added sugar.
How to Eat It: Try using canned pumpkin to make a delicious Turkey Pumpkin Soup, which clocks in at only 150 calories per serving.
2. Tomatoes
This is another time-saving no-brainer: Using canned tomatoes saves you from cooking and stewing your own from scratch, which can take hours.
By going the canned route, you'll also get a boost in iron (about four times the amount!) compared to fresh. And the canning process makes the antioxidant lycopene in tomatoes easier for your body to absorb, according to the Tomato Wellness Council. Tomatoes are famous for their lycopene, a carotenoid that may help lower the risk of stroke, according to Harvard Health Publishing.
3. Apricots
Who doesn't love an apricot (or two or three)? The trouble is, they have a short season. But that's where canned apricots come in, which you can find on supermarket shelves all year-round.
While you're enjoying these sweet fruits, you might be getting extra beta-carotene and phenols, which are antioxidants that may help prevent certain diseases from developing by keeping free radicals from forming, according to May 2018 research published in the Journal of Food Science.
It's worth noting that, compared to fresh, frozen apricots also fare well, providing higher levels of vitamin C and other antioxidants.
How to Eat Them: This Overnight Chia Oats recipe calls for fresh apricots, but you can swap in the canned variety.
4. Carrots
Much like pumpkin, the mild heat used in the canning process actually increases the bioavailability of beta-carotene in carrots, which is then converted into vitamin A in the body, according to the Canned Food Alliance.
How to Eat Them: Save yourself time and use canned carrots instead of grated carrots in this Carrot Cake Pancake recipe.
5. Sweet Corn
This whole grain is another summertime favorite that many of us long for throughout the year. While frozen may be your go-to for a fix, consider giving canned a chance.
Sweet corn is high in a nutrient called lutein, an antioxidant that gives corn its yellow hue and that plays a role in preventing age-related macular degeneration, according to the American Macular Degeneration Foundation. It turns out that the canning process makes it easier for us to absorb the nutrient, according to an older study, published in the Journal of Food Agriculture and Food Chemistry in 2002, which seems to be the only available research in this area.
How to Eat It: Swap in canned corn instead of frozen to go with the canned black beans in this Vegan Couscous Verde Bowl recipe.
What to Look for When Buying Canned Foods
Here are some simple, healthy tips to keep in mind the next time you're shopping in the canned food section:
Cut the salt: Canned food can contain a lot of salt, so look for "reduced sodium," "no salt added" or "low sodium" on the label. Another option is to rinse the canned food with water after opening it, to help remove the salt. A June 2011 study published in the Journal of Culinary Science and Technology found that rinsing can reduce the sodium content by 41 percent.
Watch for added sugar: If you're shopping for canned fruit, seek out those packed in their own juices or a light syrup, or look for "no sugar added" on the label. Avoid anything in "heavy syrup," as this indicates a lot of added sugar. Draining the fruit after opening will also remove some of the sugar it has been packed in.
Check for preservatives: One big misconception is that canned food is filled with preservatives, but that would defeat the purpose of canning. According to the Canned Food Alliance, most canned foods are preservative-free, but you can always double-check by reading the ingredients list.
Consider BPA-free cans: BPA, or bisphenol A, is an industrial chemical found in the lining of some cans, and research shows that it can make its way into our foods. There are some concerns associated with this compound, as it has been linked to increased blood pressure and health issues in children, according to the Mayo Clinic. But much is still unknown about its effects. The Food and Drug Administration continues to review its safety and has said that BPA is safe at the low levels that occur in food, but if you have concerns, there are many BPA-free products available on the market now, as well as foods that have undergone the canning process in glass rather than metal.