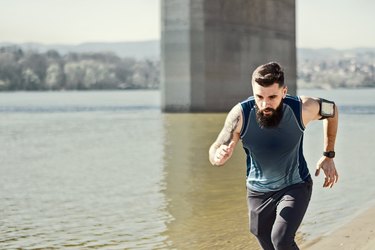 A virtual race allows you to race whenever you want, wherever you want, and provide your own tracking information for your distance and time.
You could run a half marathon on your basement treadmill or go for a 50-mile bike ride through your favorite neighborhoods, all in the competitive spirit. This is obviously radically different from an in-person racing experience.
When you sign up online to participate, you'll find details about the specific event you'll be joining.
​Distance:​ While some races offer one option, most offer a range of distances, including virtual 5Ks, half marathons, marathons and other common running choices, as well as bicycling races, duathlons and even Ironman events.
​Price:​ Virtual races cost much less to produce and participate in. Some virtual races are even free! Most ask for a small registration fee or donation to charity around $20 to $35. Some events, like the COVID-19 Relief Races and the Just One Mile Project donate money from sign-ups to coronavirus-related charities.
​Location:​ Most virtual races allow you to exercise indoors or outside. Home treadmills and stationary bikes should be pretty easy to navigate, but outdoor exercisers need to determine their routes.
"I recommend starting from your front door," says Clint McCormick, Toledo, Ohio-based race director of Run Toledo. "You can use an app to map out your route and make it a loop that goes back to your starting point. That way if you're not feeling well or you need a bathroom break — or even some cheering on from the family — you can get it."
​Timeframe:​ In-person races have set dates and times, but most virtual races offer a longer completion window, sometimes lasting days, weeks or even months. This is a great benefit, McCormick says, "as it allows racers to participate during optimal weather conditions and a time of day that works best for them."
​Tracking:​ With traditional in-person races, participants often are given a timing device to track their efforts. In most virtual races, athletes are asked to use their own devices or apps to track the race and to enter that information online afterward — using the honor system.
Some virtual races have their own apps that might offer sample routes or tracking capabilities.
​Prizes:​ If you're motivated by the bragging rights of winning a race — or at least placing in the top three in your age group — you should know that most virtual races don't offer prizes because they rely on the honor system.
Some races ask the top three winners in each category to send in a photo from a watch or tracking device to confirm times and distances, according to RunSignup director of marketing Johanna Goode. While this isn't foolproof, it provides some validation.
Where to Find a Virtual Race
You can search for virtual events through local run, bike or triathlon clubs, or visit these sites with robust virtual race options:
How to Train for a Virtual Race
Virtual races attract people of all skill levels. And with good reason: New racers may feel intimidated during in-person events or "afraid of coming in last," says A.J. Peterson of Vero Beach, Florida-based The Virtual Run Challenge. Starting off racing virtually is an easy way to dip your toe into racing with less pressure. In fact, Peterson says, "we have many beginning runners doing virtual races."
Beginners and long-time racers alike train for a virtual race the same way they do for an in-person race — with a training plan full of daily workouts tailored to the distance you plan to tackle. (You'll also want to support your training with a nutritious diet and plenty of rest.)
Of course, you'll need to "do the best you can do under the circumstances," says Amanda Marek, director of timing operations for Race Day Events in Madison, Wisconsin, who has also coached runners and triathletes. Parks may be perfect for bike riding, and the gym can help you cross train, but they might be off-limits during this time, so you'll have to work with whatever options you have.