Apple says it best: "There's an app for that." The simple phrase means that the technology you need is always at your fingertips. Though this accessibility is great, a crowded marketplace can lead to decision fatigue — how do you choose the best app to meet your needs?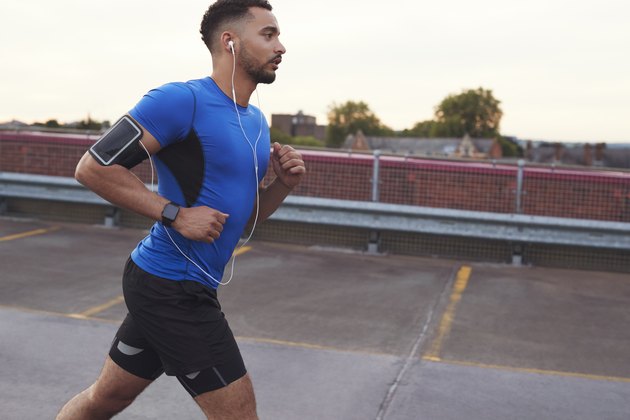 This is especially true in the running space, where you'll find distance tracking, pedometers, training plans, personalized coaching and more. With all of those options, which is the best running app for you? Well, we've done a bit of the work for you and have found the best apps across six common categories — for all types of runners — so you can stop your search and start your next run.
1. Best Running App for Beginners: C25K
You'll run three days a week, starting on day one with a 30-minute workout of jogging and walking intervals and culminating in a 5K. Being new at anything can be intimidating, but this app makes it easy to start running, no matter where you start.
Each workout is voice-guided, so you're never left questioning what you should be doing. And you can lock the app onto your screen so any jostling during your run won't affect your view of the workout.
Other features available in the basic version include the ability to play music from your music library. Or if you're looking for a bit more, you can upgrade to C2K Pro, which adds a calorie and distance tracker with the ability to view a map of your route, while eliminating ads.
Price: free app, premium upgrade for a one-time fee of $4.99 with other in-app purchases available
2. Best App for Finding New Routes: MapMyRun
While it seamlessly integrates with both the Apple Watch and Under Armour's line of smart shoes, there's another feature that really stands out: Route Genius. With the free version of MapMyRun, you can use Route Genius to see what walking, running and cycling routes others have logged nearby.
This feature is especially helpful if you're traveling and unsure of running routes near your hotel or rental. You can filter by distance and once you find the route for you, either save the route for later or click "Do It" so you can get running. And if you upgrade to the premium MVP version of the app, Route Genius will create routes for you based on specific parameters you choose.
Thanks to this feature, MapMyRun offers a free look at what areas of town other people are running in, meaning you'll not only discover new routes, you may even find a new running buddy!
Price: free app, premium upgrade for $5.99 per month or $29.99 per year with other in-app purchases available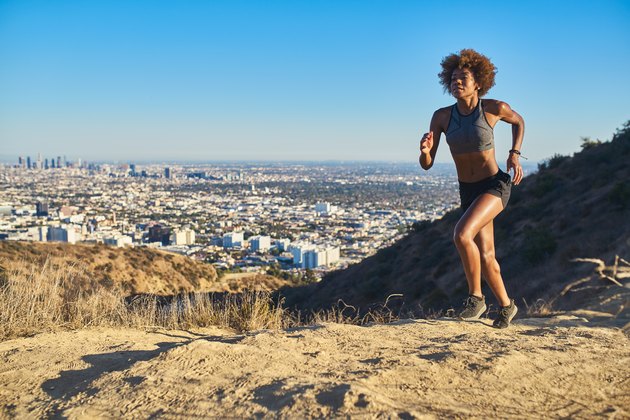 3. Best Trail Running App: Trail Run Project
If you prefer the trail to treadmill, the pros at REI have developed an app just for you. Once you download Trail Run Project (it's free for both iOS and Android!), it'll find your location so you're able to see what trails are nearby and located throughout your state. It's perfect for trail runners looking to get off the beaten path and take on some new terrain, while having stats about the trail at your fingertips.
Once you see a trail on the map, click on it and you'll get a full breakdown of the mileage, elevation, current conditions and trail description. Users can also see reviews from others who have completed the trail and get driving directions to get there.
You can also add trails to a to-do list or check-in to keep track of the trails you've run. And the Best Of section highlights featured runs. Though it won't give you stats like pace or distance, you can view your location through the entire run thanks to GPS.
4. Best App For Running Motivation: Charity Miles
Having trouble getting out the door for a run? What if those miles benefitted more than your personal wellbeing? Thanks to Charity Miles (available for iOS or Android), you can run for causes you care about.
The free app features 40 great charity partners — including the Leukemia & Lymphoma Society, ASPCA, World Wildlife Fund and more — and as you move, money goes toward the charity of your choice from the corporate sponsor pool or sponsorships from your friends.
"One of the things our members like most about the app is that they get to take something they were going to do anyway — walk, run or bike — and use it to help others," says Gene Gurkoff, founder of Charity Miles. "On the flip side of that, the other thing they like most is the motivation to do things they weren't going to do anyway. We often hear from our members that Charity Miles inspires them to walk an extra block, or run a bit further; literally going the Extra Mile."
Users can also pay to join the Extra Mile Club, which gives you access to members-only deals from sponsors of Charity Miles. Funds from these memberships are used to scale the overall impact (which currently sits at more than $2.5 million raised for charity). Besides this option, Charity Miles is completely free — with no hidden in-app purchases — and is a great way to turn your miles into money for the causes you care about.
Price: free app, premium club option at $9.99 per month or $99 per year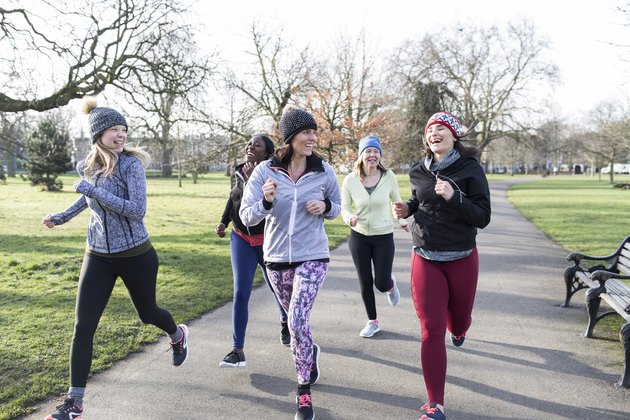 5. Best Social Running App: Strava
Though Strava (available for iOS or Android) is yet another app to record your fitness activities in real-time, its big appeal is as a social platform for athletes. First, there's a list of Suggested Athletes you can follow and connect with through the app. And you can connect the app to your Facebook so all of your friends will appear, as well. You can also join Challenges and Clubs nearby, meaning more connections and a built-in community.
Strava has different permission options, allowing you to share your workouts on your Strava feed where friends and followers can cheer you on. The app also lets you share photos you've snapped along your run, which is an especially helpful way to entice them to join you next time.
If you're the competitive type, you'll love Strava's leaderboard feature that tracks course records (among every Strava athlete) along popular running routes. Their network allows you to easily earn bragging rights among your group of friends — while keeping tabs on what workouts they are crushing, as well.
Price: free app, premium upgrade options beginning at $2.99 per month or $23.99 per year with in-app purchases available
6. Best App For Guided Workouts: Aaptiv
If you're looking for a bit more guidance, Aaptiv (on iOS and Android) has more than 2,500 workouts waiting for you. You'll find cardio workouts for the treadmill and elliptical, as well as outdoor running and walking workouts. Other categories include strength training, boxing and meditation. All workouts are voice-guided by certified personal trainers for both newbies and seasoned athletes alike.
"If you're like me and want to focus on the why behind your runs more than the what — but you know the what is really important — you will love how seamlessly form cues are woven into the coaching. Simple cues, we've found, equal successful runs," says Aaptiv trainer Katie Horwitch.
The app gives runners the mental and emotional benefits of community support and the physical benefits of a good sweat session, Horwitch says. Plus, "a sense of ownership over their running routine — you'll be able to find a run for whatever your fitness level, speed and amount of time you have to work with, instead of trying to figure out what to squeeze in on which day."
With about 20 different trainers on the app, every user is sure to find their perfect fit. In fact, Horwitch recommends filtering by trainer, time, level and music genre (like Horwitch's '90s Pop Guilty Pleasures' workout) to find the running workout that suits your mood. All you have to do in pop in your headphones and go!
Price: free during 7-day trial, unlimited access for $14.99 per month or $99.99 per year