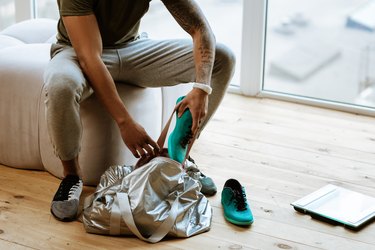 With so many running gear options on the market, figuring out what you do and don't need can feel a bit overwhelming. Are the $160 shoes better than the $130 pair? Will you be too hot with a top layer? What's the best way to keep yourself safe from traffic on the road? These are all normal questions — especially for those new to running.
Don't fret, though! Below you'll find our comprehensive running gear guide, which explains the various types of clothing and gear you might need and how to choose what's best for you.
Start With Supportive Shoes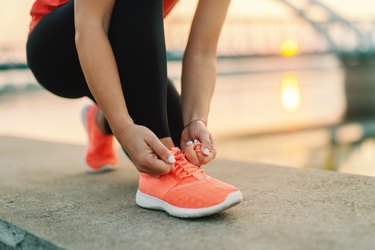 Shoes are the most important part of your running kit. But don't just shop by what brand you've heard other runners buy. No one running shoe brand is best for every single runner. What's important is choosing a shoe that feels good on ​your​ feet and allows you to stride naturally. If your feet don't feel good, it makes it hard to continue on your route. Two big factors in that are:
​Cushion vs. minimal:​ Do you need added cushion and support under your feet or do you prefer a more minimalist feel?
​Overpronation vs. underpronation vs. neutral:​ It's important to know how you stride. Overpronation means your foot rolls inward; underpronation means your foot rolls outward; and neutral means your foot doesn't roll either way.
​Here's what else you need to know (along with recommendations) when buying running shoes.​
Opt Outside With Outdoor Running Shoes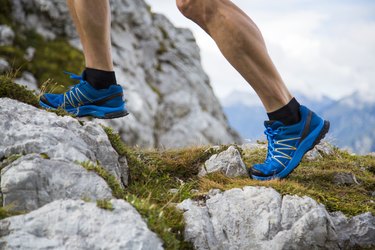 Are you a roadrunner or trail runner? Or are you looking to do sprints on the track? The surface you're going to be running on matters in terms of what you're looking for in a shoe.
Road shoes will have a grippy sole, but more of a flat bottom to match the road. Trail shoes, on the other hand, will have more support, a more intense grip, a rock plate to absorb shock and lugs on the bottom to grip the trails. And track shoes are generally extremely minimal and may have spikes to help you grip the track for better traction.
Revamp Your Running Wardrobe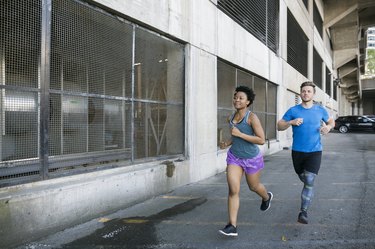 You ​could​ wear a cotton T-shirt and a pair of mesh shorts. But because they're not made for running, they'll end up weighing you down as you get sweatier, potentially holding you back from your next PR.
Instead, try performance gear specifically designed for running and feature technical fabrics that are moisture-wicking, breathable and light-weight. Bonus points for clothing that include reflective details that help you be seen and stay safe. And if you're braving the elements, look for warm, yet light-weight outer layers. Depending on the weather, you may want a waterproof jacket, gloves, hat or headband.
Find Fun, New Running Accessories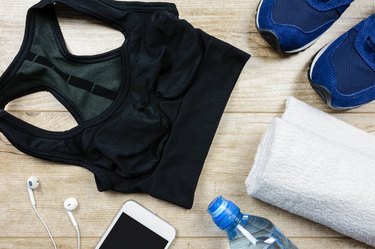 While you don't necessarily need anything extra or fancy to hit the ground running, that doesn't mean certain accessories won't be able to help your run and possibly improve your performance.
Especially if you're going on a longer run, it's important to bring along some fuel and hydration, as well as possibly your phone and other personal items. A running belt or armband are great options, and many can hold up to two water bottles. And sunglasses can protect your eyes from the sun's blinding rays.
Give Your Run Some High-Tech Flair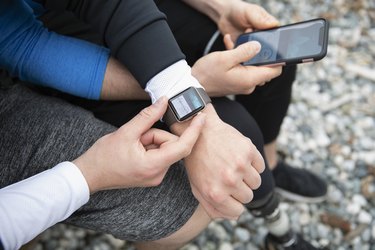 Deciding on what you're looking to get from your runs can help you determine if certain running gadgets might be good for you. For instance, if you like to get feedback from your runs — heart race, pace, distance, etc., — so you can analyze your performance, a fitness tracker or fitness watch may be a good option.
Or maybe you're looking to increase your training volume and head out for a few more runs each week. If that's the case, you may want to invest in a high-tech recovery device. And if you can't run without music, you'll want a high-quality set of headphones or earbuds that won't fall out as you pound the pavement.
​From watches and trackers to headphones and earbuds, check out the latest and greatest running gadgets.​
Choose the Best Running Socks (Yes, They Matter!)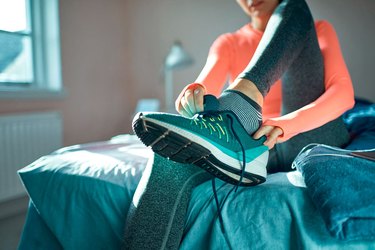 If you think your running socks don't make a difference, think again. If you're running a 5K, 10K, half marathon, marathon or any type of trail race, socks are vital in keeping your feet dry and blister-free.
First, decide whether you want thin or a thick pair — it's totally personal preference. One non-negotiable? Sweat-wicking, breathable materials (because no one wants to run in damp socks). Lastly, think about height. Especially on rocky, muddy trails that have lots of debris, you'll want a higher sock that will keep all the mess out.